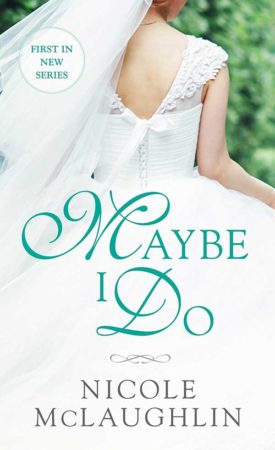 Maybe I Do
by
Nicole McLaughlin
Series:
Whiskey and Weddings #1
Published by
St. Martin's Press
Publication date:
August 29, 2017
Genres:
Contemporary Romance
352 pagesFormat:
eARC
Source:
Publisher
She doesn't believe in fairy tales. He is married to his job. Maybe whiskey is the secret ingredient that will bring them together–and give true love a shot.

Wedding photographer Charlotte Linley loves her work –even though she hates weddings. Sure, she still holds a grudge after being left at the altar by her high-school sweetheart. But today Charlotte is just happy to have complete control over her career, which is flourishing. Especially since she joined forces with one of the three gorgeous owners of The Stag, a boutique distillery that has become Kansas City's hottest wedding venue.

Dean Troyer, bitter after the end of his own marriage, knows that Charlotte is the real deal–beautiful, talented, and successful. He may flirt with her every time she comes to The Stag, but Dean is determined to keep his professional distance…particularly now that she's helping him with his own sister's wedding. The only problem? The more time Dean spends with Charlotte, the deeper their connection grows. Is this a rom-com cliche' or could it be that these two jaded souls in the wedding business have finally found their real-life happily ever after?<
Affiliate Disclosure: This post contains affiliate links. In plain English, this means that I may receive a small commission (at no cost to you) if you purchase something through the links provided. This small income goes back into my blog, so I can continue to create fun content for you. I appreciate my readers and make it my goal to be upfront and honest. Thank you for supporting my blog!
Always the photographer, never the bride. This contemporary romance is the first in a new series from romance author, Nicole McLaughlin. If you like light and fluffy romances with side of whiskey, you might give this a try. But if you're a reader like me who prefers their romances with a little more emotional depth and natural dialogue, then this one may not be for you.
Charlotte's fiancé left her at the alter five years ago, leaving her more than slightly jaded over the idea of love and marriage. Now she spends most of her time lusting over Dean, the hot owner of the Stag. Dean has his own heartbreak story. His marriage ended years ago because he couldn't give his wife what she needed: children. Both are afraid of commitment and more than a little attracted to each other. Sparks fly when Dean and Charlotte end up in an all-to-real fake relationship after lying to Charlotte's ex while planning Dean's sister's wedding.
When I read the synopsis, I was really excited to read this because it's set in a fictionalized suburb of Kansas City, Missouri, which is where I'm from. Second, it involves a slightly angsty complicated romance, which I was sort of craving. While the book may not have been exactly what I was hoping, I did enjoy parts of it. The beginning of the novel was really fun, being a spy on what goes on behind the scenes at a wedding.
The romance itself was underdeveloped and bland. The lack of chemistry between Dean and Charlotte is likely due to the fact that there was way too much telling instead of showing the reader. There were attempts made to manufacture attraction and chemistry through internal dialogue but it ended up doing just the opposite. To complicate things, the dialogue in the novel was stilted and not natural or conversational.
Some readers, may find the characters extremely obtuse and therefore frustrating. Both Dean and Charlotte have been working together for years. By their own admissions they have also had a strong attraction towards each other for just as long. The mutual flirtation wasn't subtle. Yet, for a good quarter or more of the book, both of them doubt that the other could like each other. I get that love can be complicated and confusing, but this romantic cluelessness in this instance seemed a bit far-fetched and more of a plot device to try to create tension.
This was not what I would call a bad book at all. The premise really is quite charming and I loved the distillery setting. I had a hard to completely feeling the romance or connecting to what the author wanted me to.
* Thanks to St. Martin's Press for providing me with an early copy for a review.