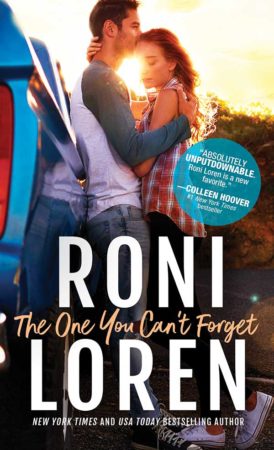 The One You Can't Forget
by
Roni Loren
Series:
The Ones Who Got Away #2
Published by
Sourcebooks Casablanca
Publication date:
June 5, 2018
Genres:
Contemporary Romance
416 pagesFormat:
eARC
Source:
Publisher
The second book in New York Times and USA Today bestseller Roni Loren's series about forgiveness, redemption, and finding your one true love

Most days, successful divorce attorney Rebecca Lindt feels like an imposter. The world knows her as a survivor, but that impression would change if everyone knew her secret.

Chef Wes Garrett is trying to get back on his feet after losing his dream restaurant, his money, and half his damn mind in a vicious divorce. But when he intervenes in a mugging late one night and finds he's saved Rebecca Lindt, the divorce attorney who helped his ex-wife, his simple life gets a lot more complicated.

The pair soon finds themselves helping each other in life's endeavors. But soon, when Rebecca's secret is at risk, they discover they could lose more than they thought, including what they never realized they needed: each other.
Affiliate Disclosure: This post contains affiliate links. In plain English, this means that I may receive a small commission (at no cost to you) if you purchase something through the links provided. This small income goes back into my blog, so I can continue to create fun content for you. I appreciate my readers and make it my goal to be upfront and honest. Thank you for supporting my blog!
THE ONE YOU CAN'T FORGET had me from the first chapter. This romance features a couple with great banter and lots of sexiness as they find their way to love through their own pain.
I wasn't a huge fan of the first book in this series of interconnected stand-alones, but I enjoyed this one immensely, so much that I read the first 65% in one sitting and woke up the next morning to read more before work. I love that feeling of "OMG I can't wait to read more."
Rebecca is one of the survivors of a well-known school shooting. Twelve years later, she's a successful attorney at her father's family law practice, but she's still battling with her own demons, mainly her hidden guilt over her perceived involvement in the shooting. And her view on love is more than a little jaded, thinking "[love] is a bad bet." Wes is a chef at an after school program trying to turn his life around. He turned to drinking after losing everything in a brutal divorce. The two meet when Rebecca is mugged at gunpoint and Wes chases away her attackers. But he's no stranger (this is where it gets good, you guys). He was the ex-husband of one of her former clients, whom she represented in a divorce. Her opinion of him isn't that high, but good god the chemistry! Can you sense the animosity there? (hint: there's some animosity).
"And did you just flirt with me in a room full of children?"
She crossed her arms and gave him her best haughty lawyer look. "Of course not. This is a request for a friendly meal."
He laughed, a deep melodic sound. "I like it." He moved his hand around indicating her general person. "I like this whole version of Rebecca who doesn't hate me."
One of the things I liked the most about this one was Wes and Rebecca's witty banter. I loved the easy way they talked to each other from the first moment they met and the progression of their relationship just felt very natural. I bought it all hook, line and, sinker.
"Fun, Wes. Just fun between friends. And I want to have fun with you."
"Naked fun," he said, his lips curving.
"Yes, but not in a dirty school bus."
He grinned wide. "It was the lack of shirt. I told you."
She looped her arms around his neck. "Nope, it was the books. I've been hot and bothered and completely distracted since. Entire sexual fantasies have been woven. Filthy thoughts have been had."
This book was funny and sexy but it also dealt with heavier subjects, like mental health issues and addiction—both of which were well-researched. I liked having that tension and sense of counterbalance.
I really loved them as a couple! Wes and Rebecca were cute and adorable. I believed their romance and couldn't wait until they were together on the page. They really cared for each other and helped one another through their own issues. I felt the chemistry between them from the beginning. That first kiss was really great! Rebecca didn't want to like Wes because…HELLO…she saw his ex's side of things in court. But meeting him now and getting to know his heart, she couldn't help but fall. Neither could I.
If you're on the hunt for a fun and sexy contemporary romance, I 100% recommend this book. It was pure entertainment. It had the funny moments, sexy build-up, and romantic tension I crave. Yay!
* Thanks to Sourcebooks Casablanca for providing me with an early copy for review.