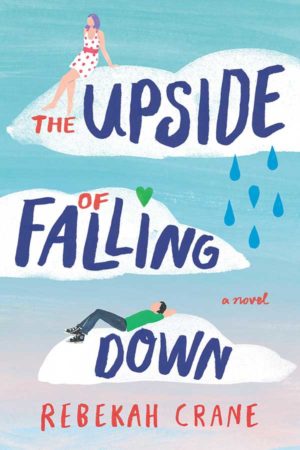 The Upside of Falling Down
by
Rebekah Crane
Published by
Skyscape
Publication date:
January 30, 2018
Genres:
Romance
,
Young Adult
247 pagesFormat:
ARC
,
eARC
Source:
Publisher
For Clementine Haas, finding herself is more than a nice idea. Ever since she woke up in an Irish hospital with complete amnesia, self-discovery has become her mission.

They tell her she's the lone survivor of a plane crash. They tell her she's lucky to be alive. But she doesn't feel lucky. She feels…lost.

With the relentless Irish press bearing down on her, and a father she may not even recognize on his way from America to take her home, Clementine assumes a new identity and enlists a blue-eyed Irish stranger, Kieran O'Connell, to help her escape her forgotten life…and start a new one.

Hiding out in the sleepy town of Waterville, Ireland, Clementine discovers there's an upside to a life that's fallen apart. But as her lies grow, so does her affection for Kieran, and the truth about her identity becomes harder and harder to reveal, forcing Clementine to decide: Can she leave her past behind for a new love she'll never forget?
Affiliate Disclosure: This post contains affiliate links. In plain English, this means that I may receive a small commission (at no cost to you) if you purchase something through the links provided. This small income goes back into my blog, so I can continue to create fun content for you. I appreciate my readers and make it my goal to be upfront and honest. Thank you for supporting my blog!
A girl whose memories are lost after a plane crash and the boy trying to find his own purpose fall in love amidst the charming Irish setting in Rebekah Crane's THE UPSIDE OF FALLING DOWN.
Clementine Haas wakes in an Irish hospital to find that she's the only survivor in a plane crash with no recollection of who she is. On impulse she convinces a sweet Irish guy, who she told her name was Jane, she met in the courtyard at the hospital to help her escape, by telling him that she was mugged and wants to leave and start a new life. He takes her back to the small cottage he shares with his prickly and pregnant twin sister, Siobhan. Clementine's guilt over lying to Kieran begins to weigh on her as she starts to fall for him. But something keeps Kieran from reciprocating romantic feelings.
This book has a lot of cute in it but deals with some tough issues. How terrifying would it be to wake up in another country with no idea how you got where you are or who you you? Finding your identity and who you are is hard enough as a teenager without adding in the complexities of amnesia. That's the unique part about this book. She has to find out who she is all over again while trying to gasp bits of her past and combine it with all the new things she experiences.
Meanwhile, Kieran has his own identity crisis. His father has controlled him and Siobhan with threats and a lot of money. Until now, Kieran has always caved until the stern finger of his father but personal tragedy has left him shaken and on the cusp of something new, scary, and maybe even good.
Throughout the story, Clementine remembers bits and pieces of the girl she used to be, putting together a puzzle of her past. All of this was a good mystery that kept me reading, wondering how Ireland ties into all of this. There is an Irish boy from her past. Could it be Kieran? Is it someone else?
This novel is very high in concept. A plot such as this is something that sounds really intriguing in a synopsis. While I did like the book, I would have liked it so much more if there was a little more believability to it. The fact that a hospital patient with amnesia was able to escape from a hospital and remain lost despite being all over the national news was a little far-fetched. The love story was cute but it felt like it needed more foundation. The multiple coincidences revealed towards the end just added to the unbelievability and I felt disconnected from the story because of this.
* Thanks to Skyscape for sending me a early copy for reviewing purposes. This did not affect my opinion in any way.