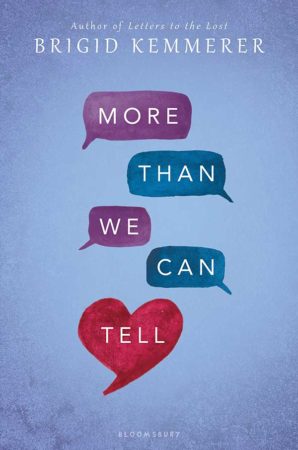 More Than We Can Tell
by
Brigid Kemmerer
Series:
Letters to the Lost #2
Published by
Harper Teen
Publication date:
March 6, 2018
Genres:
Contemporary Romance
,
Young Adult
416 pagesFormat:
eARC
Source:
Publisher
From the author of Letters to the Lost comes a heart-wrenching story of two teens with big secrets and a love that could set them free.

Rev Fletcher is battling the demons of his past. But with loving adoptive parents by his side, he's managed to keep them at bay . . . until he gets a letter from his abusive father and the trauma of his childhood comes hurtling back.

Emma Blue spends her time perfecting the computer game she built from scratch, rather than facing her parents' crumbling marriage. She can solve any problem with the right code, but when an online troll's harassment escalates, she's truly afraid.

When Rev and Emma meet, they both long to lift the burden of their secrets and bond instantly over their shared turmoil. But when their situations turn dangerous, their trust in each other will be tested in ways they never expected. This must-read story will once again have readers falling for Brigid Kemmerer's emotional storytelling.
Affiliate Disclosure: This post contains affiliate links. In plain English, this means that I may receive a small commission (at no cost to you) if you purchase something through the links provided. This small income goes back into my blog, so I can continue to create fun content for you. I appreciate my readers and make it my goal to be upfront and honest. Thank you for supporting my blog!
MORE THAN WE CAN TELL is a story about life's brokenness, the heartfelt journey to healing, first love, and mending family ties. This contemporary young adult romance is a companion to last year's Letters to the Lost. Readers who loved Juliet and Declan will rejoice because they do make several appearances in More Than We Can Tell. I haven't read Letters to the Lost yet, so if you haven't read it rest assured that this is a complete standalone from that story.
As a young child, Rev was physically and mentally abused by his father. His foster parents—and now adoptive parents—brought him into their home, sheltering him from experiencing further physical pain but the memories of his childhood still haunt him. Old wounds are reopened when his parents take in another young teen with similar issues, causing Rev's emotional strength to crack and fears of becoming like his father spill through.
Emma has her own set of problems. As sixteen, she's developed and designed her own online game that has several players. She's made friends with many of them but it's one friendship that means the most. This friend acts as a protector when another player starts sending sexually and emotionally abusive messages to Emma. Soon, Emma's home life starts to unravel, amplifying the stress in her life. Her seemingly cold mother doesn't support Emma's dreams of being a coding master and her developer father, whom she adores, doesn't make time for her.
Rev and Emma meet during a chance encounter, confiding in one another and revealing secrets neither of them have told anyone else. Through their shared familial problems, they become confidants and soon something more.
The author spent a good amount of time developing Rev and Emma's characters and did it quite well. The problems Rev and Emma faced were real issues that could plague any teenager today, which really worked in this story. With the exception of the ending with Emma's story—which did veer off into overdramatic territory—this story felt very current and relevant. Sometimes when I read contemporary young adult (or contemporary anything) the author resorts to high dramatics to create tension and I appreciated that Kemmerer didn't do that for the most part.
What didn't completely work here was the romance and the lack of resolution in the subplots. I felt like Kemmerer did such a good job with handling the familial and emotional problems, but the relationship development and organic connection were sacrificed in the process. With the book's main focus being Rev and Emma's individual issues, the time the two of them spent together was short, which prevented me from truly feeling attached to them as a couple. There was also an abundance of subplots that were left unresolved, like Rev's foster brother and Emma's relationship with her mother and father.
If you liked Rev in Letters to the Lost and wanted to delve deeper into his story, then I would recommend you read it. This hasn't been my favorite young adult contemporary as of late, but it was still enjoyable.
* Thanks to Bloomsbury Children's for providing me with an early copy for review. Receiving this book for free did not affect my opinion.