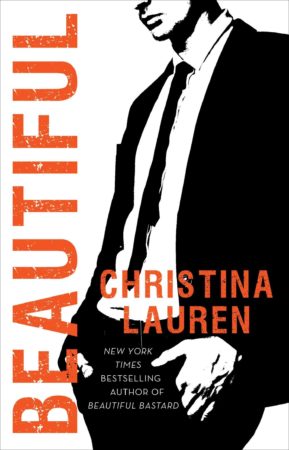 Beautiful
by
Christina Lauren
Series:
Beautiful Bastard #5
Published by
Gallery Books
Publication date:
October 4, 2016
Genres:
Romance
Narrator:
Grace Grant
,
Sebastian York
Length:
10 hours and 7 minutes
416 pagesFormat:
Audiobook
,
Paperback
Source:
Publisher
A FREE-SPIRITED GIRL IN NEED OF A BREAK.
A MAN WEIGHED DOWN BY RESPONSIBILITY.
A ROAD TRIP VACATION WHERE ALL BETS ARE OFF.
OH, AND A LOT OF WINE.

After walking in on her boyfriend shagging another girl in their place, Pippa Bay Cox ditches London for the States to go on a drunken road trip with Ruby Miller and some of her Beautiful friends.

Scaling the career ladder is the default way to deal with heartbreak—and to just deal—for Jensen Bergstrom. Absolutely buried by his drive and workload, he rarely takes time for himself. But when his sister Hanna convinces him to join the gang on a two-week wine tour, he has a rare moment of cutting loose. Of course, it's only once he's committed that he realizes the strange girl he met briefly on the plane is coming along, too. She might be too much for him…or he might realize his life has become too small and needs her to make it bigger, crazier.

With this circle of friends there's always something going on: from Chloe and Sara's unexpected personality swaps to Will's new domestic side to Bennett's text message barrage and George's own happily-ever-after. In short, their adventures in love, friendship, and hilarity are nothing short of Beautiful.
Affiliate Disclosure: This post contains affiliate links. In plain English, this means that I may receive a small commission (at no cost to you) if you purchase something through the links provided. This small income goes back into my blog, so I can continue to create fun content for you. I appreciate my readers and make it my goal to be upfront and honest. Thank you for supporting my blog!
BEAUTIFUL was such a fun send off to the whole Beautiful series gang. My absolute favorite couple, Hanna and Will, were prominent characters in this one and I just had a blast reading (and later listening) to Beautiful from beginning to end.
Jensen and Pippa are the two love birds in Beautiful, but their first meeting is anything but romantic. On his way home to Boston from London, Jensen finds himself stuck next to an eccentric English woman who can't seem to stop talking about her crappy ex-boyfriend. Fate has something in store for them when their paths cross again.  Jensen is married to his work and Pippa just wants to get away from the unhappiness at home. Jensen and Pippa join Hanna, Will, Niall, and Ruby on a road trip to wineries all over New England. A little lot of wine plus this gang equals pandemonium and a whole lot of fun!
This book was seriously so entertaining to read. Sometimes when authors pen final series books it can feel really forced, like their trying to cram too many character cameos into one book. Christina Lauren found a happy medium between writing a story featuring a new couple and providing a goodbye for the other characters in the series. Though, I could have done without the final epilogues for all of the couples at the end.
While at the winery, Jensen runs into someone from his past, which forces him to tell a little white lie which leads to other lies. I won't tell you what it is so you'll be surprised, but it definitely forces Jensen and Pippa to get really close really quick. What I liked so much about this book was how Pippa really complemented Jensen. He's been so focused on his career and protecting his own heart than with settling down. Pippa has just the right amount of quirk and go-with-the flow personality to make Jensen relax and let loose. The karaoke scene was one of my favorite moments.
Some of my and others' complaints about other books in this series is the lack of plot and abundance of sexy times. This book had just the right amount of sexual tension, steaminess, and "get to know you" time that I love.
I hate to be a broken record with my criticism of Christina Lauren's books but the conflict in this book needed some work. The source of conflict towards the end of the book was a little nonsensical. The transition from them being lovers on vacation to acquaintances in Boston seemed out of place. I wanted Jensen to fight a little bit more instead of waiting for Pippa to take the lead.
This book was a blast to read, really. I actually laughed out loud several times at the situational comedy! I loved seeing so much of Will and Hanna and I really liked how everything worked itself out. So sweet! Read this if you want the following: Funny, sexy, a couple who makes each other laugh, drunken karaoke, and SO MUCH WINE!!
Audiobook Comments:
Two of my favorite narrators combine forces for the Beautiful series sendoff!! Their performances are entertaining and engaging, filled with great comedic timing. Though, I wasn't totally convinced of Grace Grant's English accent but that wasn't enough to keep me from enjoying this audiobook. Grant's portrayal of Pippa's free-spirited personality is spot-on. While Sebastian York's straight resonant delivery is perfect for Jensen! Grace Grant and Sebastian York are always a hit for me, and make my audiobook adventures that much more fun.
* I received a copy from the publisher in exchange for an honest review. This did not affect my opinion in any way. Thanks to Gallery for the review copy!