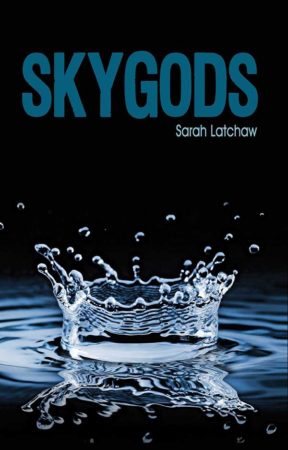 Skygods
by
Sarah Latchaw
Series:
Hydraulic #2
Published by
Omnific Publishing
Publication date:
December 2, 2017
Genres:
Adult
,
Contemporary Romance
352 pagesFormat:
eBook
Source:
Borrowed
Kaye Trilby and her ex-husband, world-famous author Samuel Cabral, vowed to fight for their rekindled love in rain or shine. They didn't realize they'd be caught in a deluge so quickly.

A near-fatal skydiving accident shows Kaye how her reckless behavior affects the ones she loves. But while she knows Samuel is afraid to lose her again, she isn't ready to give up the thrill of the wild backcountry.

Something darker is slipping into Samuel's mind, though. The specters of his past are re-emerging. His polish is deteriorating, just as all of Hollywood is bracing for his blockbuster book-to-movie adaptation. When he appears on Kaye's doorstep late one night in a rumpled tuxedo, erratic and agitated, it seems that romance with her ex might be her biggest leap yet. A string of failed relationships has pushed Samuel to the brink, the fall-out leaving him in a dark place—a place where Kaye is powerless to help him. She is reluctantly drawn back into Samuel's glittering and backbiting world of celebrity, all the while clinging to the steadfast peaks of home.
Affiliate Disclosure: This post contains affiliate links. In plain English, this means that I may receive a small commission (at no cost to you) if you purchase something through the links provided. This small income goes back into my blog, so I can continue to create fun content for you. I appreciate my readers and make it my goal to be upfront and honest. Thank you for supporting my blog!
Second chance romance junkies will enjoy SKYGODS, the continuation to Kaye and Samuel's story from Hydraulic Level Five. Even though the story veered off in a different and less compelling direction, I still felt invested in the characters and enjoyed the story overall.
In book one, Samuel was immersed into Kaye's world, discovering who she is now seven years after he left their marriage. In Skygods, Kaye gets to experience what Samuel's life is like when she takes on the role of publicist, while kindling their new delicate relationship. The secrets Samuel have been carrying around for years come to the surface, especially one in particular that was the root cause for why he left her.
Much like Hydraulic Level Five, excerpts from a working draft that Samuel and Kaye are writing are included in the story. This time, it's not fiction that Samuel's writing but a biographical account of their love story and how it fell apart, with themselves as the two main leads.
I really enjoyed Samuel and Kaye as characters. I think they've handled the challenges they face in this book very maturely and responded to them in a real way. Their group of friends and family are equally as fun.
Where this book faltered for me was the plot. While I really appreciated these two fictional characters communicating and working through their problems, this doesn't necessarily translate to compelling fiction. The question and answer sessions that I liked in the last part of Hydraulic continued and it felt more like information dumping rather than a effective way to move the story along. Also, Samuel's health was dragged out in excruciating detail which further stalled the plot's momentum.
Skygods didn't have the same pull as the previous book. Samuel and Kaye have all but gotten back together, so that source of conflict is gone. There isn't so much romantic tension but rather Samuel and Kaye has navigating how to be together with the people they are now with their truths laid bare.
In my review of book one, I wondered if the books could have been one book or one story, and I wanted to read this book before I gave an opinion on that. After reading Skygods, I think a one-book story could have sufficed here or maybe a book and a novella (but I'm not the author). I see there is going to be a third book and I'm not sure I'm interested in finding out what's next with these couple enough to read an entire third novel.
I know this is a lot of criticism, but I did enjoy the book, just not as much as Hydraulic Level Five. Sarah Latchaw's writing style is engaging and it truly felt fresh. I look forward to her other books and I would definitely recommend this series to lovers of second chance romances.
* I borrowed this book from my local library.