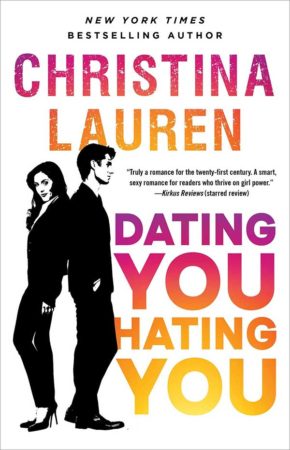 Dating You / Hating You
by
Christina Lauren
Published by
Gallery Books
Publication date:
June 6, 2017
Genres:
Contemporary Romance
Narrator:
Deacon Lee
,
Shayna Thibodeaux
Length:
9 hrs and 39 mins
353 pagesFormat:
Audiobook
,
Paperback
Source:
Borrowed
,
Publisher
All's fair in love and work. The first stand-alone romance by New York Times best-selling author Christina Lauren (Beautiful Bastard) is a sexy, compulsively listenable romantic comedy that dives headlong into the thrill and doubt of modern love.
Despite the odds against them from an embarrassing meet-awkward at a mutual friend's Halloween party, Carter and Evie immediately hit it off. Even the realization that they're both high-powered agents at competing firms in Hollywood isn't enough to squash the fire.
But when their two agencies merge - causing the pair to vie for the same position - all bets are off. What could have been a beautiful blossoming romance turns into an all-out war of sabotage. Carter and Evie are both 30-something professionals - so why can't they act like it?
Can Carter stop trying to please everyone and see how their mutual boss is really playing the game? Can Evie put aside her competitive nature long enough to figure out what she really wants in life? Can their actor clients just be something close to human? Whether these two Hollywood love/hatebirds get the storybook Hollywood ending or just a dramedy of epic proportions, you will get to enjoy Christina Lauren's heartfelt, raucous, and hilarious romance style at its finest.
Affiliate Disclosure: This post contains affiliate links. In plain English, this means that I may receive a small commission (at no cost to you) if you purchase something through the links provided. This small income goes back into my blog, so I can continue to create fun content for you. I appreciate my readers and make it my goal to be upfront and honest. Thank you for supporting my blog!
Dating You / Hating You is a Christina Lauren-fied love-to-hate romance between two rival co-workers in an LA-based talent agency. My reading relationship with Christina Lauren's novels have been hit or miss. Some of their steamy contemporary romances are ones I revisit often because I love the chemistry they create.
This wasn't my favorite or my least favorite romance from Christina Lauren. The book was missing the effortless chemistry readers can usually find between the two leads in one of Lauren's novels. There was very little build up before both characters were infatuated with each other, which is one of my favorite parts of reading romance. This is an ongoing criticism of mine for many romance novels because if I don't believe the romance, I don't enjoy the book.
Evie and Carter meet at their mutual friends' costume party, their friends' not-so-subtle attempt at fixing them up.  Both show up looking like they are on their way to Hogwarts. (Do all all quirky characters have to love Harry Potter?) They feel the chemistry zinging between them but I didn't, unless chemistry equals unfunny jokes.
Knowing Evie has a nervous tick that involves her loading on body lotion, Carter puts sunless tanner in her lotion bottle. Meanwhile, Evie replaces Carter's K-cups with decaf, causing him to walk into walls. Often in comedies, readers (or viewers in the case of movies) are asked to suspend disbelief for the sake of enjoyment. I get that. But nevertheless, it bothered me that these two adults (Carter is 27 and Evie is 33) could act so childish. That was one of my criticisms of another popular office hate-to-love-romance.
I did enjoy watching Carter and Evie sneak around once they got over the prank stage of their relationship. I also liked most of the supporting characters in this book especially the married couple desperate to retain their wild young, Steph and Michael Christopher.
Even though this wasn't one of my favorites, the audiobook was a quick listen, and I did enjoy parts of this book. If you're a fan of Christina Lauren's books or office romances in general, you can give this one ago. But I personally can't wholeheartedly recommend it.
Audiobook Comments:
I've always loved Shayna Thibodeaux's (aka Candace Thaxton) style. Her performances are always consistent and very easy to listen to. Deacon Lee is another great narrator. I have only good things to say about the audiobook production of this one.
* I borrowed the audiobook from my local library. Thanks to Gallery books for providing me with a finished copy in exchange for an honest review.