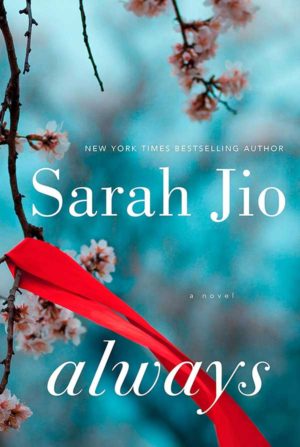 Always
by
Sarah Jio
Published by
Ballantine
Publication date:
February 7, 2017
Genres:
Romance
,
Women's Fiction
Narrator:
Brittany Pressley
Length:
8 hrs and 52 mins
288 pagesFormat:
Audiobook
Source:
Publisher
A woman on her way to a romantic dinner with her fiance encounters a ragged homeless man—who turns out to be the ex she's never gotten over. A romantic and gripping novel about the fierce resilience of the human heart.

Torn between two men, Kailey Crane is faced with an impossible choice: embrace the bright future she has with her new fiance, or dedicate herself to reclaiming a past love that may be gone forever. Set amidst the Seattle music scene of the 90s as well as the present day, Always parallels the past and present in a unique love story about a woman who discovers what she's willing to save and what she will sacrifice.

Story Locale: Seattle, WA
Affiliate Disclosure: This post contains affiliate links. In plain English, this means that I may receive a small commission (at no cost to you) if you purchase something through the links provided. This small income goes back into my blog, so I can continue to create fun content for you. I appreciate my readers and make it my goal to be upfront and honest. Thank you for supporting my blog!
Sarah Jio's ALWAYS is a second-chance romance and women's fiction hybrid that some may enjoy. Due to an abundance of plot holes, less-than-stellar writing, and melodrama galore, I far too many problems and I didn't like this book.
View Spoiler »The medical problem that plagued Cade and was a source of conflict for the book but seemed to be glossed over and never really treated with any depth. « Hide SpoilerBeing as this is a women's fiction novel, I can understand that authors don't want to weight down the plot with medical jargon but it seemed like the author took the easy road. This was such a huge part of the book, yet the author never really explains exactly what Cade has,View Spoiler »aside from saying he has a traumatic brain injury. She also mentions amnesia. « Hide SpoilerI'd really like to know what sort of medical research the author conducted in preparation for this book.
Kaley was conveniently able to get Cade in a program that magically solved all of his problems!  View Spoiler »A head injury that was 10 years old was able to be treated with medications (I was really confused on this point particularly) and therapy. « Hide SpoilerThere was no real explanation as to how this was possible. I have some knowledge ofView Spoiler »head injuries, « Hide Spoiler being as I sort of work in the health field and this just seemed so implausible. I needed some sort of rationale.
The circumstances surrounding Cade's disappearance was entirely unrealistic. Cade is a prominent and well-known record executive and co-owner of a record label. People recognized him EVERYWHERE. Yet, not one person in TEN YEARS was able to track him down and find him when he stayed in the same city? I don't buy it, not to mention the fact that Kaley is a reporter. Aren't reporters known for digging up information and tracking people down?
The ending was also completely unrealistic. View Spoiler »What guy who was just dumped by his fiancée goes to his ex-fiancée's wedding "just to see how beautiful she was in her dress"? Maybe a guy who's totally wasted. This guy was sober and 100% serious. « Hide Spoiler
The premise of this novel is intrinsically soap opera-esque, and I knew that going in. But I thought that with Sarah Jio being more in the women's fiction genre the melodrama would be tamed down. It wasn't. Readers who have a much higher tolerance for melodrama and who don't necessarily need the plots to make sense may enjoy this book more than I did. The writing was very pedestrian with very little nuance and eloquence. I don't enjoy being spoon fed when reading a novel. I like to be given the opportunity to use my brain a little bit with the story unfolding before me instead of being told to me.
Audiobook comments:
On a more positive note, the narrator's performance was good. So if this novel sounds like something you'd like, you can listen to the audiobook and know the narrator was decent.
* Thanks to Penguin Random House Audio for providing me with a copy for review.