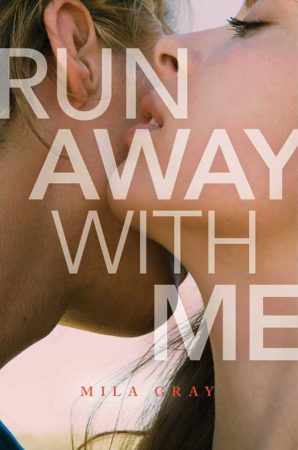 Run Away With Me
by
Mila Gray
Series:
Come Back To Me #3
Published by
Simon Pulse
Publication date:
November 28, 2017
Genres:
Contemporary Romance
368 pagesFormat:
eBook
Source:
Publisher
Two friends fall into a passionate romance, but first they must confront a painful past, or else lose out on the one thing they've been searching for in this heartrending novel from the author of Come Back to Me and Stay with Me.

Emerson Lowe and popular ice-hockey player Jake McCallister have been best friends since third grade but as their friendship starts to morph into something more a terrible event occurs that heralds the end of innocence for both of them.

Within a week, Jake's living on the other side of the country and Emerson is left alone to pick up the pieces of her life in a small town determined to paint her as a liar.

Seven years later, Emerson is still living on the beautiful Pacific West island of Bainbridge, helping run her family's business. The last thing she needs is Jake turning up, bringing with him old memories and opening up old wounds. But Jake—even better looking than Emerson remembers—seems determined to revive their friendship no matter how much Emerson tries to push him away.

Forced to work alongside him for the summer Emerson can't help but fall for Jake, and soon they're in the midst of a passionate romance that neither of them wants to end.

But both Emerson and Jake know that if they're to have any kind of future they must first confront the past—a past that most people want to stay buried.
Affiliate Disclosure: This post contains affiliate links. In plain English, this means that I may receive a small commission (at no cost to you) if you purchase something through the links provided. This small income goes back into my blog, so I can continue to create fun content for you. I appreciate my readers and make it my goal to be upfront and honest. Thank you for supporting my blog!
Mila Gray is back with another contemporary romance about two best friends who pick up where they left off seven years ago. I really enjoyed Mila Gray's Come Back to Me, which is a military romance in the same vein as this friends-to-lovers second chance romance. However, the romance in Run Away With Me wasn't as emotional for me and the legal inaccuracies were distracting.
In the beginning of the novel, we're dropped smack dab in the middle of an unexpected reunion between two former best friends. As a reader, I liked that I was put in the middle of this sudden emotional event without any notice or context. It felt a almost intrusive, witnessing it all. I could feel all the everything that both of them wanted to say but didn't, the emotions simmering underneath the surface. I thought the beginning was so well done.
Here's what went down before all of that: Emerson and Jake haven't seen each other in seven years since their first kiss, the night Emerson's life changed forever. Jake and his family moved away without notice and without a goodbye to his best friend since birth. Jake is now a senior at Boston College and top draft pick, having already signed on to play pro hockey with the Detroit Red Wings. But a small mark on his record could put his hockey career on hold.
Hoping to collect himself, he decides to visit the girl he's never been able to get out of his mind. But when he arrives she isn't exactly welcoming; in fact, she's downright hostile. But honestly, I would be too if the person who was my best friend in the whole world just left without a note and made no attempt at contacting me in seven years.
Emerson is running her family's kayaking business on a small island outside of Seattle. This quaint and atmospheric island was the perfect setting for this romance. The treehouse they built together as kids was a cute place for them to meet and have important conversations as adults.
I really liked the premise of this novel, because like many of you, I really love friends-to-lovers romances especially when there is a mix of characters getting another shot at love years later. Though I felt that the novel leaned to heavily on the premise, sacrificing some of its believability in the process. Em and Jake had been friends since they were babies who did everything together, sharing all their secrets with one another. Realistically, I didn't believe that in this day and age either one of them wouldn't have reached out by email, even considering the hurt feelings and the trauma that Em experienced.
Perhaps the most glaring problem for me apart from that was some of the legal inaccuracies. Without going into a ton of detail, Jake has a legal problem that occurred presumably in Massachusetts where he goes to college. Yet, for some reason, police in is hometown question him about it and he hires a lawyer in Washington to represent him with a Massachusetts legal matter. There wasn't an explanation given as to why this local police department was investigating an incident from Massachusetts, nor was it explained whether this Washington state attorney was licensed to practice in Massachusetts. There was a later legal problem that arose as well that seemed to push the boundaries of reality for the sake of conflict and dramatics.
* Thanks to Simon Pulse for providing me with an early copy for review. Receiving this book for free did not affect my opinion.