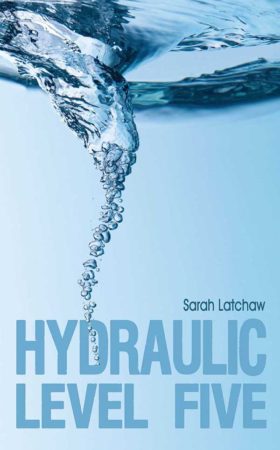 Hydraulic Level Five
by
Sarah Latchaw
Series:
Hydraulic #1
Published by
Omnific Publishing
Publication date:
September 3, 2013
Genres:
Contemporary Romance
343 pagesFormat:
eBook
Source:
Purchased
How does a woman get over her one great love? With whitewater rafting, bluegrass, and a touch of revenge…

Kaye is an extreme sports addict with a kind heart and an axe to grind with her childhood sweetheart and ex-husband, renowned writer Samuel Caulfield Cabral. While Samuel enjoys a celebrity life in New York, Kaye remains in their hometown of Lyons, Colorado, running her PR agency and chatting daily with Samuel's family, the beloved Cabrals—first-generation Mexican-Americans who have embraced Kaye as their own.

But when Samuel returns home for his sister's wedding with a new love interest, stunning editor Caroline Ortega, the gloves are stripped off. Kaye is determined to unearth the reasons behind the death of their marriage and why two people who lived to love each other were driven apart, all leading to startling revelations about Samuel, about life...and about herself.
Affiliate Disclosure: This post contains affiliate links. In plain English, this means that I may receive a small commission (at no cost to you) if you purchase something through the links provided. This small income goes back into my blog, so I can continue to create fun content for you. I appreciate my readers and make it my goal to be upfront and honest. Thank you for supporting my blog!
HYDRAULIC LEVEL FIVE is a completely unique second chance romance between a famous author and his ex-wife, who fell in love and married after being best friends since they were children. Years after he left her, Samuel returns to his hometown for his sister's wedding where he will be in close proximity with Kaye, who isn't quite over him….or ready to let go of her anger.
"What are you going to do? Write another book about me?" His hand was warm on my arm despite the chilly air. But I still shivered and wrapped my sweater tightly around me.
"Maybe."
After being on my to-read list for years, I decided to pick this up. How can you not pick this up when the tagline for the book is: "How does a woman get over her one great love? With whitewater rafting, bluegrass, and a touch of revenge…?" I was in!
This book was such a blast to read! There was a charm to the writing and the two leads' history of growing up together. Much of the story is set with Samuel showing up in town for his sister's wedding, coming face-to-face with Kaye, his ex-wife. The dynamic between Samuel and Kaye was captivating and fun. There is the perfect amount of angst as well, with there being so many unanswered questions as to exactly why Samuel left his wife and best friend of more than 15 years.
I really liked the way the story was told. We get the whole story from Kaye's perspective, often feeling a little in the dark as to what Samuel is thinking. Disbursed between Kaye's chapters are excerpts from Samuel's current work in progress, which provide a good amount insight into Samuel's mind. Does he regret leaving her years ago? Has he moved on? Does he still love her?
"It's shameful, because I have never desired anybody the way I desire you."
One little element that drew me in even more is that Samuel writes his ex-wife into his super popular book series. The trilogy ends in a way that Kaye doesn't really like, so what does she do? She shows up to his book signing after not seeing him for 2 years, of course! I really liked that scene.
At first, Kaye resorts to childish antics, by her own admission. Once the thirst for revenge is quenched and the need for answers grows, she and Samuel finally sit down and go through what went wrong. I really liked that these two adults actually took the time to have meaningful conversations to work through their issues. And what's more, it wasn't boring!
My main criticism of the book was that I found the reason for Samuel leaving her to be a little contrived. What Kaye walked into when she went to New York felt that way as well. At the time of writing this review, I haven't read book two, so I don't know what's in store for Kaye and Samuel. But I almost wonder if their story could have been condensed into one book. I hope the sequel (or the upcoming third novel) doesn't feel stale, drawn out, or drum up unnecessary conflicts. Some contemporary series who feature the same couple in multiple books can fall victim to that.
All of that aside, I had a blast reading this one. It's lighthearted but the characters deal with a lot of hurt at the same time. It hit the spot for a good contemporary romance. Check it out if you haven't read it!
* I purchased this book myself.