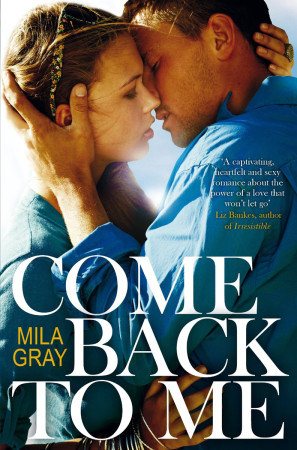 Come Back to Me
by
Mila Gray
,
Sarah Alderson
Published by
Simon & Schuster
,
Simon Pulse
Publication date:
December 8, 2015
Genres:
Contemporary Romance
373 pagesFormat:
eARC
Source:
ARC via NetGalley
Home on leave in sunny California, Marine and local lothario Kit Ryan finds himself dangerously drawn to his best friend's sister, Jessa - the one girl he can't have.

But Kit's not about to let a few obstacles stand in his way and soon Jessa's falling for his irresistible charms.

What starts out as a summer romance of secret hook-ups and magical first times quickly develops into a passionate love affair that turns both their worlds upside down.

When summer's over and it's time for Kit to redeploy, neither Kit nor Jessa are ready to say goodbye. Jessa's finally following her dreams and Kit's discovered there's someone he'd sacrifice everything for.

Jessa's prepared to wait for Kit no matter what. But when something more than distance and time rips them apart they're forced to decide whether what they have is really worth fighting for.

A breathtaking, scorchingly hot story about love, friendship, family and finding your way back from the edge of heartbreak.
Affiliate Disclosure: This post contains affiliate links. In plain English, this means that I may receive a small commission (at no cost to you) if you purchase something through the links provided. This small income goes back into my blog, so I can continue to create fun content for you. I appreciate my readers and make it my goal to be upfront and honest. Thank you for supporting my blog!
Review:
Oh my goodness! I loved this book so much!
I knew that this book was going to be emotional when I started it what with the hero being in the military, but I wasn't prepared for just how emotional it was.  I couldn't put this book down.
My lips are against his and I'm crying.  "Come Back to Me," I whisper.
"Always," he answers, kissing me for the last time.
The prologue was one of the most emotionally intense prologues I have ever read. In just a few pages, Gray had me fully invested in the story and the characters.  The way she described such a devastating moment for our heroine was utterly moving.  The prologue leaves the reader on a bit of a cliffhanger, one you don't get full resolution until well into the story. That in combination with the sweeping love story between Kit and Jessa had me completely hooked.
I kept on replaying the interactions we'd had over and over until the memories were so worn I wasn't sure if I was patching them with invented events, imagining things that hadn't happened.  
I love stories with a forbidden romance element.  This was one of those stories.  Jessa Kingsley has always had a thing for her brother's best friend, Kit, but for some unknown reason Jessa's father hates him  Kit Ryan is a Marine's security guard who is out on mission for nine months at a time.  While on leave, the two finally admit their feelings for one another.  The fact that the two of them only had four weeks to be together before Kit left again made all of their moments precious and so much more intense.  I found myself getting anxious for Jessa the closer it came to Kit leaving again.  I felt physically sick for her.
I've imagined kissing Kit a million times, but never in all my imaginings was it like this. The instant his lips touch mine I feel like I'm rocketing through space. 
Jessa and Kit have known each other for a long time since Kit is Riley's, Jessa's brother, best friend. So it was easy to see them quickly settle into a comfortable relationship, especially since both of them have been smitten on each other for so long.  Their relationship was fast-paced but it felt natural for them. I loved how sweet Kit was to Jessa and how he pushed her to pursue her dreams of becoming an actor.  He wanted her to be happy while he was gone, so he was constantly preparing her for his absence.
I want to take a piece of her with me and leave a piece of me with her. How do I get enough of her to last me a year?
The other wrinkle in this story is Jessa's father.   He is also a Marine, a high-ranking officer at that.  He has witnessed some horrific tragedies while serving his country, the after effects of which has left him with some mental health problems. Since he has never dealt with his issues, he is no longer the loving father or husband and is prone to blow up at the drop of a hat and be all-around nasty to his family.  Since her brother enlisted in the Marine's four years ago, Jessa has been left to deal with her father.  Given her father's delicate temper, she is desperate to keep her relationship with Kit secret.
The forbidden nature of this book was another thing that held me captive and was completely thrilling. I love these types of stories that make my heart go pitter patter.  I loved every stolen moment the Kit and Jessa shared.  The fact that they only had four weeks together made ever glance, touch, and word that much more meaningful.
The story took twists and turns that I wasn't expecting, many of which were emotionally devastating.  One moment I was filled with so much joy for the characters and in the next, I was deeply saddened and gutted.  This is a must read for lovers of military-themed romances with a heavily emotional element.  Gosh, I just loved this one!  I will definitely be reading more of Mila Gray's upcoming novels (as well as her young adult novels she writes under Sarah Alderson).
*I received an advance copy via NetGalley for review purposes.
4 stars