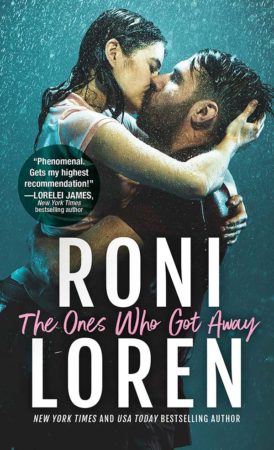 The Ones Who Got Away
by
Roni Loren
Series:
The Ones Who Got Away #1
Published by
Recorded Books
,
Sourcebooks Casablanca
Publication date:
January 2, 2018
Genres:
Contemporary Romance
Narrator:
Jeanine Bartel
Length:
9 hours and 54 minutes
384 pagesFormat:
Audiobook
Source:
Publisher
Twelve years ago, tragedy struck the senior class of Long Acre High School. Only a small number of students survived, a group the media dubbed as The Ones Who Got Away. Now, web designer Liv Arias, along with the rest of the survivors, have returned to the small Texas town to tell their stories for a documentary. Which means Liv seeing former star-athlete and old flame Finn Dorsey.

A lot happened between them that night and Liv is ready to end their decade-long riff and move on. But when her attempt at closure turns into a steamy kiss, moving on proves much more difficult than either of them thought...
Affiliate Disclosure: This post contains affiliate links. In plain English, this means that I may receive a small commission (at no cost to you) if you purchase something through the links provided. This small income goes back into my blog, so I can continue to create fun content for you. I appreciate my readers and make it my goal to be upfront and honest. Thank you for supporting my blog!
A shared tragedy brings two former lovers together again twelve years later in Roni Loren's THE ONES WHO GOT AWAY. This is a sexy romance that delves into timely heavy subjects, but my overall impression of the book was that it was just okay.
As teens, Finn and Liv kept their love affair a secret from everybody, even their friends. A school shooting on prom night changes all of their lives forever. Years later, they all come back to their hometown to be interviewed for a documentary on the shooting. Liv hasn't seen Finn since he left town shortly after the shooting, never getting the chance to say good bye. With that chapter of her life unfinished, Finn and Liv realize they both have a lot of unresolved feelings. They decide to spend time together in a cabin Finn rented to focus on getting their lives back on track. Finn, an undercover FBI agent, needs to emotionally recuperate after being out in the field for the last two years. While Liv wants to rekindle her passion for photography and "live a life that scares her."
This book features a really fun trope: summer fling where both are together just to get each other out of their system. But of course, their plan backfires and they develop very strong feelings. With Finn scheduled to go back undercover for an indefinite amount of time, both are scared of what the futures holds.
What keeps me from rating this book higher is just that, while predictable—and I believe that term is synonymous with bad—I wanted something a little less…bland. If I had to describe this book with a color, I'd probably say it was very, very beige. There isn't anything majorly flawed about the book. It's a nice book but it didn't stand out and was easy to push pause.
The romance in this book was sexy and I liked how protective Finn was over Liv. I liked seeing the internal conflict they both shared knowing he was going to be leaving at the end of the summer. Though, I also thought the "I love you's" came out rather quickly (about a week after their reunion), which pulled me out of the "love story" part of it.
I enjoyed the book enough to want to know how Liv and Finn would come to find their happily ever after. For a lot of romance books, the reader knows where the story is going to go but may not know all the goal posts along the way. That was the case in this book. There wasn't anything overly surprising or shocking, so if you're looking for a sexy romance that will give you the comforting assurance of sweet and sexy, then you'll probably like this book.
Audiobook Comments:
Jeanine Bartel narrated this audiobook. I wasn't a fan of her narration in this one. Her acting was at times a little cheesy and I didn't like her version of the southern accent, which both characters had.
Potential listeners may be interested to know the novel switches point-of-view between Finn and Liv but Ms. Bartel narrates both male and female. This is likely because the novel is told in 3rd person.
* Thanks to Recorded Books for providing me with an audiobook copy for review.