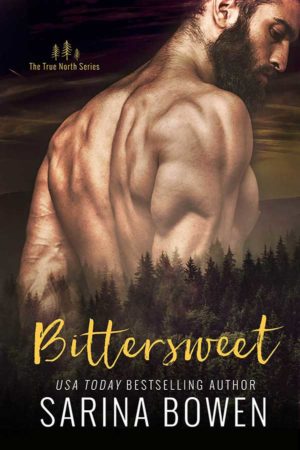 Bittersweet
by
Sarina Bowen
Series:
True North #1
Published by
Blackstone Audio
,
Self-Published
Publication date:
June 14, 2016
Genres:
Contemporary Romance
Narrator:
Saskia Maarleveld
,
Tad Branson
Length:
9 hours and 32 minutes
293 pagesFormat:
eBook
Source:
Borrowed
If you can't stand the heat, get out of the orchard.

The last person Griffin Shipley expects to find stuck in a ditch on his Vermont country road is his ex-hookup. Five years ago they'd shared a couple of steamy nights together. But that was a lifetime ago.

At twenty-seven, Griff is now the accidental patriarch of his family farm. Even his enormous shoulders feel the strain of supporting his mother, three siblings and a dotty grandfather. He doesn't have time for the sorority girl who's shown up expecting to buy his harvest at half price.

Vermont was never in Audrey Kidder's travel plans. Neither was Griff Shipley. But she needs a second chance with the restaurant conglomerate employing her. Okay—a fifth chance. And no self-righteous lumbersexual farmer will stand in her way.

They're adversaries. They want entirely different things from life. Too bad their sexual chemistry is as hot as Audrey's top secret enchilada sauce, and then some.
Affiliate Disclosure: This post contains affiliate links. In plain English, this means that I may receive a small commission (at no cost to you) if you purchase something through the links provided. This small income goes back into my blog, so I can continue to create fun content for you. I appreciate my readers and make it my goal to be upfront and honest. Thank you for supporting my blog!
FREE BOOK: As of posting this review BITTERSWEET is free on Amazon. Be sure to check price before one-clicking.
Sarina Bowen is yet another author I hadn't read until picking up BITTERSWEET. This is the first book in Bowen's True North series, a series of interconnected stand-alone romances set in Vermont. Just so you know, you can pick up any book without reading the others, but doing so may spoil previous books.
This romance between a grumbly farmer and a foodie is more sweet than bitter, but perhaps more forgettable than not. Even though this book wasn't a total winner, I really liked the charming Vermont farm setting and the Shipley family. And some of the side characters have me curious about what's going on in their lives, so I will definitely read on.
After a string of bad job performances, her employer is giving Audrey one last chance to make it in the restaurant industry. As a trained chef, her dream is to open her own restaurant but she has to the dirty work first. Boy does she get dirty. In order to keep her job, she heads out of Boston and into Vermont farm country to acquire produce for her employer's farm-to-table program.
She doesn't expect to run into the one guy in college that still makes her blood boil in more ways than run, Griff Shipley—the boy she almost fell for in college but neither of them got a chance to explore the "more" that they both wanted.
Griff Shipley left behind his dreams of being a chemist to run his family's cider mill in beautiful Vermont.  Using his science background, he's well on his way to creating award winning cider blends but may need a little help. When Audrey wander onto his farm, he's none too happy about it. She just left him years ago and the company she works for? He hates it! Their business relationship crosses the line and he reaquaints himself with Audrey biblically, realizing that he doesn't want to go back to a life without Audrey in it.
BITTERSWEET is a fun book but it's not a book that I would reread. It was something that I enjoyed reading (or for me—listening to) for the most part. I didn't dislike it but I also wasn't captivated by the writing, the plot, or the characters.  Personally, I'm not a huge fan of overly-syrupy romances. I can't do "give me a cavity" romances. As far as the writing goes, it wasn't terrible but it wasn't outstanding either. There were a lot of repetitive word choices and I felt the book needed further editing.
What I liked most about this book was the Shipley family. They welcome the less fortunate and troubled with open arms for as long as they need it. I really liked Ruth, May, Jude, and Zach. It's these side characters that kept me picking up the next book (well…that and the fact that my library had them ready to download instantaneously).
* I borrowed this audiobook from my local library.