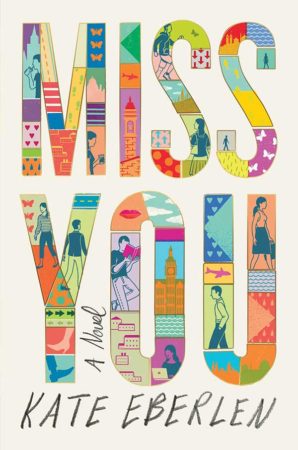 Miss You
by
Kate Eberlen
Published by
Harper
Publication date:
April 4, 2017
Genres:
Women's Fiction
Narrator:
Anna Acton
,
Finlay Robertson
Length:
12 hrs and 52 mins
448 pagesFormat:
Audiobook
,
eARC
Source:
Publisher
A wryly romantic debut novel with echoes of One Day that asks, what if you just walked by the love of your life, but didn't even know it?

"TODAY IS THE FIRST DAY OF THE REST OF YOUR LIFE." Tess can't get the motto from her mother's kitchen knickknack out of her head, even though she's in Florence on an idyllic vacation before starting university in London.

Gus is also visiting Florence, on a holiday with his parents seven months after tragedy shattered their lives. Headed to medical school in London, he's trying to be a dutiful son but longs to escape and discover who he really is.

A chance meeting brings these eighteen-year-olds together for a brief moment—the first of many times their paths will crisscross as time passes and their lives diverge from those they'd envisioned. Over the course of the next sixteen years, Tess and Gus will face very different challenges and choices. Separated by distance and circumstance, the possibility of these two connecting once more seems slight.

But while fate can separate two people, it can also bring them back together again. . . .
Affiliate Disclosure: This post contains affiliate links. In plain English, this means that I may receive a small commission (at no cost to you) if you purchase something through the links provided. This small income goes back into my blog, so I can continue to create fun content for you. I appreciate my readers and make it my goal to be upfront and honest. Thank you for supporting my blog!
MISS YOU is a story of missed connections about two people who are perfect for each other but never meet over the course of fifteen years.
Tess and Gus first meet briefly in Florence as teenagers—she while on holiday with her best friend, Doll and he while on a trip with his parents who are still grieving after losing his older brother in a skiing accident. Over the next several years, both of their lives take them on journeys neither of them saw coming. Serendipitously, they almost meet again several times over many years.
For much of the novel both Tess and Gus struggle with their own identity. After losing his brother (his parent's favorite son), he doesn't want to disappoint them and enrolls in university to study medicine, all the while knowing that medicine isn't the calling of his heart. Meanwhile, Tess's plans of studying English and writing are scrapped when tragedy strikes her family and she chooses to take care of her little sister.
What this book does well is crafting two likable but flawed characters. Gus and Tess make choices along the way with which the reader may not always agree. But these seemingly poor choices take the characters on paths that bring them close to meeting but never quite do, something that can be tortuously frustrating for the reader. This novel deeply explores the idea of fate and how people come into our lives for a reason. The tension between autonomy, destiny, and fate is something that is perhaps a bit controversial but leaves room for a lot of discussion.
When I read the synopsis over a year ago (prior to the U.K. publication even), I was immediately taken by the whole "missed connection" premise. I've read a missed connection type of romance before that didn't really work because the novel leaned too much on its premise and not enough on character development. I felt like this novel had really great character development, since the two characters are living completely separate lives, but still felt like it suffered from far too many coincidences.
This book is being marketed mostly as a romance. If you read the synopsis, you might think this a romance novel. I think it fits more in the women's fiction category that it does for romance because the romance between Tess and Gus is so short in page count.
The whole novel builds to the two finally meeting, but the romance part of the novel seemed like an afterthought. Maybe if Tess and Gus had actually had a moment as teenagers to hold on to and carry their love story for nearly 400 more pages it would have worked. But here, the reader is given just a couple passing conversations with no romantic substance (or even the promise of one) and then we go on to learn about these two people separately, who go though similar journeys. When Tess and Gus meet up again, the intense romantic connection we are asked to immediately believe in felt stale and far too rushed.
If I had to rate the book as a romance, I would probably only give it 2 stars. But looking at the novel as a whole and ignoring the frustrating and short-lived love story we were given, I really liked reading about Gus and Tess's separate lives.
Audiobook Comments:
I really enjoyed Anna Acton and Finlay Robertson's performances. They really brought Tess and Gus's characters to life. I really enjoyed both of the narrators and would recommend this audiobook.
Since I had both the ebook and the audiobook, I did notice a few discrepancies between the two versions. This book is penned by an English author, so there are some British expressions left in the audiobook that had been changed for the North American version. This wasn't a big deal but I felt that it was important to point out in case this bothered you.
* Thank you to Harper audio and Harper books for providing me with an early copy for review.