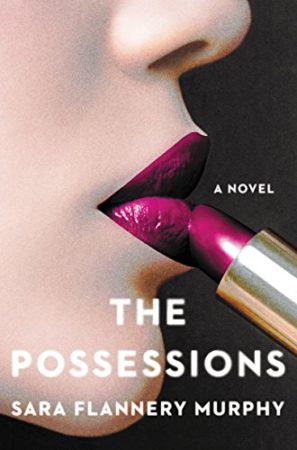 The Possessions
by
Sara Flannery Murphy
Published by
Harper
Publication date:
February 7, 2017
Genres:
Psychological Thriller
,
Suspense
368 pagesFormat:
eBook
Source:
Publisher
In this electrifying literary debut, a young woman who channels the dead for a living crosses a dangerous line when she falls in love with one of her clients, whose wife died under mysterious circumstances.

In an unnamed city, Eurydice works for the Elysian Society, a private service that allows grieving clients to reconnect with lost loved ones. She and her fellow workers, known as "bodies", wear the discarded belongings of the dead and swallow pills called lotuses to summon their spirits—numbing their own minds and losing themselves in the process. Edie has been a body at the Elysian Society for five years, an unusual record. Her success is the result of careful detachment: she seeks refuge in the lotuses' anesthetic effects and distances herself from making personal connections with her clients.

But when Edie channels Sylvia, the dead wife of recent widower Patrick Braddock, she becomes obsessed with the glamorous couple. Despite the murky circumstances surrounding Sylvia's drowning, Edie breaks her own rules and pursues Patrick, moving deeper into his life and summoning Sylvia outside the Elysian Society's walls.

After years of hiding beneath the lotuses' dulling effect, Edie discovers that the lines between her own desires and those of Sylvia have begun to blur, and takes increasing risks to keep Patrick within her grasp. Suddenly, she finds her quiet life unraveling as she grapples not only with Sylvia's growing influence and the questions surrounding her death, but with her own long-buried secrets.

A tale of desire and obsession, deceit and dark secrets that defies easy categorization, The Possessions is a seductive, absorbing page-turner that builds to a shattering, unforgettable conclusion.
Affiliate Disclosure: This post contains affiliate links. In plain English, this means that I may receive a small commission (at no cost to you) if you purchase something through the links provided. This small income goes back into my blog, so I can continue to create fun content for you. I appreciate my readers and make it my goal to be upfront and honest. Thank you for supporting my blog!
Sara Flannery Murphy's striking debut tells the story of a woman haunted by her own past who escapes into the lives of the dead. Eerie, haunting, and beautifully rich prose had me turning the pages, but some readers may have trouble with the slower pace at times.
"What kind of person would agree to be the vessel for the love of strangers, day in and day out?"
Eurydice offers a unique service within the walls of the Elysian Society—she connects those who've perished with their dead loved ones. Through the help of pills called lotuses, Edie is a body—a vessel—for her clients. For the past five years, her life has been a monotonous pattern of the same routine, a beautiful escape from her own secretive past. But when she meets widower Patrick Braddock, visions of the future appear bright and hopeful. As she starts to fall for him, helping Patrick connect with his wife becomes less of a job and more of  necessity to fulfill her own desires. But was his wife's death an accident or something more sinister? And why does Edie start to feel like Sylvia is starting to take over her life?
"For a crooked second, Sylvia is in the room with me. A drowned specter, white skin peeling away like fruit rind, eyelids eaten into filigree by the fish. And then the impression slips sideways and I become the drowned woman. My skin waterlogged and dripping, hanging in tatters around me."
What would it be like to be able to talk to your loved ones after they pass away? Would you take advantage of such a service or would it be too painful to talk to them but not see their face? This novel asks you to ponder this question and possibly offers a cautionary tale on the effects of such a possibility.
"The first encounter is always delicate, a tricky dance that must conceal its very trickiness. It's my job to feel out the clients' moods without them realizing I'm doing so. Some pretend it's all a joke; some are suspicious, hostile, waiting for the figure to emerge from behind the curtain; some are painfully earnest, willing it all to go smoothly. But at first, all of them, are terrified."
THE POSSESSIONS is a psychological thriller that reads like a suspenseful mystery. Murphy blends a mystery, a light horror aspect, and a women's character journey together, creating a reading experience unlike any other. I don't think I've ever read anything quite like it. Murphy's writing is polished, eerie, and beautiful.
"Even my kindest clients have a certain manner of meeting my eyes, before or after encounters. It still stands out to me sometimes. The sensation of being looked at so searchingly, vacillating between familiarity and disappointment. Just waiting for me to become somebody else."
Murphy's characterization of Edie was what stood out in this novel. In the beginning, Edie's is rather sterile and bland and describes herself as being someone who could be almost anyone. She transforms from a woman running from her past down and into someone who's ready to face what she's done and create her own path. But it isn't an easy journey.
"I'm overwhelmed by the thought of all the women who would pour out of me if I were cracked open: swarming like insects, bubbling out of my mouth. The women who have collected inside me over the years, filling up my insides until there's no room left for me."
This book was a very unique reading experience for me in that it made me feel slightly unsettled. Edie alludes to the rumors of bodies becoming possessed by spirits who refuse to leave. But these rumors quickly become her reality. Murphy's descriptions of these moments with Sylvia slowing seeping into Edie's life was eerie and creepy and adds a scary twist on this unique story.
The name Eurydice holds significance and I love how it tied in. The origins of Eurydice is rooted in Greek mythology, the story told a couple of different ways. In both versions Eurydice was married to Orpheus, but she's dies tragically and suddenly. Orpheus tried to bring her back to life through the power of his music, subject to one condition: Hades would allow Eurydice to go back with Orpheus as long as Orpheus didn't look back to her on their way out of the Underworld. But he did and because he didn't trust Hades, Eurydice was dragged back down the Underworld. Tragic. I absolutely loved the parallels of this story to this novel. Reading back through this story after I finished the novel made me look at the novel in a completely different way.
There were a few things that bothered me slightly. Some of the decisions Edie made along the way were hard for me to reconcile and completely believe, mostly concerning her attachment to Patrick. Likewise, it was difficult for me to belief that a man, even if he's allegedly deep in mourning, would open his life up to a stranger like Edie whose motives are questionable. Also, several of the secondary characters had story arcs that were partially developed and then later abandoned.
If you're looking for a completely different read, then check out THE POSSESSIONS! Despite my few issues, I really enjoyed the story and the gorgeous writing. If you read it, I'd love to know what you think?
* Thanks to Harper Books for providing me with a early copy for review. This did not affect my opinion or influence me in any way. 
If you had the chance to talk to your loved ones who've passed on, would you?