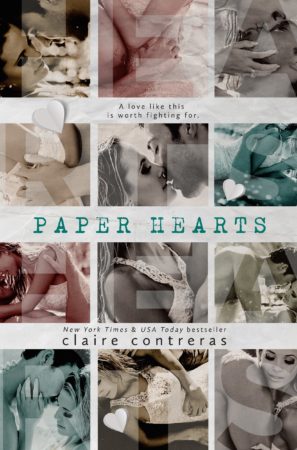 Paper Hearts
by
Claire Contreras
Series:
Hearts #2
Published by
Self-Published
Publication date:
September 9, 2015
Genres:
Romance
351 pagesFormat:
eARC
Source:
ARC via author
I lost her. No, I didn't lose her. I threw her away. She was my best friend. I was never supposed to fall in love with her. I was careless. She was heartbroken. I thought I was doing fine. But here she is, years later, forced to work with me, reminding me why I fell in love with her in the first place. And this time I'm going to do everything in my power to never let her go.

.
Affiliate Disclosure: This post contains affiliate links. In plain English, this means that I may receive a small commission (at no cost to you) if you purchase something through the links provided. This small income goes back into my blog, so I can continue to create fun content for you. I appreciate my readers and make it my goal to be upfront and honest. Thank you for supporting my blog!
PAPER HEARTS is a second-chance romance and the second novel in Claire Contreras's Hearts series. After I read Kaleidoscope Hearts, I was curious to see what happened between Mia and Jensen and why she was so hurt and upset with him. You definitely find out why in the prequel novella TORN HEARTS, which is included with Paper Hearts.
This is the second book I've read by Claire Contreras. While I did like some aspects of Paper Hearts, I didn't enjoy this book overall due to an abundance of cliches, undeveloped characters, and contrived plot points. However, you might like this book more than I did if those things don't bother you and simply want a quick sexy second chance romance.
Those who enjoyed Kaleidoscope Hearts will be happy to know that Oliver and Estelle show up quite a bit in PAPER HEARTS, which was fun. I was expecting more from this novel since so many readers loved it, instead of the same sort of new adult novels I've grown tired of. The reason why Jensen broke it off with Mia five years prior seemed contrived and simply used as a plot device for dramatic effect. By the time they meet up again, that obstacle is magically gone and they're free to date. The reader isn't shown the aftermath of Jensen's choice, we just magically skip ahead five years. I would have liked to have seen Jensen's struggle during those years.
This story didn't resonate with me at all. I didn't find any connection to the characters, mostly because the characters were not memorable or particularly distinctive. In turn, my lack of connection to the story led to a disconnect in the story and the angst the author was trying to create. Jensen's chapters, which are also his newspaper column, were filled with cliched one-liners about soul mates and fate.
* I received a copy from the author in exchange for an honest review.