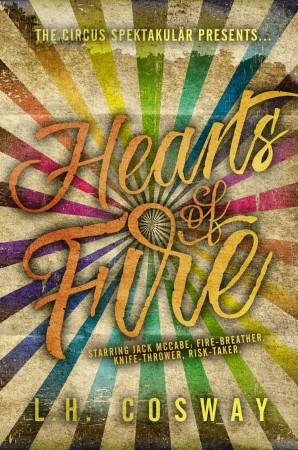 Hearts of Fire
by
L.H. Cosway
Series:
Hearts #2
Published by
Self-Published
Publication date:
March 9, 2015
Genres:
New Adult
,
Romance
350 pagesFormat:
eARC
Source:
ARC via author
The Circus Spektakulär is proud to present Jack McCabe: Fire-breather, knife-thrower, risk-taker.

My house burned down when I was just a boy, robbing me of both my parents.

Now I breathe fire, eat the poison that almost killed me.

Crowds come to see me night after night. Men for the spectacle, women for the thrill. I'm an oddity to be stared at and desired. With each flame I spit, I risk my life.

I wear scars on my body that will never go away, but the scars inside my head are far more difficult to overlook.

My brother doesn't know me, and if I have it my way he never will.

Life was going exactly the way I'd planned until Lille came along. She wanted to run away with the circus, have an adventure, but this world was never meant for her.

I try to keep her safe, because she doesn't know the dangers that are out here on the road. She doesn't know the monsters that lurk behind the bright lights of the ring. In truth, I could be considered one of them.

We were fashioned from different cloths, never intended to mix. So I watch her. I try not to touch, even when her eyes invite me.

Join us in the Spiegeltent and let us give you a show. Allow my Lille to draw a picture for you in paint and sweat and skin.

The truest love is always the hardest to let in.

This is a standalone romance that tells the story of Jack McCabe, Jay Fields' long lost, presumed dead brother. It is not necessary to have read Six of Hearts in order to enjoy Hearts of Fire.
Affiliate Disclosure: This post contains affiliate links. In plain English, this means that I may receive a small commission (at no cost to you) if you purchase something through the links provided. This small income goes back into my blog, so I can continue to create fun content for you. I appreciate my readers and make it my goal to be upfront and honest. Thank you for supporting my blog!
Book Review:
If you've been following my blog for awhile, then you know that I am a big fan of L.H. Cosway's books. She always adds a unique and unconventional element to her stories that set her books apart from others. After I read Six of Hearts last year, I couldn't wait to hear about Jay Fields's long-lost brother, Jack. I had a lot of trouble getting into this book and ultimately didn't love it.
The story is narrated by Lille, a young woman who yearns for adventure and to break free from her small town life. Having spent years under her mother's control, she leaves everything behind – her job, school, her boyfriend – and joins the Circus Spektakular, a traveling circus. Her love of art and painting, while not appreciated by her mother, is put to good use in the circus. When the foreman have put up the tent and the scent of popcorn fills the air, Lille earns her keep by face painting.
Lille captures the attention of the mysterious fire eater Jack McCabe. Lille is immediately captivated by him and there is something about him the draws her to him. Jack is a many of very few words and no one seems to know much about him. Eventually, they get together and Lille learns of the physical and emotional scars of his past that continue to haunt him.
In order for me to be fully engaged in a romance, I need to feel the attraction and the connection between the hero and the heroine. Here, it took nearly half the book for me to start to feel anything for them. I felt like the author spent so much time creating this tension, but it felt unnatural and forced.
"There was something intense about the way he looked at me…"
"It was disconcerting that I got chills every time I saw him. He had this aura, though, like you couldn't tell if he was human or supernatural…"
"He met my eyes for a prolonged moment, and I felt an intense shiver…"
I found Jack's character to be overly brooding and mysterious. I understood that he wasn't quick to let anyone in but he constantly would pull Lille in and then push her away.
There was a particular part of the story that I just didn't like and didn't really see the significance of its presence. View Spoiler »The fact that he was molested as a child « Hide Spoiler It seemed superfluous, especially he was adopted which is troubling enough as it is. Which brings me to my next point—Jack's sexual proclivities. I'm no prude. Trust me, I've read erotica with whips and all that jazz. But there have been a couple of books lately where the hero in a new adult-ish romance suddenly has these bizarre sexual habits. View Spoiler »Here, Jay got off on burning his partners.

"To this day, I've been obsessed with burning. Obsessed with fire and heat, and what it can do to people…"

And then she starts to like it and want to be burned. « Hide Spoiler
"You don't have anything to burn me with here." I said, voice weak with the need to taste him.
I won't reveal more about burning the thing for the sake of spoilers, but I really did not like that element of the story. It was weird and seemed like such a strange reaction to what happened to him.
I liked seeing Matilda and Jay back in the story and loved how Jay's perceptive skills were put to good use at the Circus, but I'm sad to say that Lille and Jay's love story just was not for me.
2 stars
Amazon: US • UK • CAN | iBooks | GR
* I received an advanced copy from the author in exchange for an honest review.