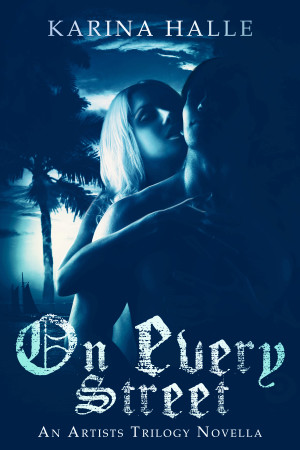 On Every Street
by
Karina Halle
Series:
The Artists Trilogy #0.5
Publication date:
March 9, 2013
Genres:
Adult
,
Romantic Suspense
138 pagesFormat:
eARC
Source:
ARC via author
When young con artist Ellie Watt decides to call herself Eden White and go after the drug lord who ruined her as a child, she never expects to fall for one of his henchmen. But Javier Bernal is no ordinary man. Subtly dangerous and overwhelmingly seductive, Eden finds herself passionately in love with Javier, the very person she's set-up to betray. With her body and heart in a heated battle against her deep need for revenge, no one will walk away from this con a winner.

This 50K word (100+ pages) novella takes place six years before Sins & Needles. It can be read before or after Sins & Needles and may also be read as a standalone.
Affiliate Disclosure: This post contains affiliate links. In plain English, this means that I may receive a small commission (at no cost to you) if you purchase something through the links provided. This small income goes back into my blog, so I can continue to create fun content for you. I appreciate my readers and make it my goal to be upfront and honest. Thank you for supporting my blog!
Book Review:
So completely caring yet a killer without a conscience.
Note:  For those of you who haven't read Sins & Needles, read On Every Street first. You don't need to know anything about the characters before diving into this one. You won't regret it.
Six years before Ellie Watt decided she wanted to leave grifting behind and before she reunited with Camden, there was Javier, her first love, her first obsession, her first everything.  Under the alias, Eden White, she set out to get revenge on the man who ruined her life, Travis Raines. She chose Javier, Travis's right hand man, as her pawn in her plot for revenge.  Naive, inexperienced, and completely captivated by Javier, Eden gets in way over head.  She loses focus and, in the process, she loses her heart to this complicated man.
"It's funny how quickly I had turned into someone that wanted to spend every minute with a guy. That had never happened to me before. I guess I could blame it on working the long con, but deep down, I knew that wasn't it."
"Some days I felt like Eden White. Other days I felt like Ellie Watt. But most days, I only knew one thing: I was a horrible con artist. And, against my better judgement, I was making peace with that."
Javier, oh my Javier.  I wanted to hate him.  I tried, I really did, but he slithered his way into my heart and gradually took it over.  A week later, I can't stop thinking about the book and good ole Javier.  I can't pinpoint exactly when my hate switch turned off and the like switch turned on, but it happened.  *shouts to the heavens* Damn you, Javier!  Javier is a broken man. Despite his high rank in the world of drug trafficking, he is surprisingly vulnerable and open with Eden.  He lets down his guard and shows her a softer and sensual side. It's this gentle side that melted my and Eden's heart.
"You can't just hand over your virginity to me, Eden. I have to take it from you. I have to make you surrender to me, to everything, in every way possible. I want your heart, your soul, and your body. I want the you that you're hiding deep inside. I must have her."

"Why am I good to you? Because I can see you are broken. And I want nothing more than to put you back together."
On Every Street begins with Eden and Javier's first meeting and ends with the demise of their relationship.  Their two-year love affair was intense and full of…love? obsession?  I don't know which!  What I do know is this novella came with a one-way ticket to Crazytown. I went from feeling sad to "awwwhh" to "whoa, man that's hot" in the span of a few pages.
Even though I was completely frustrated with Eden's decision-making skills, I can understand how she got wrapped in her emotions and lost sight of her endgame.  In this novella, I felt the gamut of emotions Eden went through from the beginning until the brutal end.  At the end when Eden walks into their home and realizes what Javier is doing, I felt like I had been duped and cheated on.  I wanted to throw something and punch Javier in his peas and carrots.  Javier, man, what the hell?!?
Here's the Situation:
Now, I'm torn between two psychopaths (okay, maybe psychopaths is a bit harsh.  Oh well, I'm going to go with it).  Picture Javier and Camden in a boxing ring about to fight for Ellie's love.  In one corner, we have the safe choice, Camden.  Though he isn't perfect, he seems to be the lesser of two evils.  He has loved/obsessed over Ellie since high school, and wants her to be herself.  In the other corner, there's Javier, Ellie's first love/obsession.  He is more dangerous, but the chemistry and passion between these two is off the charts.  Who will win Ellie's heart?  I suppose we'll find out in the next two installments.  Now the wait begins…
*I received a copy from the author in exchange for an honest review.