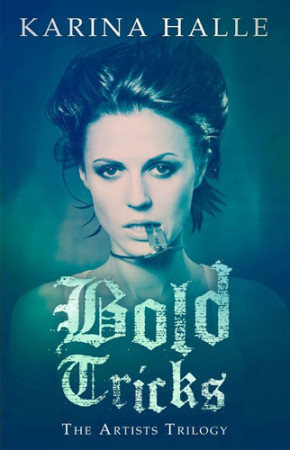 Bold Tricks
by
Karina Halle
Series:
The Artists Trilogy #3
Published by
Grand Central Publishing
,
Hachette
Publication date:
October 15, 2013
Genres:
Contemporary Romance
,
Romantic Suspense
338 pagesFormat:
eARC
Source:
ARC via NetGalley
With more lives at stake and games in motion, Ellie, Camden and Javier form an uneasy alliance that will take them from the treacherous streets of inner-city Mexico to the wilds of the Honduran jungles in order to find their freedom. But with liberty just on the horizon, the cost might come at their own redemption.
Affiliate Disclosure: This post contains affiliate links. In plain English, this means that I may receive a small commission (at no cost to you) if you purchase something through the links provided. This small income goes back into my blog, so I can continue to create fun content for you. I appreciate my readers and make it my goal to be upfront and honest. Thank you for supporting my blog!
Book Review:
Bold Tricks raised my blood pressure – I'm sure of it.  While reading this one, my emotions were high.  I've come to realize that is a completely normal reaction to reading any of Halle's novels. Halle knows how to write interesting three-dimensional characters.  I loved watching Ellie, Javier, and Camden interact with each other in this one after all the stuff that went down in the previous 2 1/2 books.
Bold Tricks began with a bang – literally.  It was non-stop action from chapter one.  If there was anyone out there doubting Camden McQueen's badassery, you should have no doubt in your mind after reading this one.
"I have steady hands."
Shooting Scars left the gang in a rather unique and unexpected position.  Gus had gone missing and was presumed to be with Travis, the evil, twisted drug lord that Ellie set out to avenge for messing up her leg and the guy Javier wants to take down in order to take his place as the king of the cartel.  Javier seems to be willing to help Camden and Ellie find Gus, which is a rather drastic change in character for him.  Javier being helpful?  Did hell freeze over.  The appearance of Javi's tiny microbial heart did not go by unnoticed.  Everything he does has a self-fulfilling purpose.  This new partnership led to one of the most awkward car rides EVER.  I was so uncomfortable reading this, especially knowing what happened between them not so long ago.
"My knee was touching [Camden's] knee. My other knee was touching Javier's. I could feel them on either side of me, hear their breathing, both their bodies tense and rigid as we sat there in the darkness. This was so awkward. So fucking awkward."
In return for his help, however, Javier needed to run a few errands before the gang set out on their quest to find Gus.  Along the way, we meet Javier's sister, Violetta.  I absolutely loved her.  She has quite the sharp tongue on her and she doesn't hold anything back whatsoever, even with Javi.  And as his sister, she gets away with it.  Perhaps that's why I loved her so much.
"Do you know what this asshole has done? Nothing. Nothing at all! He's been promising to send me money every month and the last check I got from him was, oh, two years ago!"
All the while, Ellie and Camden are in this sort of relationship limbo.  Camden went through hell and back to find Ellie in the last book, only to be left heartbroken and injured  (sidenote: that was one best romantic gestures in a book ever.  *sigh* Camden, you are so dreamy).  Neither of them knew where they stood with each other.  Shooting Scars was told in Ellie and Camden's points-of-view, so we got to see exactly what Camden was thinking and how he felt towards Ellie.  I missed being inside Camden's head in Bold Tricks because poor Ellie had no idea if Camden felt ANYTHING anymore.  Though, because I'm evil, I loved watching Ellie and Camden dance around their feelings.
"I breathed in deeply, taking in his familiar smell and making it my fuel.
Don't ever leave my side again, I thought. I wanted to say. I missed you. I still love you.
I looked up at his eyes, hoping he could see far enough in, to see how I was really feeling.
I love you.
He stared back at me, eyes so perfect, so blue. Then he cleared his throat and looked away."
But at the same time, Ellie's self-doubt and self-loathing was excruciating to read.  She was left wondering, "Does he still love me?  Can he still want me after what I did?"  Halle has such a gift with making the reader feel a character's internal struggle to the point that you are living through it with them.  That's part of what made Bold Tricks such an emotional experience for me.
The question of whether or not you can trust Javier is answered completely in Bold Tricks along with other questions:  Will he live or die? (Listen at this point, I don't put anything past Karina Halle) Will Ellie end up with Javier in the end?  Will Javier break up with his one true love, power, for Ellie?
"I realized you and I are as toxic as the poison you put in my necklace. That has always been the truth and that will never change. The us that was is gone. This is the new us. We can help each other and if we can't, then we shouldn't be in each other's lives."
Because I've been Team Camden all along, it was immensely satisfying to see Camden call Javier a sick fuck.
"You're a sick fuck," Camden seethed at him.

"You're going to have to start coming up with more original insults. I believe you've already called me that before." He looked at him briefly, his face lighting up at the sight of Camden so angry and bothered. "Don't make me regret not leaving you on that roof to die."

Silence filled the car.

It was going to be a long drive to Aguascalientes.
Remember our dear Ellie's internal turmoil I talked about earlier?  Javier is there at every turn making her question herself even more.  And, like Ellie, I hated him more for it.
"…I looked into that boy's eyes tonight and there was no good in there left for you."

My gaze locked with his, a war without further words. His eyes shone yellow-green in the light, looking more inhuman by the moment. Deep in his insanity, he was making some sense. That's what I hated most about Javier, that there was always a kernel of truth to his words, a truth that made you fall for the lies.
This book oozed romantic tension.  I got to a point where I was mentally begging Camden and Ellie to HUG IT OUT. (Okay, I wanted them to do a lot more than hug it out).  When they FINALLY "hugged" it out, it was hot no it was SCORCHING and filled with so much unsaid words and FEELING.
"It was wrong, it was wrong, it was wrong to be doing this with him, in here, when the whole world was dying out there, but I didn't care. I loved him and I needed him more than I ever needed anyone. I loved him and love had to be good in this life full of bad."
In addition to the insane tension between all the characters, there is hefty a dose of action-packed goodness.  The plot builds and builds to a nail-biting and SHOCKING conclusion that left me an emotional mess.  The pivotal scene toward the end had my stomach in knots.
Despite all of the obstacles in their way, Ellie and Camden found their way back to each other.  Their story wasn't perfect – far from hearts and flowers – but it was perfect for them. Enjoyed this book!
3 stars
Amazon: US • UK • CAN | iBooks | GR
**I received an advance copy in exchange for an honest review.
SERIES READING ORDER
ON EVERY STREET
This prequel that can be read first or after Sins & Needles.  It takes place before the events in Sins & Needles.
Kindle | Goodreads
SINS & NEEDLES
Kindle | Goodreads
SHOOTING SCARS
Kindle | Goodreads