Off the Record
by
K.A. Linde
Series:
Record #1
Published by
Amazon Publishing
,
Montlake Romance
Publication date:
March 11, 2014
Genres:
New Adult
,
Romance
445 pagesFormat:
ARC
Source:
ARC via author
Liz Dougherty has no idea a single question is about to change her life.

Her first big reporting assignment for her North Carolina college newspaper has her covering a state senator's impromptu press conference. Brady Maxwell may have everything it takes to be a politician—a winning pedigree, devastating good looks, a body made to wear suits—but his politics rub Liz the wrong way. When Liz's hard-hitting question catches the upstart senator off-guard, it impresses Hayden Lane, Liz's editor who feels she's headed for a promising career as a reporter.

But Liz is also headed into a secret romance with Brady that could destroy both their ambitions. Though he's a bachelor, potential voters might frown on Brady cozying up to a reporter. And Liz isn't sure sneaking around is enough for her—especially when things between her and Hayden might be less platonic than she thought.

Sleek, sexy, and smart, Off the Record ventures into a high-stakes campaign and an even higher-stakes affair to answer the question: When politics and love collide, can there ever be a winner?
Affiliate Disclosure: This post contains affiliate links. In plain English, this means that I may receive a small commission (at no cost to you) if you purchase something through the links provided. This small income goes back into my blog, so I can continue to create fun content for you. I appreciate my readers and make it my goal to be upfront and honest. Thank you for supporting my blog!
Review:
Off the Record is a steamy, romantic, tension-filled romance that makes politics (dare I say?) sexy. This was the first book I read after my nearly two-week stalemate following the wonderful novel, Mud Vein. Off the Record was the perfect book for me at that moment. It had delicious sexual tension, heaps of forbidden secret trysts, and storyline that kept me turning the pages.
I have only read two of Linde's other books (Avoiding Commitment and Avoiding Responsibility) before opening up Off the Record. What drew me to this story before I even started the book was its promise of a forbidden love affair. I flock to those storylines like the seagulls in Finding Nemo flocked to fish, like white on rice. You get the picture. This book hooked me from the very beginning. In fact, I stayed up until midnight one night. I couldn't put it down. I never do that because I have to get up pretty early. But I did not have it in me to place the book on my nightstand and close my eyes.
Liz Doughtery, is a rising journalist at the University of North Carolina-Chapel Hill newspaper. Covering her first political news conference as a reporter, she captures the attention of all the attendees and a certain hot, young Senator Liz just happens to completely despise. Senator Brady Maxwell III. She proceeds to write a rather nasty article using some pretty colorful language.
"I read your article," he said, ending the silence.
Liz swallowed. Great. Why was he even talking to her after reading it? She hadn't been mean, but she hadn't been gentle either. "I bet you loved it," she said with a hint of sarcasm.
"Love might not be the right word. Is there something stronger than love?"
"Hate?" she offered.
Brady chuckled and shook his head. "I particularly like the part about me being—what did you say?—power hungry with my own interests in money? How did you write that, knowing I have other interests?"
Yet that doesn't stop Brady from stopping her in a club, inviting her into the VIP section, and making it quite clear that he finds her and her outspoken personality sexy.
The romance between Liz and Brady was sizzling and kept me frantically turning the pages.
His hand pressed into her back, his thumb pressing into the soft flesh beneath her dress. The electricity rolling off of his fingertips and into her body was like a constant current wherever he was touching her.
What was so enticing about the story was the fact that their relationship had to be very secretive. With Brady running for a seat in the House, he had to keep his image squeaky clean. He especially couldn't be seen with the young college reporter that called him out in a very public forum, leaving everyone buzzing about her venomous words.
There were a few things that I wanted to see more of in Off the Record. Liz and Brady's relationship was very sexual and lust-based. It was clear that both had deeper feelings for each other, I wanted more of the emotional side of their relationship to be revealed to the reader. I think that would have helped me connect to problems that kept Brady and Liz apart.
I can't really pinpoint the exact thing that I liked the most about this book. Rather, it was a culmination of my emotions at the time, Linde's writing style and the forbidden storyline. Honestly, this book was like my own personal book crack. There were even a few of my personal book pet peeves in this book, but I was having so much fun devouring this book that I overlooked them. My favorite part of Off the Record was the very last chapter. That chapter showcased both Liz's character growth and her strength all at the same time.
Now that I'm done, I can't stop trying to predict what's going to happen next. I can't help but wonder whether Calleigh is going to play a part. Linde kind of positioned her as a sort of villain, so I'm wondering if this award-winning reporter is going to break the news of a secret affair to try to ruin Brady's political career. What's going to happen with Liz and Brady? What's going to happen with Liz and Hayden? I just want to know!! Is it August 26th yet? Hrumph.
3 stars
* I received a copy from the author in exchange for an honest review.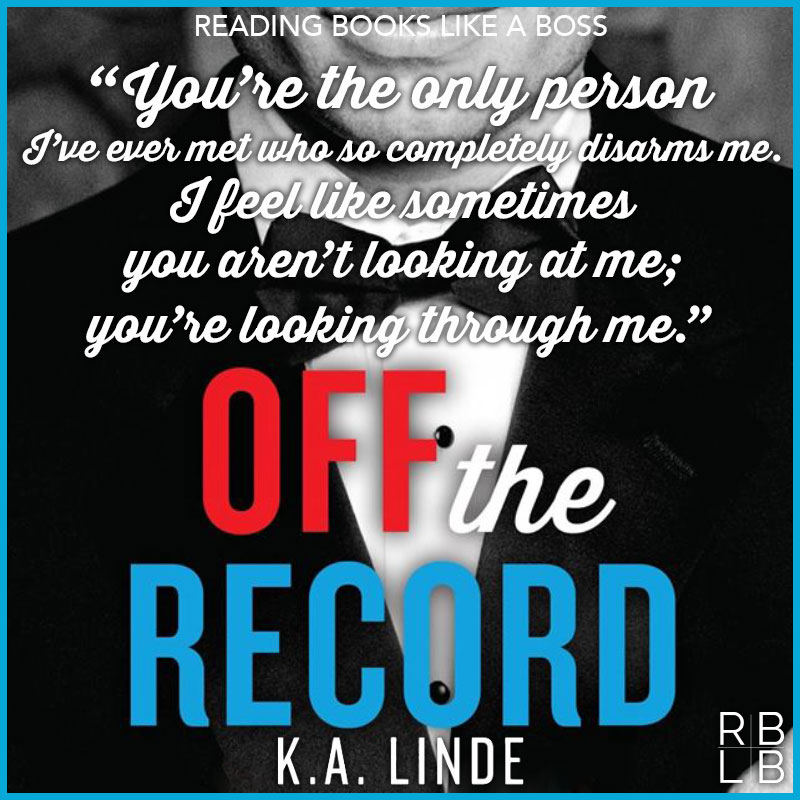 ✥ ✥ ✥ ✥ ✥