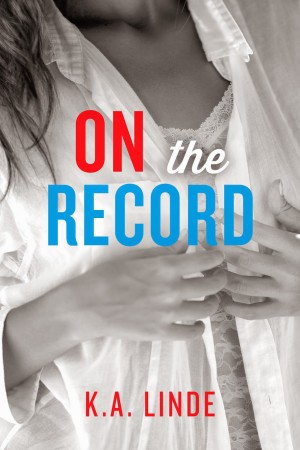 On the Record
by
K.A. Linde
Series:
Record #2
Published by
Amazon Publishing
,
Montlake Romance
Publication date:
August 26, 2014
Genres:
New Adult
,
Romance
Format:
ARC
Source:
ARC via author
For political reporter Liz Dougherty, election day—a day of looking toward the future and saying goodbye to the past—seems like a fitting time to start a new relationship. But feelings for her former flame still linger...

The sexy second book in bestselling author K.A. Linde's Record series decides whether it's better to pick up the pieces and move on...or to pick up right where you left off.

.
Affiliate Disclosure: This post contains affiliate links. In plain English, this means that I may receive a small commission (at no cost to you) if you purchase something through the links provided. This small income goes back into my blog, so I can continue to create fun content for you. I appreciate my readers and make it my goal to be upfront and honest. Thank you for supporting my blog!
After I read Off the Record in April, I needed this book in my hands.  On the Record because one of my most anticipated releases for the rest of 2014, mostly due to how Off the Record ended.  The forbidden affair between Brady and Liz had me on edge and rooting for them to get their act together.
In On the Record, we find our heroine, Liz Dougherty, dealing with the aftermath of the choice she made at the end of Off the Record.  Now a junior in college, she throws herself into work at the school newspaper.  On the Record begins not lot after Off the Record ended with Brady Maxwell's congressional campaign in full swing.  Liz works closely with Hayden, the college newspaper editor and potential love interest from book one.  They fall into a relationship and eventually begin dating.
I was surprised at how much time lapses in this book!  Every time I saw "two months later" or "weeks later" I wanted to scream, "No! No! No! Time is slipping away!"  I wanted the characters to make it right.  I wanted to go back to the good times. And most of all, I wanted Hayden to get out of the picture.
What I liked most about this book were the heavy tension-filled moments between Liz and Brady.  Unfortunately, they were few and far between.  But the promise of more of Brady and Liz scenes was what kept me frantically turning the pages. Every time K.A. Linde fed me a hit of those two I was looking for the next one.
"You don't call me crying in the middle of the night after not speaking with me for months, and then tell me I can't see you. I can't handle it, Liz."
There were a few Brady/Liz scenes where the angst factor was just so incredibly high. Liz knew exactly how Brady felt about her, but he never actually voiced it to her.  There was so much that was left unsaid between the two of them, which only added to the crazy amazing romantic tension between them. I wanted the characters to just lay it all out there after all this time.
"Because while you might have told them…, you never actually told me."
AAAAAAAAHHHHH!!!
I liked Hayden, initially at least.  I thought he was really good for Liz and seemed extremely thoughtful.  He was outwardly affectionate and open with his feelings, unlike Brady was.  Due to my allegiance to Brady, I didn't really feel the romance between Liz and Hayden, which was probably the point.  But because there was so much focus on Hayden and Liz in this book, I found many parts to be slow.
On the Record was good but it didn't hook me as much as book one did.  I am looking forward to the book 3 after reading the end of this one.  I have some theories brewing about what is going to happen, but I'm curious to see how it all will play out.  What role will Justin (Liz's friend) play in book 3 and where Calleigh and Hayden fit into the picture?  I want answers!
3 stars
*I received an advance copy from the author in exchange for an honest review.