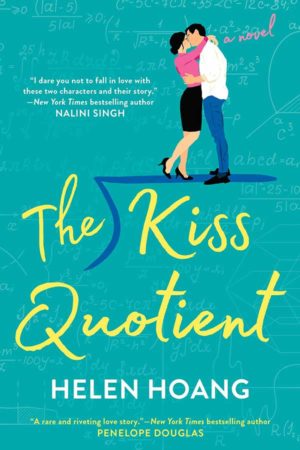 The Kiss Quotient
by
Helen Hoang
Series:
The Kiss Quotient #1
Publication date:
June 5, 2018
Genres:
Contemporary Romance
336 pagesFormat:
eARC
Source:
Publisher
A heartwarming and refreshing debut novel that proves one thing: there's not enough data in the world to predict what will make your heart tick.

Stella Lane thinks math is the only thing that unites the universe. She comes up with algorithms to predict customer purchases—a job that has given her more money than she knows what to do with, and way less experience in the dating department than the average thirty-year-old.

It doesn't help that Stella has Asperger's and French kissing reminds her of a shark getting its teeth cleaned by pilot fish. Her conclusion: she needs lots of practice—with a professional. Which is why she hires escort Michael Phan. The Vietnamese and Swedish stunner can't afford to turn down Stella's offer, and agrees to help her check off all the boxes on her lesson plan—from foreplay to more-than-missionary position…

Before long, Stella not only learns to appreciate his kisses, but crave all of the other things he's making her feel. Their no-nonsense partnership starts making a strange kind of sense. And the pattern that emerges will convince Stella that love is the best kind of logic…

Story Locale: San Francisco, CA
Affiliate Disclosure: This post contains affiliate links. In plain English, this means that I may receive a small commission (at no cost to you) if you purchase something through the links provided. This small income goes back into my blog, so I can continue to create fun content for you. I appreciate my readers and make it my goal to be upfront and honest. Thank you for supporting my blog!
Helen Hoang's charming debut, THE KISS QUOTIENT, killed my hopes of a productive Saturday. I had such a blast reading Michael and Stella's steamy and heartfelt love story. The hero is so swoony and I couldn't help but love watching Stella stumble unexpectedly in love. Such a great sexy read with substance! Highly recommended!
"But why should she settle for Phillip when maybe she could have Michael? Could she use what he taught her…on him? Could she seduce her escort?"
I had grand weekend plans to finally get ready to move into my new house. Thursday and Friday, I listened to the first 20% of this book to and from work. On Saturday, I thought, "I'll just sit down with a cup of coffee and read an eensy weensy bit of this and get to work." No productivity was achieved while this book was in my hands.
Stella is a wealthy and successful econometrician. She knows numbers. She loves numbers. Numbers she can do. People she cannot do. The combined anxieties of her autism spectrum disorder and her parents' not-so-gentle hints that they want grandchildren propel her to go to an expert—or shall I say sexpert?—to show her how to seduce a man. Michael Larsen moonlights as an escort and Stella is unlike any client he has ever encountered. He realizes that he has to be slow and gentle with this very different and intriguing woman. But from night one, he can't control how his heart feels. What starts as a 3-lesson arrangement turns to something more. Soon she's meeting his family and stealing his heart.
This book was utterly charming and it hit my need for a romance with the perfect balance of sexy and sweet. This book pulled me in instantly. This is one of those books that take no time to become fully invested, as you're dropped right in the middle of the action.
Stella is a character who's immediately endearing and likable. I wanted the best for her. As someone who isn't on the autism spectrum, it was sometimes sad to see her so uncomfortable in certain situations. But that's where Michael came in. He is like her knight in shining armor! I loved him so much. He recognized that there was something unique about her but was careful not to make her feel embarrassed, ashamed or as like she's an "other." He was so gentle with her and took time to get to know her.
This book was so enjoyable for me. The cover may lead you to believe that this read is going to sweet and "fade-to-black." Let me tell you that is not the case. This book was extremely sexy without feeling overly raunchy.
"Emotion clogged her throat, anyway. If this was just practice, she never wanted the real thing. How long could she live in a fantasy?"
I wanted a little more build up in terms of Michael's attraction to Stella. It felt a little too instant and intense, which took away some of the romantic tension that I love so much. Part of the fun in reading romance is watching that deep attraction develop and I felt like the author showed her cards a little too early in this one.
The author's note at the end discussed how writing this book led to her own diagnosis. The author did her research here and I felt like Stella's responses to certain sexual situations and social interactions mostly rang true. There was one scene in particular when she met Michael's family that didn't quite make sense. I found her behavior with his family felt true to someone with the disorder, but not necessarily for Stella and what the reader had learned about her up to that point. Both of these things that bothered me were very minor things that didn't take anything away from the massive amount of fun I had devouring this book!
If you're looking for a "teach me how to sex" romance in the vein of Samantha Young's Before Jamaica Lane or Christina Lauren's Beautiful Player, then check out this addictive and heartfelt romance! This one left me smiling from ear to ear! Definitely a great feel-good romance!
* Thanks to Berkeley for providing me with an early review copy. Receiving this book for free did not affect my opinion.