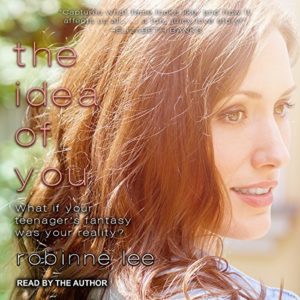 The Idea of You
by
Robinne Lee
Published by
Tantor Audio
Publication date:
April 3, 2018
Genres:
Women's Fiction
Narrator:
Robinne Lee
Length:
11 hours and 55 minutes
Format:
Audiobook
Source:
Publisher
Solène Marchand, the thirty-nine-year-old owner of an art gallery in Los Angeles, is reluctant to take her daughter, Isabelle, to meet her favorite boy band. But since her divorce, she's more eager than ever to be close to Isabelle. The last thing Solène expects is to make a connection with one of the members of the world-famous August Moon. Contains mature themes.

Solène Marchand, the thirty-nine-year-old owner of an art gallery in Los Angeles, is reluctant to take her daughter, Isabelle, to meet her favorite boy band. But since her divorce, she's more eager than ever to be close to Isabelle. The last thing Solène expects is to make a connection with one of the members of the world-famous August Moon. But Hayes Campbell is clever, winning, confident, and posh, and the attraction is immediate. That he is all of twenty years old further complicates things.

What begins as a series of clandestine trysts quickly evolves into a passionate and genuine relationship. It is a journey that spans continents as Solène and Hayes navigate each other's worlds: from stadium tours to international art fairs to secluded hideaways in Paris and Miami. For Solène, it is a reclaiming of self, as well as a rediscovery of happiness and love. When Solène and Hayes's romance becomes a viral sensation, and both she and her daughter become the target of rabid fans and an insatiable media, Solène must face how her romantic life has impacted the lives of those she cares about most.

Contains mature themes.
Affiliate Disclosure: This post contains affiliate links. In plain English, this means that I may receive a small commission (at no cost to you) if you purchase something through the links provided. This small income goes back into my blog, so I can continue to create fun content for you. I appreciate my readers and make it my goal to be upfront and honest. Thank you for supporting my blog!
Robinne Lee pens a May-December romance that left me crawling to the end and wondering how this all will work out. Will it work out? Even though I wasn't as invested in the love story (and I knew the ending due to a friend accidentally spoiling it for me), I can empathize with those readers that did feel connected. That frenetic anxiety combined with an extremely charming and emotionally vulnerable hero made this book an emotional powerhouse for many. I wish I could have been on that love boat with everyone else.
I finished this book yesterday (as of writing this review) and slept on my thoughts before writing them all down. I feel conflicted over this book. It's books like this that remind me how much I love writing reviews and thinking critically about what I liked and didn't like in a book.  This book has given me so much to think about. The writing was good, I really liked Hayes, and I appreciated the message of female empowerment woven throughout the novel. However, I wasn't as moved by the love story as many others were for reasons I will attempt to convey below.
The framework for the romance was strong. The hero was just my type of guy—a beta male! Underneath, the glamor of fame and power was an emotionally sensitive and, at times, fragile guy in love. (I really, really liked Hayes A LOT). Solène was the older of the two but perhaps the more flawed and immature. The chemistry between them started off well, with witty and suggestive banter, that I enjoyed.  It "was only supposed to be lunch" but before either of them knew it they were falling fast and hard for one another without a safety net. I loved this aspect of their love story.
This book contains perhaps one of the most cutting attempts at shutting down someone's feelings for you EVER! When it was thrown out there I wish the speaker could have taken it back. I think when I heard the narrator/author say it, I actually said, "Ooooooooo."  The root of the phrase had been woven throughout the book and when uttered it was the quickest way to cause hurt. Boy, was it effective. Ouch! You'll have to read the book to see if it stuck though.
Can we talk about Hayes for a hot second? I really liked him a lot. He surprised me by just how fervently he pursued Solène. I understood how she could have fallen for him so quickly. After growing frustrated with the young women in his band's demographic, he started going for older women. I think the author did a really great job with his character. Over the course of the novel, his confidence shatters, revealing a delicate and fragile man so gone in love. I really liked the juxtaposition of who he appeared to be to who he was.
Solène was an extremely frustrating character to read. I suppose that we as humans are often frustrating to ourselves and others, which is why I gave Solène grace to make mistakes and be immature. Her flaws humanized her. But after awhile, I had hit my limit and I became flat-out annoyed with her. She agonized repeatedly over her secret affair with her daughter's pop star idol. How would Isabelle react to her being in a relationship with 20-year old Hayes?  Yet, it took way too long for her to sit down and have that conversation.
Solène's behavior and actions were completely contradictory with what her self-proclaimed top priority was: her daughter. After revealing to her daughter who she's dating, she becomes increasingly careless about her public behavior. As a mother who said she was very concerned about how her relationship would affect her daughter's life, it made no sense why she would even entertain the idea of sexual acts in public when she knew paparazzi were everywhere. This kind of contradiction felt like manufactured and unnecessary conflict to me.
In life, if you want something to work out, you have to take steps to make it so. She got her daughter's blessing, but that's about as far as she went towards working on a real relationship that would last past December. Hayes, on the other hand, was looking at their future. Most times, I found that it was the 20-year old who was making the more mature decisions. It was Hayes that encouraged Solène to be an adult and work towards solving the problems in their relationship (namely, revealing their relationship to her daughter). It was Hayes who was willing to work through whatever obstacles Solène threw in their path. Though playing devil's advocate to myself (ha!), it could be argued that that naïveté was his immaturity shining through. But I go back to my initial thought: if you want something to work out, you will WORK on it.
As a romance lover, I'm not averse to sex scenes. But after awhile, the plot felt really repetitive and I had a sense of deja vù every time Solène traveled to a different city to have sex with Hayes. We've been here before, 6 times over. The descriptions of their romantic interludes also got old quickly. I remembered from the last 3 times it was mentioned that Hayes can go all night over and over without rest. 20-year olds, right?
I so wanted to be one of those readers who was captivated, emotionally invested, affected and wrecked by this book. But my issues with Solène and the progression of the plot prevented me from being totally enamored by this couple.
Let's talk about the elephant in the room, the ending.
Spoilers
I'm not bothered by what happened. I think the way the book ended was how it was supposed to. After thinking on this, I think I didn't like the ending because of Solène. I know some readers identified with Solène's rediscovery of her own worth after divorce. I can say with confidence that I did not like her. I thought she was extremely selfish and hated the way she treated other people, most of all Hayes.  I would have been more accepting of their love story and its demise if she had attempted at making the relationship work. Instead, she didn't communicate with Hayes about her reservations of jumping into a relationship. She didn't offer any explanation. Would the age gap be too much to overcome? Maybe. But she never found out because she shut it down. I can understand that in life sometimes you have to shut things down but she owed Hayes a conversation.
[collapse]
Was this a bad book? No, far from it. Would I reread it? Probably not. If the author wrote a sequel, would I read it? A resounding YES! View Spoiler »But with a different heroine because Hayes deserves better than Solène. « Hide Spoiler If the author wrote something other than a sequel, how would I feel? Happy but sad. One might say, conflicted, much like how I feel over this book. See what I did there? Full circle, people.
Audiobook Comments: 
The author's performance as the narrator in the audiobook was fantastic and captivating. If you loved the book and want to relive it on audio or if you're looking for a new audio listen, you won't be disappointed with this narrtor. The audio production is wonderful.
* Thanks to Tantor audio for providing me with an early audio copy for review. Receiving this audiobook for free did not affect my opinion.