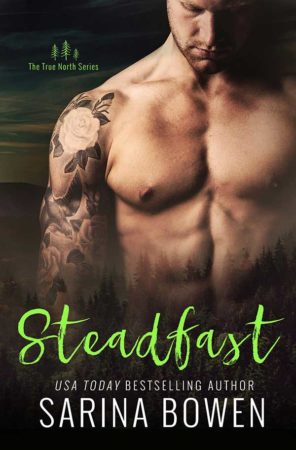 Steadfast
by
Sarina Bowen
Series:
True North #2
Published by
Self-Published
Publication date:
July 12, 2016
Length:
10 hours and 17 minutes
339 pages
She's the only one who ever loved him—and the only one he can never have.

Jude lost everything one spring day when he crashed his car into an apple tree on the side of the road. A man is dead, and there's no way he can ever right that wrong. He'd steer clear of Colebury, Vermont forever if he could. But an ex-con in recovery for his drug addiction can't find a job just anywhere.

For Sophie Haines, coming face to face with the man who broke her heart is gut-wrenching. Suddenly, he's everywhere she turns. It's hard not to stare at how much he's changed. The bad boy who used to love her didn't have big biceps and sun-kissed hair. And he'd never turn up volunteer in the church kitchen.

She knows it's foolish to yearn for the man who returned all the heartsick letters she wrote him in prison. But the looks he sends her now speak volumes.

No one wants to see Sophie and Jude back together, least of all Sophie's police chief father. But it's a small town. And forbidden love is a law unto itself.
Affiliate Disclosure: This post contains affiliate links. In plain English, this means that I may receive a small commission (at no cost to you) if you purchase something through the links provided. This small income goes back into my blog, so I can continue to create fun content for you. I appreciate my readers and make it my goal to be upfront and honest. Thank you for supporting my blog!
STEADFAST is the second book in Sarina Bowen's steamy romantic series surrounding a group of farmers in Vermont. This is Jude's story. You don't have to read Bittersweet (My review) to start with this one, as each book can be read as a standalone. You can read my reviews of the other books in the True North series here: True North series.
Jude worked on the Shipley farm after getting out of prison, but his seasonal job ended. Now he's back in his hometown, continuing to fight for his sobriety and placing him close to the only girl he's ever loved, Sophie. His past haunts him, struggling with guilt over his involvement in Sophie's brother's death. His heart still belongs to Sophie but will she ever forgive him?
This book is a second-chance romance. Readers who were intrigued by the mysterious Jude and his inner demons will enjoy getting a glance into his past, his mind, and his heart. I liked how Jude and Sophie reconnected and felt like Sophie's conflicting inner turmoil felt real.
I didn't feel like there was anything in this story that made the book unique or memorable to me. I'm very picky with writing style and quality. This book left something to be desired in terms of the writing. The book is written in dual point-of-view, which seems to be very popular these days. But so often I see that the chapter breaks and changes in point-of-view is arbitrarily chosen, which was the case here. In Sophie's opening chapter, she refers to her purse as her "pocketbook" twice, which is a term I've heard my great-grandma use but not any 20-something I know, unless they were impersonating an elderly woman. Also, Jude refers to drugs so many times as "smack" and after the first 5 times, I longed for a different word for drugs to be used.
* I borrowed this audiobook from my local library.