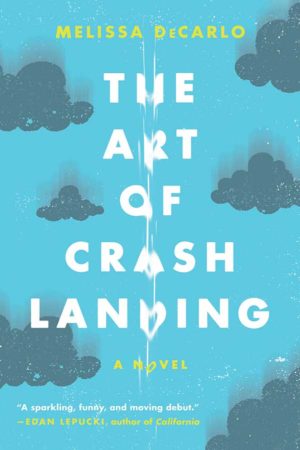 The Art of Crash Landing
by
Melissa DeCarlo
Published by
Harper
,
HarperAudio
Publication date:
September 8, 2015
Genres:
Women's Fiction
Narrator:
Johanna Parker
Length:
10 hours and 57 minutes
432 pagesFormat:
Audiobook
,
eBook
Source:
Borrowed
,
Purchased
From a bright new talent comes this debut novel about a young woman who travels for the first time to her mother's hometown, and gets sucked into the mystery that changed her family forever.

Mattie Wallace has really screwed up this time. Broke and knocked up, she's got all her worldly possessions crammed into six giant trash bags, and nowhere to go. Try as she might, Mattie can no longer deny that she really is turning into her mother, a broken alcoholic who never met a bad choice she didn't make.

When Mattie gets news of a possible inheritance left by a grandmother she's never met, she jumps at this one last chance to turn things around. Leaving the Florida Panhandle, she drives eight hundred miles to her mother's birthplace—the tiny town of Gandy, Oklahoma. There, she soon learns that her mother remains a local mystery—a happy, talented teenager who inexplicably skipped town thirty-five years ago with nothing but the clothes on her back. But the girl they describe bears little resemblance to the damaged woman Mattie knew, and before long it becomes clear that something terrible happened to her mother, and it happened here. The harder Mattie digs for answers, the more obstacles she encounters. Giving up, however, isn't an option. Uncovering what started her mother's downward spiral might be the only way to stop her own.

Hilarious, gripping, and unexpectedly wise, The Art of Crash Landing is a poignant novel from an assured new voice.
Affiliate Disclosure: This post contains affiliate links. In plain English, this means that I may receive a small commission (at no cost to you) if you purchase something through the links provided. This small income goes back into my blog, so I can continue to create fun content for you. I appreciate my readers and make it my goal to be upfront and honest. Thank you for supporting my blog!
Twenty-seven minutes is, if anyone ever asks, exactly how long it takes to cram everything I own into six giant trash bags…Most people would probably have a hard time totally fucking up their life in under an hour. But then again, I'm not most people. I'm amazing. I'm like some kind of fuckup savant.
The opening lines of Melissa DeCarlo's THE ART OF CRASH LANDING tells you a lot about the quirky screwup protagonist, Mattie Wallace. At thirty, she's learned to fail and keep on going, but this time she may have just hit the bottom. She gets with the wrong guys, used to smoke and drink too much, has no money to her name, and will soon be a mother.
Upon finding that she may be the beneficiary of her grandmother's estate, she picks up and heads to Gandy, Oklahoma, where her late mother grew up and her estranged grandmother lived until she passed away. Bad karma follows her there when her car breaks down, she meets a prickly mechanic, and finds out that her grandmother has a long list of creditors waiting to get a piece of the estate. The good news? She's allowed to stay in her grandmother's house while the estate is settled, thanks to the cute paralegal she meets when coming into town who also hooks her up with a job.
The cast of characters Mattie meets while in Gandy is one of my favorite parts of the novel. Everyone has their own part in a past Mattie knows very little about—her mother's. About to be a mother herself, Mattie reflects on her own experiences with her alcoholic mother who passed away suddenly. She worries that she will screw up her unborn child's life like her mother did hers.
Despite being a frustrating and sometimes selfish character, I really liked Mattie. Her narrative was peppered with a heavy dose of humor and introspection. In a lot of women's fiction novels, the female character is totally aware of her own journey; it's often intentional. But Mattie sort of falls into her own metamorphosis. As a reader, it made seeing her growth that much more entertaining.
This book explores the idea of growing out of your mistakes, learning from them, and trying to avoid making the same ones again. It's so fun to read books with such charismatic side characters and this one did not disappoint in that area. This was Melissa DeCarlo's debut novel and I can't wait to see what's next for her.