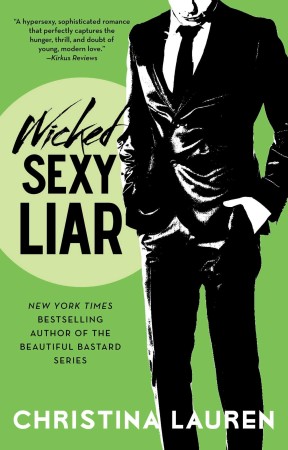 Wicked Sexy Liar
Series:
Wild Seasons #4
Publication date:
February 2, 2016
Format:
eARC
For two people ambivalent about dating and love, they sure get naked around each other an awful lot . . .

London Hughes is very content to surf daily, tend bar, hang out with her group of friends, and slowly orient herself in the years after college. Everything's going great and according to the non-plan.

But when a wave knocks her for a loop one morning, then Luke Sutter's flirtatious smile knocks her for another that evening, she veers slightly off course…and into his path. Sure, he's a total player, but the Why not—it's only one night is a persistent voice in her ear.

For his part, Luke's been on hookup autopilot for so long that he rarely ever pauses to consider what he's doing. But after an amazing time with London, he realizes that he hasn't been moving on from a devastating heartbreak so much as he's been drifting to wherever—and whomever—the current takes him. With London he wants more.

Every relationship involves two people…plus their pasts. And as much as she enjoys her fling with Luke, when London learns about his past—more specifically, who's in it—everything becomes the brand of complicated she strives to avoid. It's up to Luke then to change some things in order to try and ensure he's not something she'll outright avoid as well.
Affiliate Disclosure: This post contains affiliate links. In plain English, this means that I may receive a small commission (at no cost to you) if you purchase something through the links provided. This small income goes back into my blog, so I can continue to create fun content for you. I appreciate my readers and make it my goal to be upfront and honest. Thank you for supporting my blog!
Book Review:
Wicked Sexy Liar is a sexy romance between a recently reformed playboy and a woman who's reluctant to be with him because of his sexual escapades. This book was fun, but it lacked a solid conflict and a real reason why the characters couldn't be together.
By day, London is a surfer chick and by night she's tending the bar at Fred's. As a rule, she doesn't go home with any of her patrons, until Luke saunters in and changes her mind. London doesn't act like the other girls Luke takes home, who try to land a permanent spot in Luke's life. In fact, she's cool and distant, determined to keep things in the friend zone despite being insanely attracted to him. It doesn't take long for Luke to realize that he doesn't just want to be her friend. But how does he convince her to give him a chance?
London and Luke's book was really fun to read. What I really liked was seeing Luke cope with having feelings for someone again after a tough break-up. After dating Mia four years prior, he hadn't really truly been with anyone or wined and dined a girl. He was completely out of his element with London, especially with her ignoring him so often—something he was not accustomed to at all. It was really adorable seeing him get nervous from being around her once he realized how he felt.
Luke's family was an absolute riot, especially his Gram and his sister, Margot. I really liked the scenes with his sister. His family gave him so much crap about being with so many girls, but it was almost too much. His manwhore trait was over-exaggerated to the point that it made his character unbelievable. I felt sort of bad for him because he really was trying to change and everyone, including London, kept throwing it in his face.
In terms of the steam factor in this book, I'd say that it was much tamer as compared to Lauren's other books. Christina Lauren writes such great sexual chemistry between the characters. I liked that we got to see the characters to get to know each other (outside the bedroom). They hung out together as friends and took time to learn about each other.
My main problem with Wicked Sexy Liar is that it lacked a strong conflict. When I say this, I don't mean I wanted more drama. Drama doesn't necessarily equate to conflict. Rather, I mean that there needed to be some other (or better) reason as to why the couple couldn't be together. The reason Luke and London couldn't be together was twofold: First, Luke is Mia's ex. Harlow went all Mama Bear when she found out London was dating Mia's ex. London didn't want to piss her off by dating Luke. Second, London has trust issues and didn't know if she wanted to be with a man whose phone was blowing up all night long with lady friends.
I had a really difficult time understanding why Harlow's opinion even mattered to her, especially after Mia gave London her blessing early on in the book. If London was concerned about Harlow's opinion of her, this could have been solved with a simple conversation. Also, I get that her ex-boyfriend and father were unfaithful and not good examples of how men should behave. But Luke didn't give her any reason not to trust him. In reality, he was doing everything he could to earn her trust and her heart. And lastly, if London was so busy acting cool and ignoring him, why did she even care who was texting him in the first place?
I just really wanted more believable, solid reason as to why Luke and London couldn't be together. The book was still enjoyable to read, but for being nearly 4oo pages, the book started to drag when there wasn't really a true problem for the characters. If something can be solved with a simple conversation that is delayed for hundreds of pages, my interest tends to wane.
* I received an advanced copy from the publisher in exchange for an honest review. This did not affect my opinion of the book in any way.