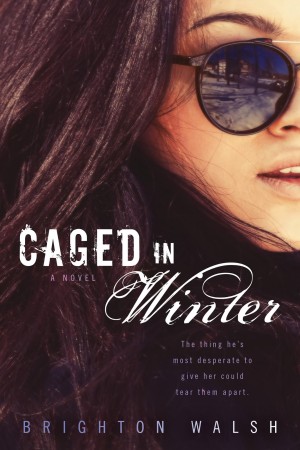 Caged in Winter
by
Brighton Walsh
Series:
Caged in Winter #1
Published by
Berkley
,
Penguin
Publication date:
November 4, 2014
Genres:
New Adult
,
Romance
304 pagesFormat:
eARC
Source:
ARC via NetGalley
In this emotional and sexy New Adult debut from Brighton Walsh, the only thing more frightening than commitment is hope…...

Aspiring chef Cade Maxwell is immediately, viscerally attracted to Winter Jacobson. But it's not her mouthwatering curves he's drawn to—it's the strange emptiness in her eyes. When Cade saves her from a drunken customer with grabby hands, he's shocked at her response…...

Winter doesn't need Cade's help. After a lifetime of getting by on her own, she's happy to rely on herself. She's exactly seventy-six days away from graduating college, and if she can hold it together that long, she'll finally be able to rise above the crappy hand she was dealt.

But now, every time she turns around, Cade is there, ready to push her, smile at her, distract her from her plans. Winter knows she can't afford to open up—especially to a man she's terrified to actually want….
Affiliate Disclosure: This post contains affiliate links. In plain English, this means that I may receive a small commission (at no cost to you) if you purchase something through the links provided. This small income goes back into my blog, so I can continue to create fun content for you. I appreciate my readers and make it my goal to be upfront and honest. Thank you for supporting my blog!
Book Review:
Caged in Winter is a love story about two people who are similarly situated in life, both trying to achieve their dreams.  Cade and Winter weren't looking for love. They weren't trying to find "their Person," but they did.  They crashed into each others' lives and changed for the better.  Diehard fans of the new adult genre will enjoy this one, but for me this one missed the mark.
Winter grew up in the foster care system, being shuffled from family to family. As an adult, due to her abandonment issues she doesn't allow herself to get close to anyone. She pushes those away who try to get to know her. She is untrustworthy and believes that everyone will eventually leave. She goes to school full-time and works as much as she can at a local bar even though she hates the job.  Her work uniform consists of hot pants and a sports bra, leaving little of her body to the imagination. Night after night, she is groped, grabbed, and propositioned by drunk customers. But she puts up with it because she needs the money since she struggles to pay the rent and feed herself.
Cade is going to school to be a chef. After both of parents died, it's just him and his sister, Teresa.  She and her daughter live with him. They mean the world to him and it's his number one goal in life to take care of them.  Reluctantly, he goes out with his friends and notices this firecracker of a waitress being mauled and groped.  Cade, being the sweet guy that he is, runs to her rescue, effectively beating the guy off of her.  To say Winter was pissed would be an understatement.  Cade and Winter don't exactly get off on the right foot. She hates him and he is drawn to her.  Though, as a reader, I don't really understand why. After Winter basically verbally assaults Cade, he can't stop thinking about her.  Cade shows up at this bar every night to make sure she gets on the bus.  Winter  coldly refuses his offer to take her home.  Eventually, he wears her down and she agrees to go on one date.  And thus their friendship and relationship starts.
I wasn't moved by anything in this book. It didn't really evoke any strong emotions in me (good or bad). I didn't feel invested in the characters' lives or their romance.  I think that was due to the lack of character development.  The two main characters' personalities were dull and flat.  Sure, Winter was a "spitfire" and very independent. I can give you character traits about both Winter and Cade, but the main characters didn't feel real to me if that makes sense.  They seemed generic and one-dimensional instead.
There were a few moments I liked. I really liked that Cade was so persistent with Winter. The fact that he kept coming back to her spoke volumes of his character and inherent sweetness. I don't think I would have had the patience to keep going back to her.
This book was told in dual point-of-view, a trend in romance novels with which I don't have a problem.  The author would often switch characters right in the middle of a scene or a dialogue.  It seemed sudden and it would throw me off. It was more like the author had hit a word count for a character and then decided it was time to move to a different character, rather than the scene necessitated a change.  I thought that Cade and Winter's narrative voice sounded very similar. There wasn't really any distinctive characteristics in their voice that separated the two of them, other than a few curse words thrown in with Cade's narrative.  The plotline in this book wasn't particularly compelling or original.  For me to completely enjoy a book, I need the characters to be fully developed and their chemistry to make me feel something. This book lacked that something.
2 stars
* I received a copy from the publisher in exchange for an honest review.
What others are saying:
Valerie from Stuck in Books: "Wow! Just wow. It's rare to find a book, an author that has me from the beginning to the end; a story that I never want to put down and where the time passes without my notice. This is one of those books. And I'm down for anything this author writes." – 5 stars
Jessica from Angie and Jessica's Dreamy Reads:  "Typically it only takes me a page or two of a book to decide whether it will be a book that holds my interest or a book that will be a struggle to get through. Immediately upon starting this book… the first page of the first chapter… I knew this book was pulling me in. The writing by this author is absorbing. Even though it was so early in the book, and I knew virtually nothing about the plot or characters, I knew the writing was strong." – 4 stars