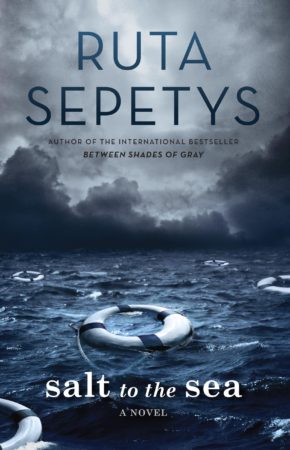 Salt to the Sea
by
Ruta Sepetys
Published by
Philomel Books
Publication date:
February 2, 2016
Genres:
Historical
,
Young Adult
Narrator:
Cassandra Morris
,
Jorjeana Marie
,
Michael Crouch
,
Will Damron
400 pagesFormat:
ARC
,
Audiobook
Source:
Publisher
For readers of Between Shades of Gray and All the Light We Cannot See, bestselling author Ruta Sepetys returns to WWII in this epic novel that shines a light on one of the war's most devastating—yet unknown—tragedies.

World War II is drawing to a close in East Prussia and thousands of refugees are on a desperate trek toward freedom, many with something to hide. Among them are Joana, Emilia, and Florian, whose paths converge en route to the ship that promises salvation, the Wilhelm Gustloff. Forced by circumstance to unite, the three find their strength, courage, and trust in each other tested with each step closer to safety.

Just when it seems freedom is within their grasp, tragedy strikes. Not country, nor culture, nor status matter as all ten thousand people—adults and children alike—aboard must fight for the same thing: survival.

Told in alternating points of view and perfect for fans of Anthony Doerr's Pulitzer Prize-winning All the Light We Cannot See, Erik Larson's Dead Wake, and Elizabeth Wein's Printz Honor Book Code Name Verity, this masterful work of historical fiction is inspired by the real-life tragedy that was the sinking of the Wilhelm Gustloff—the greatest maritime disaster in history. As she did in Between Shades of Gray, Ruta Sepetys unearths a shockingly little-known casualty of a gruesome war, and proves that humanity and love can prevail, even in the darkest of hours.
Affiliate Disclosure: This post contains affiliate links. In plain English, this means that I may receive a small commission (at no cost to you) if you purchase something through the links provided. This small income goes back into my blog, so I can continue to create fun content for you. I appreciate my readers and make it my goal to be upfront and honest. Thank you for supporting my blog!
Book Review:
Note: I read this book and then reread it by listening to it on audio. My audiobook comments are at the end. 
It is not often that a book as special as this one comes around. Ruta Sepetys's prose shines in this haunting fictional account of the most tragic maritime disaster in history. Captivating, heart-wrenching with characters that I won't ever forget, Salt to the Sea will be embedded in my heart for years to come.
Salt to the Sea is set during World War II during the Soviet advance in Prussia. Hundreds of thousands of people were being pushed west by the advance, all leading to the port on the edge the Baltic Sea. At the end of their journey, ships waited to help the refugees evacuate. The author notes at the end that nearly 2 million people were evacuated during this time.
This book narrated by four teenagers, each of different nationalities and vastly different backgrounds. They had their own histories, secrets, and journeys. Joana, a Lithuanian nurse who desperately wants to reunite with her mother; Florian, a young man with secrets that could threaten his life; Emilia, a young Polish girl harboring her own secret; and Alfred, a sociopathic German sailor who longs for power.
This book was beautifully written from start to finish. For me, it was the characterization that stood out. Each of these characters felt like real people. Even the secondary characters—Klaus, Eva, Ingrid, the Shoe Poet—were memorable and compelling.
There were so many moments that were so heavy that left me with a bone deep sadness. Many of those moments seemed to happen in the blink of an eye. The characters couldn't dwell on the horrific things they saw and experienced. They were forced to see, accept, and move on.
I became good at pretending. I became so good that after a while the lines blurred between my truth and fiction. And sometimes when I did really good job at pretending, I even fooled myself.
After the characters boarded the Wilhelm Gustloff, any relief I felt was short-lived. A sense of dread was on the horizon and once it arrived, I was panicking. I couldn't turn the pages fast enough. I almost broke my cardinal rule and flipped to the final page! GASP!
The woman in the mirror was frightening, especially when I realized that she was me. My face was caked with soot, my eyes ringed with grief from the things they had seen. I had lived for twenty-one years, but the recent months had changed me. I scrubbed at the dried blood and grime beneath my fingernails, thinking of the remorse I would never be able to wash down a sink.
Several times, I had to pause and absorb what I was reading because it was so sad. Many scenes were so gruesome and horrifying. At one point, the characters cross paths with a flood of people trying to evacuate. Among them, were a couple of parentless children traveling alone on the back of the family ox. It's noted that the girl's pants were too short for her and her little legs were black with frostbite due to the subzero temperatures. After the ship was hit and sinking, mothers were throwing their babies into the lifeboats but missed the target. Mothers and children were trampled in the stairways as people rushed to get to deck.
Each chapter switches to a different character. So in the beginning while I was trying to get to know each narrator, it was a bit jarring to be constantly switching point-of-view. Eventually, I settled in and the switching felt seamless, smooth, and natural. I couldn't put this book down.
It's a sign of a good book when you find yourself thinking about the characters after you turn the last page. The author is done with the characters' story, but the reader fantasizes about the next unwritten chapter in their lives. I wonder where they are this very moment. Are they happy?
The vast amount of research that Sepetys must have had to conduct is astounding and overwhelming just to think about. What an enormous amount of talent she has. I cannot wait to read her other books.
Sepetys marries together heart-pounding action and thoughtful characterization, delivering a tragic tale with a heavy dose of hope. It's not often that I get emotional when reading but I finished this book with tears in my eyes and smile on my face.
Audiobook Comments:
It's always scary to listen to a book you loved so much. What if the narrators don't do the characters justice? What if the delivery was way off-the-mark? My worries were put to rest. The four narrators who portrayed each character did a fantastic job. The narrator for Emilia was particularly wonderful. Emilia was so brave and resilient yet so fragile and I thought that the narrator's delivery of those things came through. Alfred's narration was so perfect. His character was borderline insane and he clearly had a inferiority complex. The arrogance that the narrator infused in his narration was perfect.
Narrators: Jorjeana Marie, Will Damron, Cassandra Morris, and Michael Crouch
* I received an advanced copy from the publisher in exchange for an honest review. I also received an audiobook from the publisher in exchange for an honest review.