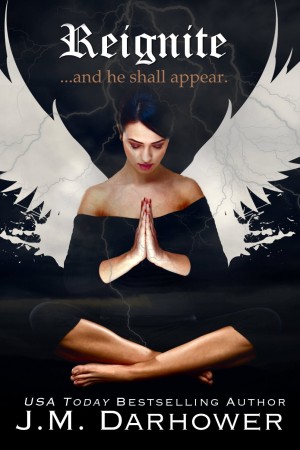 Reignite
by
J.M. Darhower
Series:
Extinguish #2
Published by
Self-Published
Publication date:
October 13, 2014
Genres:
Adult
,
Paranormal Romance
Format:
eARC
Source:
ARC via author
The moment the short-lived apocalypse came to an end, life returned to normal. Mortals continued on with their oblivious existences while the earth healed and flowers again bloomed, the devastation instantly wiped away. It was as if it had never happened.

But it did.

Luce knows. He's cursed to remember every moment, forced to live with everything he has done. Suddenly finding himself out of confinement, he's faced with a decision: where to call "home". Free will turns out not to be the freedom he expects when the only thing he wants doesn't know he exists.

Serah woke up with no memory of where she came from or who she was before that moment. Struggling to adapt to the world as a mortal, she's haunted by a set of bright blue eyes that always seem to be watching her. She can't shake the feeling that he could be her salvation… if only she can remember him before it's too late.

Lucifer didn't fall from Grace alone. He's not the only angel with a grudge, nor is he the only one fascinated by his beautiful mortal.

The road to Hell is paved with good intentions...
Affiliate Disclosure: This post contains affiliate links. In plain English, this means that I may receive a small commission (at no cost to you) if you purchase something through the links provided. This small income goes back into my blog, so I can continue to create fun content for you. I appreciate my readers and make it my goal to be upfront and honest. Thank you for supporting my blog!
Book Review:
Extinguish by J.M. Darhower was one of my favorite books of 2013.  It was a unique and dark tale of forbidden love between the most unlikely beings.  Darhower created this world of angels, demons, and yes, even Satan himself, in which I became complely entrenched in. I loved every second of it.
I read Extinguish last year when it was released as a standalone. At the time, the author hadn't had plans for a sequel, but then Luce kept talking to her.  If you haven't read Extinguish, suffiice it to say that everything is not tied up in a neat little bow. typically, I'm not a reader who needs everything nice and tidy. I'm okay with open ended, but I'd be lying if I said that I didn't want more of Serah and Luce's story. When it was announced that J.M. Darhower would be writing a sequel, I freaked out. We're talking DEFON LEVEL 5 fangirl freak out.  Reignite instantly became one of my most anticipated reads.
NOTE: If you have not read Extinguish (Read My Review) you should probably stop reading here.  Then click here and read that.  I don't want you to be spoiled and it's hard to talk about Reignite without spoiling Extinguish. 🙂  Trust me.  It's really good.
"If she doesn't save him? Michael asked.
"What if he makes the wrong decision?"
"Then everyone will lose," He responded. "Especially them."
Reignite did not disappoint! My heart ached for all of the characters. Yes, even Michael.  I wanted things to go back to where they were before things went way south.  I wanted everyone to be happy.  Reignite picks up soon after the dramatic ending of Extinguish.
Luce is such a dynamic and fascinating character. He is sin incarnate. He is manipulative.  He's all bad things, but one angel transformed his heart and tipped his emotional axis.  He once felt everything, all the pain of those suffering in hell, but now he feels numb with heartache. He is a truly a tortured archangel.
Every sordid detail, every single mistake, every second of heartache had been embedded in his brain, as crisp and clear as the moment it happened. The chaos he'd been accustomed to the past six thousand years—the cries for mercy, the screams of agonizing pain that constantly tried to force itself out of the confinement within his skull—was replaced with something else: absolute silence.
For the first time, he's had to deal with something so mortal, so human—a broken heart.  The love of his existence has no idea who he is and he isn't really sure how to process these feelings.
"Blackness overtook the castle, the sky above a mass of dark clouds, lightning flashing as rain pelted the earth around it, incited by his bitter rage.
Luce's eyes stung.
He once told Serah he could cry, but that he didn't. After all, what would Satan have to cry about? Nothing.
But nobody ever said he was honest.
No matter how hard he fought it back, tears fell from his eyes, the bitter, salty wetness staining his cheeks, fueling his aggression."
How sad is that? He is mourning! Satan is in mourning! He tries to keep his distance from Serah, to let her live her life. But he can't.
I think the transformation of Lucifer is best exemplified in the game of Go Fish he plays with Serah and the little girl she babysits next door.  That whole scene was so adorable and funny. The Luce we met in Extinguish would have no time to play with little children. He probably would have hurt the little out of impatience and frustration.  The "Go Fish" scene made me love him even more and endeared me to him.
"Does you have any queens?" she asked, going again.
Luce didn't have to look at his hand. "Go fish."
Nicki drew a card from the pile.
"Give me your kings," Luce said.
LOL!!!
Like Serah once watched humans from afar, Luce now watches her at a distance. His desire to keep tabs on her is heightened when a malevolent Dominion starts preying on Serah. Despite being an angel, Don, is not innocent nor is he pure. He has dark intentions and Luce doesn't like it one bit.
The moments between Serah and Luce were electrifying and I found myself sizzling with anticipation.  I wanted her to remember, to have a small flash, a millisecond of memory.  Would his presence uncover a buried memory?  There was one scene in particular where I thought I would self-combust with all of the tension.
"You're dreaming," he said quietly. "I'm nothing more than a figment of your imagination."
I DIE!! SERIOUSLY!! WHAT IN THE FREAKING CRAP IS THIS? AHHHHH!!!
With all of the heavenly descriptions and biblical characters, at the heart of Reignite is a simple love story, a forbidden one.  Reignite is about two people and their fight for one another. Luce and Serah's love for one another transcends good and evil.  It's that very thing that made Extinguish and Reignite so addictive and so compelling.
I loved the visual imagery and descriptions Darhower infused into this story. Darhower uses scripture from Genesis and tells Satan's version of The Fall. Darhower used that moment to show how jealous Luce had become of man and how he manipulated the situation to his advantage.
I have to say that the epilogue was quite emotionally satisfying. While I didn't cry, I came very close. In the end, I cared so deeply for Serah and Luce. I wanted them to be happy, but my greed little self longed for them to be happy together. I'm still in awe of how Darhower managed to make Satan the hero of these books.  He now is one of  my favorite tortured heroes.  Her ability to twist what you think you know about The Serpent and turn him into someone magnetic and completely likable—lovable, even—is impressive.
Initially, I was inclined to give this book 4 stars, but the more I let the story sink in as I wrote this review, the more I realized I loved it. So, I'm bumping it up to 4.5 stars….because I can. Now go forth and read about Luce and Serah.
4 stars
* I received a copy from the author in exchange for an honest review.