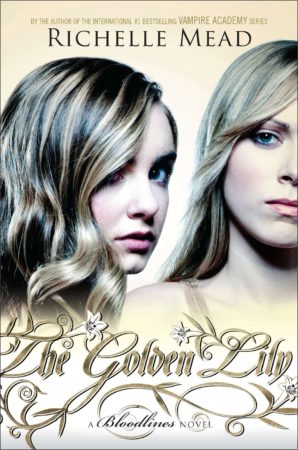 The Golden Lily
by
Richelle Mead
Series:
Bloodlines #2
Published by
Listening Library
,
Razorbill
Publication date:
June 12, 2012
Genres:
Paranormal Romance
,
Young Adult
Narrator:
Emily Shaffer
Length:
12 hours and 14 minutes
432 pagesFormat:
Audiobook
,
eBook
,
Hardcover
Source:
Borrowed
,
Publisher
The second thrilling installment in Richelle Mead's Vampire Academy spinoff series.

Tough, brainy alchemist Sydney Sage and doe-eyed Moroi princess Jill Dragomir are in hiding at a human boarding school in the sunny, glamorous world of Palm Springs, California. The students - children of the wealthy and powerful - carry on with their lives in blissful ignorance, while Sydney, Jill, Eddie, and Adrian must do everything in their power to keep their secret safe. But with forbidden romances, unexpected spirit bonds, and the threat of Strigoi moving ever closer, hiding the truth is harder than anyone thought.

Populated with new faces as well as familiar ones, Richelle Mead's breathtaking Bloodlines series explores all the friendship, romance, battles, and betrayals that made the number-one New York Times best-selling Vampire Academy series so addictive. In this second book, the drama is hotter, the romances are steamier, and the stakes are even higher.
Affiliate Disclosure: This post contains affiliate links. In plain English, this means that I may receive a small commission (at no cost to you) if you purchase something through the links provided. This small income goes back into my blog, so I can continue to create fun content for you. I appreciate my readers and make it my goal to be upfront and honest. Thank you for supporting my blog!
This is where things get interesting. Verrrry interesting! The ending of The Golden Lily is almost cruel, with Richelle Mead giving us what we want and leaving us with no more pages to read. Rude.
Gone are the days of mopey and sad Adrian. He only has eyes for one rule-following, body conscious, highly-intelligent girl, who kind of hates that she likes him. Like Adrian says later, they only have centuries of prejudice and hate to overcome, right? Small feat. Adrian wheedles his way into the small group of Moroi that Sydney actually likes and trusts.
In The Golden Lily, Sydney enlists Adrian's help to find out who's responsible for giving several students at the high school charmed facial tattoos—ones that bear a striking resemblance to Sydney's own golden lily on her cheek. Could an Alchemist be responsible for this? Would someone be willing to break their own rules and reveal Alchemist secrets?
I love how Sydney is starting to come into her own. The longer Sydney hangs around her fake family of dhampirs and Moroi, the more she begins to question the strict rules and principles she's been taught all her life. Ever so slightly, she starts to step outside of her comfort zone, which includes dating a guy Brayden who could be her brain twin. But he's soooo boring and yes, even her eyes begin to wander to someone else (EEEEEK!!).
When I said things get interesting, of course I mean in the romance department. I won't give anything away but you know how much I love a good forbidden romance, especially one with a little bit of hate and annoyance sprinkled in for good measure.
This book is so much fun! And it bears mentioning AGAIN that the ending is downright amazing/terrible. Richelle Mead is like that sometimes.
Audiobook Comments:
Emily Shaffer narrates yet another Richelle Mead title. Her narration style doesn't really bother me but her delivery can be a bit flat at times. If you're accustomed to a more animated and theatric type of performance, you don't get a ton of that here. But her comedic timing with Adrian is rather enjoyable.
* I borrowed the audiobook from my local library but I own the ebook and physical copies.