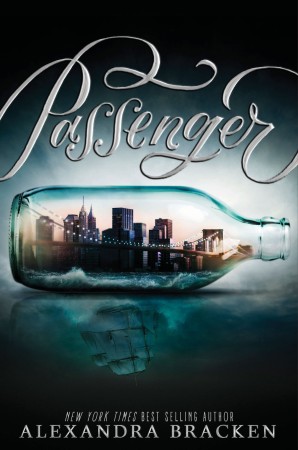 Passenger
by
Alexandra Bracken
Series:
Passenger #1
Published by
Disney Hyperion
Publication date:
January 5, 2016
Genres:
Fantasy
,
Young Adult
464 pagesFormat:
ARC
Source:
ARC via publisher
passage, n.
i. A brief section of music composed of a series of notes and flourishes.
ii. A journey by water; a voyage.
iii. The transition from one place to another, across space and time.

In one devastating night, violin prodigy Etta Spencer loses everything she knows and loves. Thrust into an unfamiliar world by a stranger with a dangerous agenda, Etta is certain of only one thing: she has traveled not just miles but years from home. And she's inherited a legacy she knows nothing about from a family whose existence she's never heard of. Until now.

Nicholas Carter is content with his life at sea, free from the Ironwoods—a powerful family in the colonies—and the servitude he's known at their hands. But with the arrival of an unusual passenger on his ship comes the insistent pull of the past that he can't escape and the family that won't let him go so easily. Now the Ironwoods are searching for a stolen object of untold value, one they believe only Etta, Nicholas' passenger, can find. In order to protect her, he must ensure she brings it back to them— whether she wants to or not.

Together, Etta and Nicholas embark on a perilous journey across centuries and continents, piecing together clues left behind by the traveler who will do anything to keep the object out of the Ironwoods' grasp. But as they get closer to the truth of their search, and the deadly game the Ironwoods are play­ing, treacherous forces threaten to sep­arate Etta not only from Nicholas but from her path home . . . forever.
Affiliate Disclosure: This post contains affiliate links. In plain English, this means that I may receive a small commission (at no cost to you) if you purchase something through the links provided. This small income goes back into my blog, so I can continue to create fun content for you. I appreciate my readers and make it my goal to be upfront and honest. Thank you for supporting my blog!
Book Review:
Passenger is a time-travel romance, and so far, I haven't had good luck with them. This is the second one I've read this year and it, too, lacked a solid plot and concrete world-building. This novel was a struggle for me to finish from beginning to end. While it did have its moments that held my attention, they were honestly few and far between.
Slow Pacing. It took me nearly three weeks to read this book from start to finish. As I read, I didn't get the burning desire to find out what was going to happen next. By the halfway mark, I stopped and looked back. Nothing really happened. In fact, not much happened throughout the novel except for Nicholas and Etta going through different times and countries (which might sound thrilling but it wasn't). The majority of the action happened in the beginning (when Etta slipped through time) and end (which I'm not going to spoil for you).
Info-dumping. There were large sections of text in this book devoted to dumping information on the reader. Instead of weaving the rules of the world into the story, the author introduces much of the core elements of the Passenger world through a question and answer session between the characters. This felt like a copout and amounted to lazy writing and storytelling. What's more, the info-dumping continued throughout the majority of the book, adding more and more rules. Which leads me to my next problem…
This book was really confusing. I like to think I'm a fairly intelligent person, but I had to reread chunks of it several times to get the information to stick in my head. The way the author disseminated the information lacked clarity. The rules and explanations of the world didn't flow.  The family politics and drama that was described only added to the confusion. I would recommend you pull out a notebook and write some of this stuff down when you read it.
Forced Chemistry. The secondary story to Nicholas and Etta finding the astrolabe is their love story. I don't want to say their connection was anything in the realm of instalove or instalust because it wasn't. However, the author did make it very obvious from the beginning that the reader was supposed to latch on to them and believe that they had this epic chemistry. But I didn't really feel a modicum of connection until way past the 60% mark and even then, I didn't really buy the romance.
What I did like. What I liked was the various settings that the characters traveled through—a jungle near a Buddhist temple, a war-ridden England, Paris during the French Revolution, Damascus in the late 1500's. It was interesting to see the characters adapt to time periods that were not their own.
All of my issues took away from my enjoyment and prevented me from becoming immersed in the story and characters. I wasn't really left with the desire to continue reading another full-length novel about these characters. What I'll probably end up doing is reading the next book's reviews so I find out what happens.
* I received an advanced copy from the publisher in exchange for an honest review. The ARC I received was the updated ARC sent out this fall, not the BEA copy.
2 stars