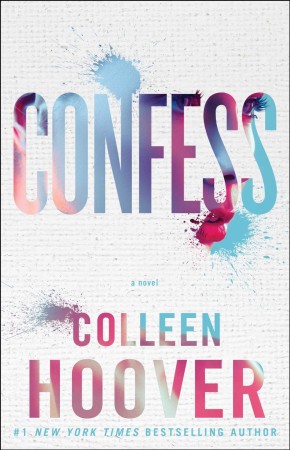 Confess
by
Colleen Hoover
Published by
Atria
,
Simon & Schuster
Publication date:
March 10, 2015
Genres:
New Adult
,
Romance
320 pagesFormat:
eARC
Source:
ARC via NetGalley
Auburn Reed has her entire life mapped out. Her goals are in sight and there's no room for mistakes. But when she walks into a Dallas art studio in search of a job, she doesn't expect to find a deep attraction to the enigmatic artist who works there, Owen Gentry.

For once, Auburn takes a risk and puts her heart in control, only to discover Owen is keeping major secrets from coming out. The magnitude of his past threatens to destroy everything important to Auburn, and the only way to get her life back on track is to cut Owen out of it.

The last thing Owen wants is to lose Auburn, but he can't seem to convince her that truth is sometimes as subjective as art. All he would have to do to save their relationship is confess. But in this case, the confession could be much more destructive than the actual sin…
Affiliate Disclosure: This post contains affiliate links. In plain English, this means that I may receive a small commission (at no cost to you) if you purchase something through the links provided. This small income goes back into my blog, so I can continue to create fun content for you. I appreciate my readers and make it my goal to be upfront and honest. Thank you for supporting my blog!
Book Review:
I jumped at the chance to read Confess when I saw it features an artist hero. Secrets, omission, and a little bit of fate are intertwined in this new adult romance novel about two people with pasts that they don't want to reveal to anyone. But they eventually reveal to each other, leaving the consequences scattered on the floor. While I thought this book was entertaining, it wasn't my favorite book by Colleen Hoover. I didn't get that "oh my goodness I have to know what happens next" that I look for when reading a really captivating book.
I will say that the prologue to this book was super, duper sad. I think that may have been my favorite part of the book, actually. After moving from Texas from Oregon, Auburn Reed is starting over on her own. She serendipitously sees a "Help Wanted" sign at a local art gallery called Confess owned by Owen Gentry. The two have an instant connection and there is some mysterious magnetism drawing them together. Little is revealed about their pasts. All we know is Auburn visited an attorney in chapter one (for what?) and Own knows Auburn from long ago (what the what?). After a few hours together, they don't want the night to end.
I started out really liking this book, but as I continued to read, I just got a little bored. Nothing was really happening with their relationship, not much was happening plot-wise. Confess lacked the same sort of spark that some of her other books had in the past. One thing I really like about Colleen Hoover's books is that her heroes are never super alpha, which aren't always my favorite type. Owen was a sweet guy whose past mistakes catch up with him.
The intensity of Auburn and Owen's relationship was way too fast-paced for me. Hoover was trying to sell me an instant attraction/connection between the hero and heroine, and while they had chemistry, I didn't truly feel their love connection. After a few hours together, both were nearly weeping at the fact that they had to part. I thought that maybe would be explained away later and tie into the fact that Owen knew Auburn from the past. Hoover has made this instant attraction work in past novels, but here something was lacking in Confess for the reader to believe it. I wanted more background for both of them, more development in terms of their relationship, before we dove into "I can't wait to see you again" territory.
2 stars
* I received an advanced copy from the publisher in exchange for an honest review.