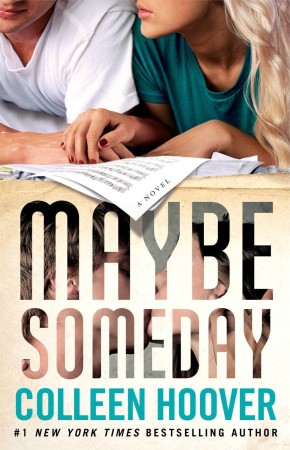 Maybe Someday
by
Colleen Hoover
Published by
Atria
,
Simon & Schuster
Publication date:
March 17, 2014
Genres:
New Adult
,
Romance
Narrator:
Angela Goethals
,
Zachary Webber
Length:
10 hours 40 minutes
Format:
Audiobook
Source:
ARC via publisher
At twenty-two years old, aspiring musician Sydney Blake has a great life: She's in college, working a steady job, in love with her wonderful boyfriend, Hunter, and rooming with her good friend, Tori. But everything changes when she discovers Hunter cheating on her with Tori—and she is left trying to decide what to do next.

Sydney becomes captivated by her mysterious neighbor, Ridge Lawson. She can't take her eyes off him or stop listening to the daily guitar playing he does out on his balcony. She can feel the harmony and vibrations in his music. And there's something about Sydney that Ridge can't ignore, either: He seems to have finally found his muse. When their inevitable encounter happens, they soon find themselves needing each other in more ways than one…
Affiliate Disclosure: This post contains affiliate links. In plain English, this means that I may receive a small commission (at no cost to you) if you purchase something through the links provided. This small income goes back into my blog, so I can continue to create fun content for you. I appreciate my readers and make it my goal to be upfront and honest. Thank you for supporting my blog!
Review:
Maybe Someday is such a sweet symphony of love, music, and stolen glances.  I ate up every word and every song lyric.  If there is one thing to be said about Colleen Hoover, she knows how to entertain me.  Her books have always delivered a cinematic experience that I truly feel. I devoured this book in a little over a day while on vacation.  I know what you're thinking.  "Megan, what took you so long to read this book?"  I regret not reading it sooner because it was SO GOOD!
In true Colleen Hoover style, she delivered a memorable, fun and emotional read that was completely captivating.
I loved how this book opened up.  our heroine Sydney discovers that her boyfriend of five years is cheating on her.  To pour more salt in the wound, she found him with her roommate and best friend.  What a jerk, right?  Hold that thought.  Syd sees Ridge night after night watching and listening to him play his guitar on his balcony.  She had the perfect view of him from her apartment and spent most of her nights creating lyrics to his wordless songs.  Their eyes met across the apartment complex several times but neither of them have spoken to one another.
Plagued with writer's block and without inspiration, he asked her to send him the lyrics to one of his songs.  Reluctantly, she agrees and Ridge was elated to find out that she is a very talented lyricist.  That sealed the deal.  He was inspired.  She was his muse.  The two continued to communicate through text messages that were full of cuteness and sparks.
Remember when I said to hold that thought?  Well now grab it and remember it.  So Syd is left with no place to go.  She can't go back to her apartment where her boyfriend and roommate stomped all over her heart.  Fate was on her side because it just so happens that Ridge is looking for a fourth roommate. How convenient!!  At this point, I was all on board.  I mean, the two of them already had incredible chemistry from across the courtyard.
"My entire body is battling itself. My left brain is telling me this is somehow wrong, my right brain is wanting to hear her sing again, my stomach is nowhere to be found, and my heart is punching itself in the face with one arm and hugging itself with the other."
There were a few twists in this story.  One of the twists was spoiled for me at the Maybe Someday concert I attended in Chicago, but that was to be expected.  I mean, who goes to a signing/concert without reading the book and expects to come away spoiler-free?  No one. That particular spoiler was revealed early on in the book and it didn't take away from my experience.
I absolutely loved how the relationship between Sydney and Ridge unfolded.  Colleen Hoover created these emotionally intense moments between them full of so much tension and longing.  With each song that Sydney pens the words, Ridge adds his own flare but the majority of the lyrics come from Sydney's own heart and feelings.  Her feelings are laid bare for Ridge to see.  Ridge and Syd were always one-hundred percent open and honest about how they were feeling and I LOVED that.
"She's several feet away. We aren't touching. We aren't speaking. She isn't even looking at me. Yet the simple fact that I'm staring at her makes me feel incredibly guilty, as if I'm doing something wrong. Staring is harmless, so why do I feel so guilty?"
The conflict in this story is the fact that Ridge's heart belongs to someone else.  Well, at least at first it did.  He has a girlfriend, who is head over heels in love with her.  He would move the earth for her.  His outright love for his girlfriend made me love him more. I loved that Hoover didn't villainize Maggie.  She was incredibly sweet and likable, which was just the problem.  She was likable.  Syd couldn't hate her.  I couldn't (and didn't) hate her.  But I still wanted Syd and Ridge to end up together.  Warren, Ridge's roommate, warned Syd that he would never leave Maggie.  Oh my heart.
"Our souls aren't just compatible—they're perfectly attuned. I feel everything she feels. I understand things she never even has to say. I know that what she needs is exactly what I could give her, and what's she's wishing she could give me is something I never even knew I needed."
I loved every happy and sad moment between Ridge and Sydney.  As a musician myself, I absolutely loved the music component to the book.  The soundtrack completely enhanced my reading experience.  The night I got home from the Maybe Someday concert, I started reading this book.  The music as so perfect and full of pent-up feelings.  Sydney and Ridge let the music speak for their feelings when they weren't able to.
Audiobook Comments:
The book is told in dual point-of-view, so there are two narrators.  I'd heard so many of my audiobook fanatic friends rave about Zachary Webber.  I get it now, guys.  I understand.  He is completely amazing at what he does.  His voice inflictions had me melting on the floor.  I also loved Angela Goethals' narration.  I hadn't heard her narrate a book before, but I will be looking for her in the future.  When the song lyrics are printed in the book, the narrator just reads them, which was kind of weird.  But I really loved their voice so it didn't really bother me. This book was special and it's always a joy listening to narrators bring that book to life.  I wish we could have gotten the music integrated into the audiobook, though I assume this wasn't included for legal reasons.
* I received this audio book from the publisher in exchange for an honest review.
4 stars — Favorite of 2014