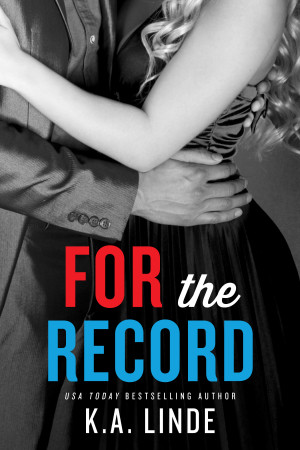 For the Record
by
K.A. Linde
Series:
Record #3
Published by
Amazon Publishing
,
Montlake Romance
Publication date:
November 18, 2014
Genres:
Adult
,
Contemporary Romance
352 pagesFormat:
eARC
Source:
ARC via NetGalley
With Congressman Brady Maxwell up for reelection and journalist Liz Dougherty about to graduate into a promising career, the ambitious couple's future is brighter than ever. They share a passion for their work…and for each other. But when Brady holds a press conference to officially introduce Liz as his girlfriend, reporters hungry for a scandal bombard her. Now, her every move is under a vicious magnifying glass, and her life feels like it's falling apart.

On the road to reelection, the passionate bond between the congressman and the journalist gets tested at every stop. Threatened by shameless media sensationalism and jealous exes, Brady and Liz now have to learn to trust each other despite what they read in the papers.

In the finale to USA Today bestselling author K.A. Linde's sexy Recordtrilogy, Liz and Brady may be setting off fireworks along the campaign trail, but can their love transcend politics as usual?
Affiliate Disclosure: This post contains affiliate links. In plain English, this means that I may receive a small commission (at no cost to you) if you purchase something through the links provided. This small income goes back into my blog, so I can continue to create fun content for you. I appreciate my readers and make it my goal to be upfront and honest. Thank you for supporting my blog!
Book Review:
I can add another series to my list of "Series I Want to Finish in 2015" list. I read books one and two in this series (Off the Record & On the Record) last year, but I didn't have time to get to this book before 2014 the end of 2014. I really enjoyed Off the Record, but the last two books in the series didn't keep me interested. For the Record had some good moments, but overall I was really bored with it.
This short review may contain spoilers for the other books, so read at your own caution. Liz and Brady have been through the wringer, especially in the last book (where Brady finally got off the pot and went after Liz). This book was their time to be together. I think that was where the problem was with it for me.
The main conflict that propelled the series forward and kept me enthralled was gone. This book was filled with small manufactured conflicts that did nothing to keep me interested and weren't enough to support a full novel.
This is a contemporary romance trilogy featuring one couple. More often than not, I'm finding that trilogies featuring the same couple usually don't have enough real, believable conflict to necessitate three full books. I really liked the first book but I feel like the series could have been condensed into two books or maybe even one book (I know I've said this about other books).
For the Record read like a really long epilogue. Sure, there were issues that Brady and Liz had to deal with (i.e. Calleigh jacking around with Brady's campaign), but the book didn't hold my interest. Darn it.
1 star
* I received a copy of this book from the publisher via NetGalley in exchange for an honest review.
Postscript:
K.A. Linde announced that Brady's brother, Clay, would be getting a book, so I'm pretty excited about that one. Clay was one of those irritating characters who appeared to be causing trouble but really he was just misunderstood. There's no release date yet, but I hope it comes out sometime next year.
And more news!! Savannah is also getting a book! I hope this is Savannah and Lucas's story. I think there are lots of things that we don't know about them. Maybe Easton will make an appearance too!
PURCHASE FOR THE RECORD:
Amazon: US • UK • CAN | iBooks