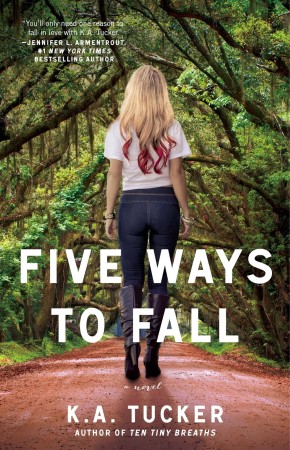 Five Ways to Fall

by K.A. Tucker
Series: Ten Tiny Breaths #4
Published by Atria, Simon & Schuster
Publication date: June 24, 2014
Genres: Adult Contemporary Romance, New Adult
256 pages
Format: eARC
Source: ARC via publisher

Purple-haired, sharp-tongued Reese MacKay knows all about making the wrong choice; she's made plenty of them in her twenty-odd-years. So when her impulsive, short-lived marriage ends in heartbreak, she decides it's time for a change. She moves to Miami with the intention of hitting reset on her irresponsible life, and she does quite well…aside from an epically humiliating one-night stand in Cancun with a hot blond bouncer named Ben. Thank God she can get on a plane and leave that mistake behind her.

Football scholarship and frat parties with hot chicks? Part of charmer Ben Morris's plan. Blown knee that kills any hope of a professional football career? So not part of the plan. Luckily Ben has brains to go with his knockout looks and magnetism. After three long years of balancing law school with his job as a bouncer at Penny's Palace, he's ready to lead a more mature life—until his first day of work, when he finds himself in the office of that crazy, hot chick he met in Cancun. The one he hasn't stopped thinking about.

If Ben truly were a smart guy, he'd stay clear of Reese. She's the boss's stepdaughter and it's been made very clear that office romances are grounds for dismissal. Plus, rumor has it she's trouble. The only problem is, he likes trouble, especially when it's so good-looking…
Affiliate Disclosure: This post contains affiliate links. In plain English, this means that I may receive a small commission (at no cost to you) if you purchase something through the links provided. This small income goes back into my blog, so I can continue to create fun content for you. I appreciate my readers and make it my goal to be upfront and honest. Thank you for supporting my blog!
Book Review:
Five Ways to Fall was such an fantastic ending to one of my favorite new adult series. Each book in K.A. Tucker's Ten Tiny Breaths series has been wonderful and romantic. I cannot wait to read Burying Water, which I think I will read relatively soon.  I absolutely loved Reese and Ben as a couple, especially watching them not-so-gracefully fall for each other.
Reese MacKay is a spitfire, strong, independent Harley-riding woman with piercings, tattooes and colored hair—everything her mother despises. At twenty-one, she's divorced and heartbroken. But the way she deals with heartbreak is a little unconventional. After finding her then-husband cheating on her with his ex-girlfriend, she gets into a little bit of trouble with the law. Her mother's ex-husband and lawyer bails her out of jail and offers her new lease on life—a job at his law firm in Miami.
She and her girlfriends escape to Cancun to erase Jared from her memory. After having way too much of Mr. Cuervo, Reese (or should I say Jill the marine biologist?) runs into a cocky, self-assured guy looking for a fun and sexy night. The night ends abruptly with Reese crawling naked to the bathroom and Cocky Man in a puked-drenched red shirt. Several months later, Reese has her paralegal certificate and is working circles around most attorneys in the office. I'll give you three guesses as to who walks in the door.
Reese is still very much getting over her heartbreak when Ben Morris waltzes into her life, hellbent on never letting her forget Cancun and the mortifying way she left things. Jack's ban on interoffice relationships forces them to keep things under wraps, which becomes increasingly difficult when both realize they feel more for each other than they expected.
Reese and Ben were hilarious together. Ben is sarcastic and witty and is the perfect match to Reese's abrasive insults. I loved how Ben and Reese's working relationship morphed into friendship and then into something more.  The progression of their relationship was natural as they helped each other through the problems in their life.
"I think Ben has a strange power over me — the ability to balance my chaos."
One thing I love the most about this series is how Tucker shaped all of the secondary characters from the beginning of the series through the end. Everyone was so memorable and full of personality. Ben Morris and Reese MacKay were no exception. I loved Ben since we met him in Ten Tiny Breaths. Ben is the man whore who is always looking for a fun time. He isn't one to commit. Ben's character is a caricature of the typical man whore, but that's what I loved about him. He is such an exaggeration of the commitment character type, which made watching him fall in love that much more enjoyable and meaningful.
If you're looking for a sexy, quick read, I would highly recommend this book (and the rest of the Ten Tiny Breaths series, for that matter). Ben and Reese were the perfect hero and heroine and their love story was so much fun to read and get lost in.
4 stars
* I received an advanced copy from the publisher in exchange for an honest review
Amazon: US • UK • CAN | iBooks | GR