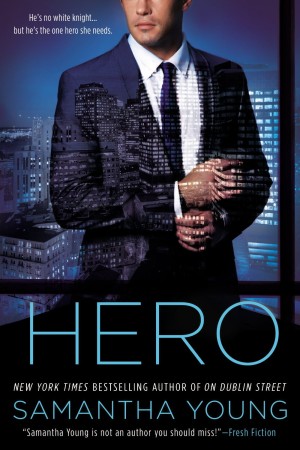 Hero

by Samantha Young
Published by NAL, Penguin
Publication date: February 3, 2015
Genres: Adult Contemporary Romance
410 pages
Format: eARC
Source: ARC via NetGalley

Alexa Holland's father was her hero—until her shocking discovery that she and her mother weren't his only family. Ever since, Alexa has worked to turn her life in a different direction and forge her own identity outside of his terrible secrets. But when she meets a man who's as damaged by her father's mistakes as she is, Alexa must help him.

Caine Carraway wants nothing to do with Alexa's efforts at redemption, but it's not so easy to push her away. Determined to make her hate him, he brings her to the edge of her patience and waits for her to walk away. But his actions only draw them together and, despite the odds, they begin an intense and explosive affair.

Only Caine knows he can never be the white knight that Alexa has always longed for. And when they're on the precipice of danger, he finds he'll do anything to protect either one of them from being hurt again…
Affiliate Disclosure: This post contains affiliate links. In plain English, this means that I may receive a small commission (at no cost to you) if you purchase something through the links provided. This small income goes back into my blog, so I can continue to create fun content for you. I appreciate my readers and make it my goal to be upfront and honest. Thank you for supporting my blog!
Book Review:
I was in the mood for a fun read so I started searching through the books I have and thought I'd pick up Samantha Young's latest book. I am so glad I did! While some of the book made me roll my eyes, I really liked the dynamic and romance between Caine and Lexie. If you like office romances, you should pick this one up.
Alexa Holland is the granddaughter of Edward Holland, an heir to a diamond fortune and one of the wealthiest men in Boston. Though no one in the Holland family knows that Alexa is part of this famous family, except for her grandfather. Due to her father's secret affair with another woman that ended in her death, Edward cut him out of the family and in turn never acknowledged Alexa as their own.
(Are you following that plotline? Bear with me.)
Alexa is successful in her own right as the assistant to a world-famous photographer, but her boss fires her after a photo shoot with Boston's hottest bachelor, Caine Carraway, goes awry. Caine is part of Alexa's father's troubled past. The women who he was having an affair with was Caine's mother and he has always carried a grudge against them. So when Alexa revealed her last name to him, he went off and the whole photoshoot went to the crapper.
Caine's outburst gets Alexa fired leaving her begging him to help her get her job back. He does one better. He offers her a job as his personal assistant but the catch is that Caine isn't exactly nice to her. Remember the Holland family grudge?  Caine makes her life a living hell, making her all over the city, shopping for his groceries and breaking up with his lady friends.
Alexa has had it with his jerky ways. And makes it known. But there's obviously more to Caine's less-than-nice ways. Underneath that resentment is carnal attraction and he finally lets it all out. The two start a secret sex-only affair.
While a bit cliche, for some reason the romance part of the book worked for me. Yes, I could write an essay on how big of a jerk Caine was (most) times but I'll save my breath. I liked Caine's broodiness and Alexa's resolve to break through his emotional barriers. Towards the end Caine was a jackhole and I wanted to slap his across the face. But this book was entertaining and I liked it.
Like I said earlier, I didn't like Caine and Alexa's shared history and family backstory. Not only was it confusing and hard to follow but it was over-the-top. I could have done without some of the dramatics in the end. Geesh.
Check out Hero by Samantha Young when you're in the mood for a quick read with an office romance with plenty of steam! This one will be sure to hit the spot!
3 stars
* I received a copy from the publisher in exchange for an honest review.