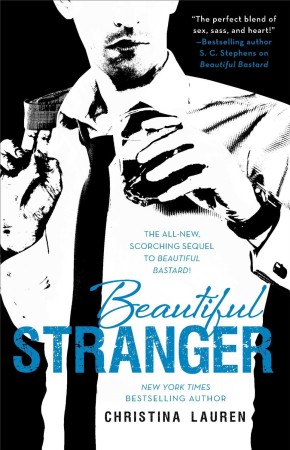 Beautiful Stranger
by
Christina Lauren
Series:
Beautiful Bastard #2
Published by
Gallery Books
,
Simon & Schuster
Publication date:
April 16, 2013
Genres:
Erotica
,
New Adult
,
Romance
352 pagesFormat:
eBook
Source:
Borrowed
Escaping a cheating ex, finance whiz Sara Dillon's moved to New York City and is looking for excitement and passion without a lot of strings attached. So meeting the irresistible, sexy Brit at a dance club should have meant nothing more than a night's fun. But the manner—and speed—with which he melts her inhibitions turns him from a one-time hookup and into her Beautiful Stranger.

The whole city knows that Max Stella loves women, not that he's ever found one he particularly wants to keep around. Despite pulling in plenty with his Wall Street bad boy charm, it's not until Sara—and the wild photos she lets him take of her—that he starts wondering if there's someone for him outside of the bedroom.

Hooking up in places where anybody could catch them, the only thing scarier for Sara than getting caught in public is having Max get too close in private.
Affiliate Disclosure: This post contains affiliate links. In plain English, this means that I may receive a small commission (at no cost to you) if you purchase something through the links provided. This small income goes back into my blog, so I can continue to create fun content for you. I appreciate my readers and make it my goal to be upfront and honest. Thank you for supporting my blog!
Book Review:
"…for the first time in my life, I wanted to be someone's only."
This series is consuming me. All I want to do is watch these couples fall in love, make mistakes, make up, and make some babies. Sexy as hell, charming, insatiable, Max Stella is a new favorite hero of mine!
We met Sara Dillon in Beautiful Bastard, Chloe's best friend and co-worker. In Beautiful Stranger, she moves to New York head up finance in the new branch of Ryan Media Group. Starting over and finding this new version of herself are her goals. She doesn't expect to have a little thrill with a gorgeous stranger in the back of a bar. It was H-O-T!
It was the simple fact that I didn't want to be anyone else's but my own for a while. And although this thing with Max was insane and completely different from anything I'd ever felt before—I  was different—I liked it. A lot.
Max Stella (his name is really sexy, right?!) is a ladies man and a regular in New York's Page Six gossip magazine. Time shifted in his eyes when he met her: everything was "Before Sara" and "After Sara." Naturally, he was thrilled to discover his friend Bennett was also her boss. What started as a one-night became several Fridays of public meet-ups for sex. The time between their meetings condensed while their feelings for each other expanded and clouded the original terms their little arrangement.
What I love about this series is how all of the guys seem to be chasing the girls, rather than the other way around. Since I cheated and read Beautiful Player first (I know!), I already know that Will falls for Hannah while she is none the wiser, just like Bennett in Beautiful Bastard and Max in this book.
I watched her walk away, head straight and shoulders back. Looking to all the world as if she were returning from nothing but a brisk walk through the park.
I looked around me as if it were possible to collect together the heart I'd nearly spilled all over the grass.
There was something so utterly charming about Max. Maybe it was his British accent or the upper crust air about him, but I absolutely adored him. Sara and Max just clicked from the start. From their cute banter to the way love-drunk way they looked at one another, I just loved them as a couple.
And OMG this line! I had to catch my breath after reading it! SWOONSSSSS ALL OVER THE PLACE!
"The way you seem nervous makes me think you don't know that I'm in love with you."
Christina Lauren write falling in love so well while keeping the book really steamy. So many times, the sex can overtake a book. But even though some of Christina Lauren's books are super heavy on the sex, I still feel the characters' chemistry, growing emotional connection, and love for each other. That's huge for me!
Like my complaints in the Christina Lauren's other books, I wasn't a huge fan of the extra sexual kink in this book – the whole public sex thing. In Beautiful Bastard, the panty-ripping bit seemed excessive and unnecessary. Here, Max discovers that Sara has a penchant for public sex and she gets off on the prospect of others watching her and Max while they get busy. This didn't bother me as much since it was established from the beginning, but I still didn't love it.
Seriously, guys, jump on the Beautiful Bastard train. I'm leaving this station and continuing on to Will-land. Join me? Choo Choo!!
3 stars
Amazon: US • UK • CAN | iBooks | GR