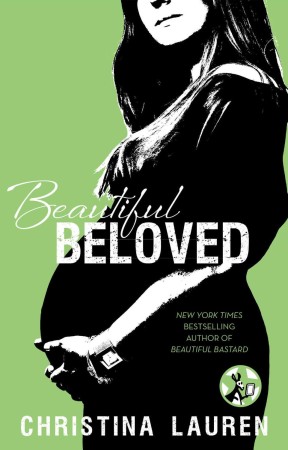 Beautiful Beloved
by
Christina Lauren
Series:
Beautiful Bastard #3.6
Published by
Gallery Books
,
Pocket Star
,
Simon & Schuster
Publication date:
February 2, 2015
Genres:
Erotica
,
New Adult
,
Romance
Narrator:
Grace Grant
,
Jonathan Cole
Length:
2 hours 50 minutes
102 pagesFormat:
Audiobook
Source:
Publisher
The seventh work in the New York Times and #1 internationally bestselling series that started with the Beautiful Bastard, Beautiful Stranger, and Beautiful Player novels. Featuring all the Beautifulcharacters...plus one tiny new addition to the group.

In Beautiful Stranger , finance whiz Sara Dillon met the irresistibly sexy Brit, Max Stella, at a New York City club. Through the series we've watched them learn to balance commitment with their less than private brand of playfulness. In Beautiful Beloved, Max and Sara take it to the next step. But the question is: Will they be able to find a balance between the wild sexcapades they aren't ready to retire, and the demands of parenthood that come along with their new Beautiful bundle of joy? Parenthood: it's not for the weak of heart.
Affiliate Disclosure: This post contains affiliate links. In plain English, this means that I may receive a small commission (at no cost to you) if you purchase something through the links provided. This small income goes back into my blog, so I can continue to create fun content for you. I appreciate my readers and make it my goal to be upfront and honest. Thank you for supporting my blog!
Book Review:
Max Stella and Sara Dillon are back in this short novella. Their lives have changed dramatically since they first fell into each other in Beautiful Stranger. Now they're parents trying to get into a routine while keeping the spark alive.
View Spoiler »Holy crap! They got married!! And at City Hall! I love them as a couple. « Hide SpoilerSara and Max are new parents to sweet little Anabel. Sara wants to go back to work but she feels guilt for wanting to go back. While Max's feelings towards Sara are as strong as ever, a burning ember, and he wants nothing more than to be as rough and brazen with her as they were before their baby.
I listened to this one and found myself a little bit bored with the story. For what it was (more time with Max and Sara), it was cute, sweet, sexy and funny. But I didn't enjoy this one as much as I had the previous novels and novellas. I really liked how naturally Max and Sara fell into their roles as parents.
I will say that I am realllllyyyyy excited for Niall's book after meeting him in this one. Knowing a little bit of his back story, I can't wait to dive into his book and find out who will capture his broken heart.
Audiobook Comments:
Holy freaking canoli!! How have I not listened to Jonathan Cole before? His portrayal of one of my favorite British boyfriends, is spot-on and super swoony! I loved his accent so much! Grace Grant also was perfect for Sara (and even as Max!). If Grace Grant narrates something, I know it's going to be good. She's like the female Sebastian York. Automatic buy.
2 stars
* I received an audiobook from the publisher in exchange for an honest review.
Amazon: US • UK • CAN | iBooks | GR