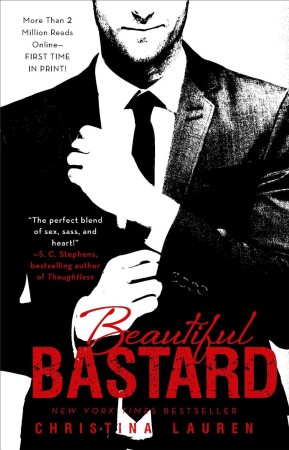 Beautiful Bastard
by
Christina Lauren
Series:
Beautiful Bastard #1
Published by
Gallery Books
,
Simon & Schuster
Publication date:
February 12, 2013
Genres:
Erotica
,
New Adult
,
Romance
320 pagesFormat:
eBook
Source:
Purchased
An ambitious intern. A perfectionist executive. And a whole lot of name calling.

Whip-smart, hardworking, and on her way to an MBA, Chloe Mills has only one problem: her boss, Bennett Ryan. He's exacting, blunt, inconsiderate—and completely irresistible. A Beautiful Bastard.

Bennett has returned to Chicago from France to take a vital role in his family's massive media business. He never expected that the assistant who'd been helping him from abroad was the gorgeous, innocently provocative—completely infuriating—creature he now has to see every day. Despite the rumors, he's never been one for a workplace hookup. But Chloe's so tempting he's willing to bend the rules—or outright smash them—if it means he can have her. All over the office.

As their appetites for one another increase to a breaking point, Bennett and Chloe must decide exactly what they're willing to lose in order to win each other.

Originally only available online as The Office by tby789—and garnering over 2 million reads on fanfiction sites—Beautiful Bastard has been extensively updated for re-release.
Affiliate Disclosure: This post contains affiliate links. In plain English, this means that I may receive a small commission (at no cost to you) if you purchase something through the links provided. This small income goes back into my blog, so I can continue to create fun content for you. I appreciate my readers and make it my goal to be upfront and honest. Thank you for supporting my blog!
Note: For the next week the Beautiful Bastard Series will be all up in my blog. Sorry not sorry. <3
Book Review:
Well, well, well, this book was certainly entertaining! I am binge reading the Beautiful Bastard series in preparation for Beautiful Secret, which releases on April 14th! So far, I'm happy with my decision (haha!). Chloe and Bennett's story was equal parts scorching hot and sweet.
Chloe has worked at Ryan Media Group, a big advertising firm in Chicago, under the Bennett family for years. As a prestigious scholarship, part of the requirement is that she get real world experience. She's brilliant, savvy, and doesn't take crap from anyone, especially her boss Bennett Ryan. He's a jerk in every sense of the word. He bosses Chloe around every chance he can get. But sometimes bossiness is just a cover up for insane attraction.
I really liked this book! Was it perfect? No, but I had so much fun reading this book. I devoured it in nearly one sitting. I can't wait to continue the series. Chloe and Bennett fall in love with each other secretly and very reluctantly. Chloe wants to prove herself to everyone, to show that she's smart enough to hold her own in this high-powered world, so she's scared of others finding out about her boss. Bennett struggled with his dual role as her boss and her "sexboss." <—I had to say that.
I was a bit worried that my appreciation for her appearance would interfere with my ability to be her boss, but I quickly reassured myself that the world was full of beautiful women and it would be easy enough to separate the two.
Oh how stupid I'd been.
I love stories where the hero realizes his feelings long before heroine and that is the case in this book. In the very beginning Bennett realizes that he is in serious like with Chloe. He loves that she talks back to him, the way she dresses, and how intelligent she is. It doesn't take long for their (many) trysts turn into something more.
I think my favorite moment of the book was the scene in San Diego when they reunite after time apart. It's clear they missed each other. Their relationship really blossomed there and I loved all of their interactions!
"Chloe, you're not going to learn anything from this poster. Let's go get a cup of coffee and maybe a blow job in the bathroom."
I've noticed that there seems to always be some unnecessary sexual fetishes in Christina Lauren's books that takes away from my enjoyment of the books. In Sweet Filthy Boy, it was the weird role-playing thing. In Beautiful Bastard, it is Bennett's panty-ripping and collection thing and the constant sex. I've seen this book labeled as erotica, so I expected a lot of sex. But these two had sex at least three times in the first 20% (one time was within the first 5 %). It was a bit excessive. Even though there was a lot of sexytimes, I still found their relationship believable and I could truly feel their feelings developing, which was the story's saving grace. Read it!
3 stars
Amazon: US • UK • CAN | iBooks | GR