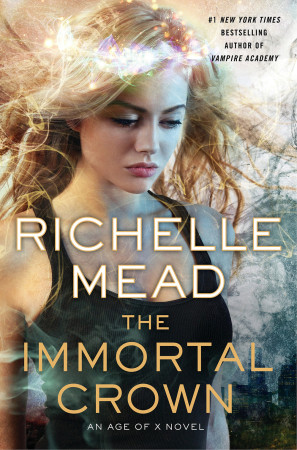 The Immortal Crown
by
Richelle Mead
Series:
Age of X #2
Published by
Dutton Adult
Publication date:
May 29, 2014
Genres:
Adult
,
Dystopian Romance
432 pagesFormat:
eARC
Source:
ARC via publisher
Gameboard of the Gods introduced religious investigator Justin March and Mae Koskinen, the beautiful supersoldier assigned to protect him. Together they have been charged with investigating reports of the supernatural and the return of the gods, both inside the Republic of United North America and out. With this highly classified knowledge comes a shocking revelation: Not only are the gods vying for human control, but the elect—special humans marked by the divine—are turning against one another in bloody fashion.

Their mission takes a new twist when they are assigned to a diplomatic delegation headed by Lucian Darling, Justin's old friend and rival, going into Arcadia, the RUNA's dangerous neighboring country. Here, in a society where women are commodities and religion is intertwined with government, Justin discovers powerful forces at work, even as he struggles to come to terms with his own reluctantly acquired deity.

Meanwhile, Mae—grudgingly posing as Justin's concubine—has a secret mission of her own: finding the illegitimate niece her family smuggled away years ago. But with Justin and Mae resisting the resurgence of the gods in Arcadia, a reporter's connection with someone close to Justin back home threatens to expose their mission—and with it the divine forces the government is determined to keep secret.
Affiliate Disclosure: This post contains affiliate links. In plain English, this means that I may receive a small commission (at no cost to you) if you purchase something through the links provided. This small income goes back into my blog, so I can continue to create fun content for you. I appreciate my readers and make it my goal to be upfront and honest. Thank you for supporting my blog!
Read my Review of Book #1 – Gameboard of the Gods
Book Review:
A brilliant blend of culture, religion and mythology, Richelle Mead totally pulled me into the Age of X series with this book. I'm all in, guys.  The world Richelle Mead has created in this series is complex, multi-layered.  Gameboard of the Gods didn't draw me in completely, and while I still liked it, I wasn't dying to get the follow up.  I'm so glad I continued because The Immortal Crown made my jaw drop, it was so good.
In Gameboard, Justin March discovered something quite extraordinary about himself, something that puts his position at Internal Security at jeopardy if made public.  What's more is that he's hiding that something from Mae, his fiercely strong praetorian guard and one-time lover. The gods are playing a game, one in which humans are involved. Not just any humans—the elect, a group of those who are marked as special and who have the potential to become servants to the gods.
In The Immortal Crown, Justin and Mae travel from the Republic of United North America to Arcadia, a dangerous neighboring country with a government in a striking contrast to their own. While the RUNA's government is devoid of faith and has servitors like Justin patrolling the licensing of religion, the Arcadian government is intricately entwined with religion.  There is a complete lack of church and state. Traveling with Lucian, Justin's friend and politician in RUNA, Justin and Mae hope to do a little more research on the goings on of the gods' game.
While there were some slow moments in this book and the book was long, I was absolutely hooked by the plot and the relationship development between Mae and Justin.  I mentioned in my review of Gameboard of the Gods that I was overwhelmed with the world building.  With book two, I was able to relax a bit.  I wasn't spending most of my time reading trying to figure out what was going on, but I would recommend a little refresher on book one before diving into this one.
I loved the hodge podge of religions that Mead layered to create the Arcadian culture. In Arcadia, women were forced to wear very modest clothing and hide any bit of skin.  They were seen as secondary to men and men often had many wives and concubines.  Of course, I was excited to see how strong-willed Mae was going to handle being put in that submissive position.  As it turns out, not so well. You'll have to read it to see.
Throughout the story, Mae's tough exterior begins to crack as she discovers a tie to her past in Arcadia.  The reader gets to see Mae vulnerable. Her emotional walls fall down—walls that she works hard to keep up as a soldier for her country and to keep people out.  The best part of this book was Justin and Mae's relationship development.  The way that Mead has set their relationship reminds me of Mac and Barrons from Karen Marie Moning's Fever series. What I mean by that is Mead builts a growing sense of respect and admiration between two people who otherwise wouldn't have come together. There is also a heavy dose of sexual tension between them. It's not all that palpable but more of a quiet tension full of unsaid words and unexpressed feelings.  I LOVED IT!
Mae leaned forward and kissed him—a long, lingering kiss that didn't say "I want to take you to bed" but that hopefully conveyed some of the depth she was feeling inside. It was the best she could do.
It didn't take long for the men to notice Mae's beauty, As a Nordic woman unmarked by Cain (a disease that spread through North America after the Decline), her flawlessness is very rare and many of the rather disgusting men couldn't help but desire her.  I loved seeing jealous Justin. He wasn't a jerk about it; he didn't see her as a possession, but rather a woman who needed to be cared for than just simply stared at.
"…I don't really want to what him leer over you the whole time either."
"I can handle it," she said, crossing her arms.
"Yeah, well, I can't."
Richelle Mead is a master at ending a book. I never feel like she ends a book solely to shock you or create a gimmick to make you buy her next book. This book had an ending that had me yelling after reading the last chapter and the epilogue. It was so, so good! The twists and turns of this book was absolutely fantastic! I am now DYING for book three!
Note:  If you are a person who demands a lot of romance in your books, this may not be the book for you.  The romance in this book is very much a slow, slow burn. Those are my favorite. I like the hero and heroine to earn that freaking kiss. And boy, did Justin and Mae earn it!
4 stars
* I received a copy from the publisher in exchange for an honest review.