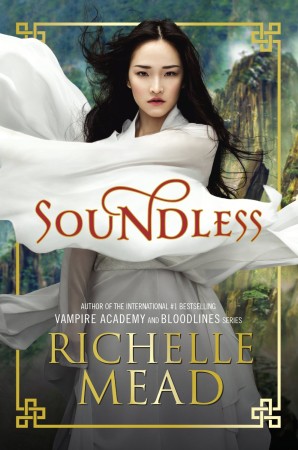 Soundless
by
Richelle Mead
Published by
Penguin
,
Razorbill
Publication date:
November 10, 2015
Genres:
Fantasy
,
Romance
,
Young Adult
272 pagesFormat:
ARC
Source:
ARC via publisher
From Richelle Mead, the #1 internationally bestselling author of Vampire Academy and Bloodlines, comes a breathtaking new fantasy steeped in Chinese folklore.

For as long as Fei can remember, there has been no sound in her village, where rocky terrain and frequent avalanches prevent residents from self-sustaining. Fei and her people are at the mercy of a zipline that carries food up the treacherous cliffs from Beiguo, a mysterious faraway kingdom.

When villagers begin to lose their sight, deliveries from the zipline shrink and many go hungry. Fei's home, the people she loves, and her entire existence is plunged into crisis, under threat of darkness and starvation.

But soon Fei is awoken in the night by a searing noise, and sound becomes her weapon.

Richelle Mead takes readers on a triumphant journey from the peak of Fei's jagged mountain village to the valley of Beiguo, where a startling truth and an unlikely romance will change her life forever....
Affiliate Disclosure: This post contains affiliate links. In plain English, this means that I may receive a small commission (at no cost to you) if you purchase something through the links provided. This small income goes back into my blog, so I can continue to create fun content for you. I appreciate my readers and make it my goal to be upfront and honest. Thank you for supporting my blog!
Book Review:
Soundless was one of my most anticipated book releases this year. I'm sure many of you know how much I adore Richelle Mead's books. She's an incredible storyteller. Soundless lacked the usual magnetism that draws me in when I read a Richelle Mead book.
Villagers in Fei's town have been deaf for generations and are slowly starving due to lack of food. The barren village is set atop a mountain that overlooks fertile land below, but no one has been able to access it for generations. Avalanches have landlocked their community. Food and supplies are delivered through a zip line system, but the demand far outweighs what they receive. Then, Fei wakes with the ability to hear restored after a vivid and intense dream. After food to the village was further reduced, Fei and Li Wei secretly leave the village to explore the world below. Fei's hearing is useful to them as they descend the mountain, and what they find below turns everything they thought they knew upside down.
I liked the setting and the fact that Mead explored Chinese lore, contrasting to her other novels that delved into Romanian, Russian, and Greek mythology. However, this novel lacked the intricate and amazing world-building that I've come to expect from Richelle Mead. I needed Richelle Mead to flesh out the Chinese folklore and the importance of the pixiu to the story as a whole. Most of the explanations seemed like they were thrown in there and readers were asked to believe it.
In Soundless, Mead continues her pattern of creating strong female leads who fight for what they believe in. Rose in Vampire Academy, Georgina in the Georgina Kincaid series, and Mae in her Age of X series. Fei in Soundless is strong and determined much like Mead's previous heroines. I liked how driven she was to save her people and protect her sister. Despite her strength, which I appreciated, Fei's character was a very generic and typical heroine fighting against adverse circumstances.
Richelle Mead can do romance right. I've seen it. But the romantic chemistry between Li Wei and Fei was severely lacking. Li Wei and Fei grew up together, became best friends, and then something more. But once Fei was recruited to be an artist and recorder of daily life (a position seen as superior) and Li Wei was sent to the mines, their relationship had to stop. During their journey down the mountainside, old sparks were supposed to be flying but they barely fizzled.  I liked how they had a history and supported one another in all of the dangerous positions they faced together. But this is another romance where I felt nothing for them and (gah) it just felt forced.
This book moved along at a snail's pace. I found myself skimming in several parts, even though it wasn't that long. And I could put it down with little care as to what was going to happen next.
I kept asking myself, "Am I reading a Richelle Mead book". I've loved a lot of what she has put out, and for that reason, I know she can do better. I hold her novels to a higher standard and Soundless fell short. It hurts my heart to not love this book, but it really didn't have the same pull and special something Mead's novels usually deliver.
2 stars
*  I received a copy from the publisher in exchange for an honest review.