What I'm Digging is a weekly feature in which I share my bookish finds with you. This can range from jewelry to clothes to home decorations. I find so many neat bookish things on Pinterest, Etsy, and elsewhere. I thought I would share my finds with you. Who doesn't love book-related goodies?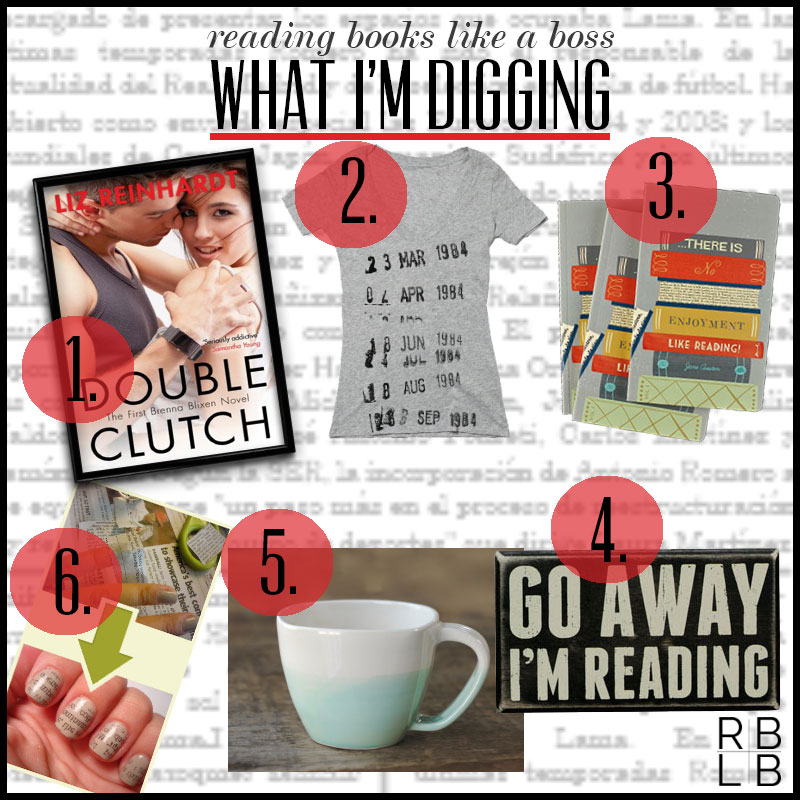 1.) Double Clutch by Liz Reinhardt
I read Liz Reinhardt's Brenna Blixen series almost two years ago.  Wow how time flies.  I really enjoyed this YA series about a high school girl who befriends two guys.  Two very hot guys. I need reread it!!
Add the Series on Goodreads
$3.99, Amazon
2.) Library Stamp T-Shirt
Do you still visit your local library?  I really should.  I love this shirt!
$28.00, Out-of-Print Clothing
3.) There's No Enjoyment Like Reading Journal
"This journal features eight beautifully typeset interior quotations with bold artwork from designers and illustrators. Eco friendly journal for creating, discovering, and living." 128 pages
$6.95, Library Foundation of Los Angeles
4.) "Go Away, I'm Reading" Sign
Do you hate being interrupted during your precious reading sign?  Or do you want a cute sign for your library?  This is so cute! I want one for my reading area!
$14.00, Library Foundation of Los Angeles
5.) The Perfect Cup
I don't know about you guys, but I love curling up with a good book and sipping on a steaming cup o' Joe or peppermint tea.  I think this is the perfect little cup for your reading beverage.  If you're feeling frisky, pour some wine up in there.
$26.00, Etsy
6.) DIY Newspaper Nails
I like free things! Here is a tutorial on how to get newspaper print on your fingernails!
FREE! • Tutorial Here
Which of my picks this week would you choose?  Have you found any fun book-related goodies lately?