What I'm Digging is a feature in which I share things I'm loving with you. This can range from jewelry to clothes to home decorations. Anything goes! Oh and there is always a book featured that I enjoyed!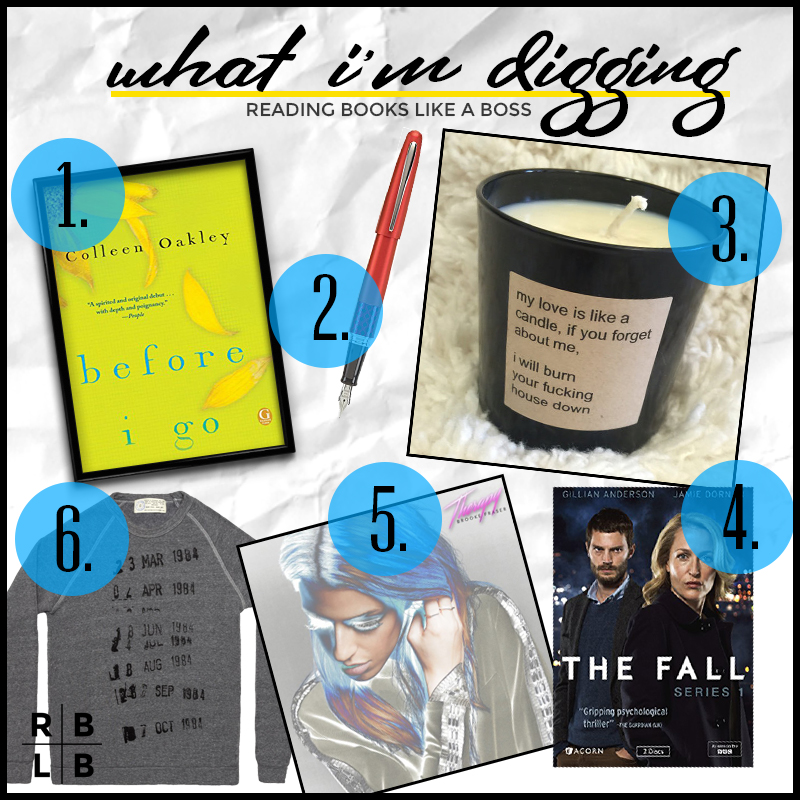 Affiliate Disclosure: This post contains affiliate links you can use to purchase the book. If you buy the book using that link, I will receive a small commission from the sale. Thank you! ♥
1.) BEFORE I GO by Colleen Oakley
If you follow my blog on Facebook, you've probably seen me shout out Colleen Oakley's debut, BEFORE I GO. It's about a woman whose cancer comes back with a vengeance and there's nothing doctors can do. She decides to find her husband a new wife before she dies, but along the way she learns a lot about herself and about the strength and comfort of love.
This book has stayed with me since I read it. If you're an avid women's fiction reader, you should definitely check out Before I Go. Her next novel, CLOSE ENOUGH TO TOUCH, comes out in February 2017 and I cannot wait to dive in!
BEFORE I GO on Amazon | Read My Review
In my last What I'm Digging post, I talked about wanting to start a bullet journal. Well, I finally did it last month and then fell off the bandwagon a little bit. Womp womp. 🙁 I need to integrate my work stuff into my journal because I don't have enough non-work junk to make it worth while. But I do love the whole concept behind bullet journaling. You can read more about it here.
Anyway, I ordered this fountain pen and some ink and I totally love using it! It's so great. I use it at work in addition to my bullet journaling adventures. I'm a new fountain pen junkie and this one has received a ton of praise for being both affordable and good quality for the price. The ink I purchased is Noodler's Ink Bulletproof 54th Massachusetts.
Purchase: Pilot MR Retro Pop Collection Fountain Pen
3.) This hilarious candle – LOL!!
I saw this candle on Facebook and immediately knew I HAD TO HAVE IT. It says, "My love is like a candle. If you forget about me, I will burn your fucking house down."
Purchase on Etsy: My Love is Like a Candle, Seller: RusticPineHomeBody
4.) "The Fall" TV Series
I got sucked in the rabbit hole that is this show a few weeks back. Series 3 was just put on Netflix last weekend and I CANNOT WAIT to watch it. The ending of season 2 was super crazy! Wow!
5.)  Brooke Fraser's New Song
Brooke Fraser is one of my favorite female singers. She has a beautiful voice, but it's her songwriting that I adore the most. All of her songs have such rich and beautiful lyrical content. Her newest song, THERAPY, just released last week and it's been on repeat up in here!
"Like a serpent in the sun 
I will bask, I will lay in the light til the day is done.
Cos it never really ends
From a thought to act to just being back again."
6.) Library Sweatshirt
Out of Print is one of my favorite place to find awesome bookish things! I think I need this sweatshirt!
Purchase: Library Sweatshirt, Out of Print
What are you digging right now?