What I'm Digging is a weekly feature in which I share my bookish finds with you. This can range from jewelry to clothes to home decorations. I find so many neat bookish things on Pinterest, Etsy, and elsewhere. I thought I would share my finds with you. Who doesn't love book-related goodies?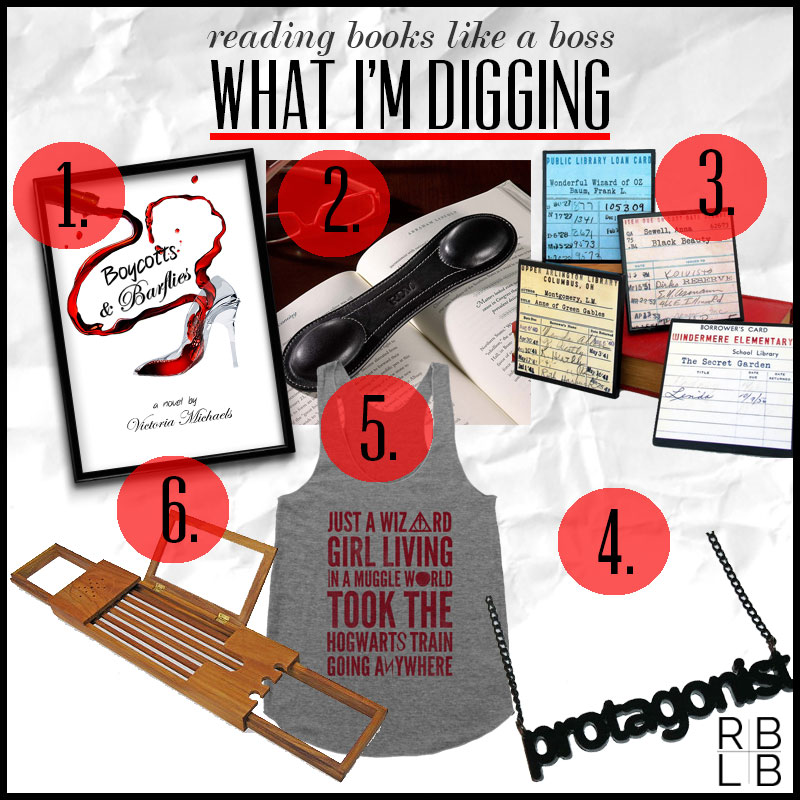 1.) Boycotts & Barflies by Victoria Michaels
I read this book a couple of years ago because Maryse recommended it.  I really liked it a lot! It was funny and sweet and not overly sexed up. It's about a girl named Grace and her group of friends who decide to boycott men for six weeks.  Not long into their boycott, they meet a group of guys who have their own bet going on. Hilarity ensues. It was really cute!
Add on Goodreads
 $3.99, Amazon
2.) Levenger Bookweight
The struggle is real here in the First World, y'all.  Have you ever wanted to read a paperback one-handed?  Well, this bookweight is here to solve all of your ridiculous problems.  I kind of want this.
$30.00, Levenger
3.) Vintage Library Card Coaster Set
I love these coasters! They're perfect for any book lover!
$16.00, Etsy (Seller: CheltenhamRoad)
4.) Protagonist Necklace
I saw this necklace and thought of Hannah from bookwormstalk. She is an awesome book tuber.  She also has a addictive Tumblr called the-protagonist-of-my-story. I swear I have lost big chunks of time stalking her there.
$13.99, Etsy (Seller:KitschBitchJewellery)
5.) Just a Wizard Girl Living in a Muggle World
Tank top that says: "Just a wizard girl, living in a muggle world, too the Hogwarts train going anywhere."
$21.75, Look Human
6.) Teak Tub Caddy
I don't know about you but I get a lot of reading done in the tub. LOL! This is perfect!
$39.99, Bed, Bath & Beyond
Which of my picks this week would you choose?  Have you found any fun book-related goodies lately?