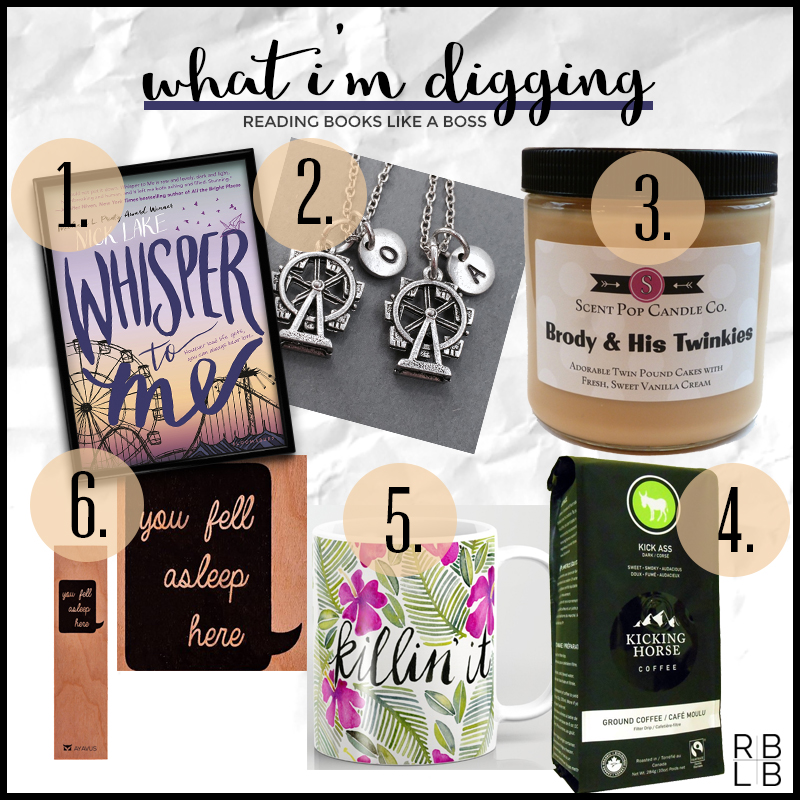 Affiliate Disclosure: This post contains affiliate links you can use to purchase the book. If you buy the book using that link, I will receive a small commission from the sale. Thank you! ♥
1.) Whisper to Me by Nick Lake
I recently read Whisper to Me book and it was really touching. I couldn't stop thinking about it after I finished it. The whole book is a love letter to a boy from a girl whose heart she broke, a plea for forgiveness and confession. I already want to re-read it!
---
2.) Ferris Wheel Necklace
This necklace reminded me of the boardwalk from Whisper to Me. 🙂
Purchase Here
$29.00, Etsy (seller: Toodaughters)
---
3.) Brody & His Twinkies Candle (from Room for You by Beth Ehemann)
"Fans of Beth Ehemann's Cranberry Inn series will enjoy this delightful candle as it transports them back to the Inn with Brody, Kacie and the 'twinkies.'"  Scents:  Delectable, freshly baked pound cake & rich vanilla cream.
Check out her other candle scents!!
Purchase Here
$17.00, Etsy (seller: ScentPopCandles)
---
4.) Kick Ass Dark Roast Coffee
This coffee is soooo good! A friend of mine recommended it to me last year and I am hooked!
Purchase Here
$9.49, Amazon
---
5.) "Killin' It" Mug
All "bosses" need this mug. 🙂
Purchase Here
$9.49, Society6 (Seller: Cat Coquillette)
---
6.) Wooden Bookmark — "You Fell Asleep There"
I fall asleep reading ALL THE TIME. This bookmark is so cute!
Purchase Here
$9.95, Amazon
What are you digging this week?