What I'm Digging is a weekly feature in which I share my bookish finds with you. This can range from jewelry to clothes to home decorations. I find so many neat bookish things on Pinterest, Etsy, and elsewhere. I thought I would share my finds with you. Who doesn't love book-related goodies?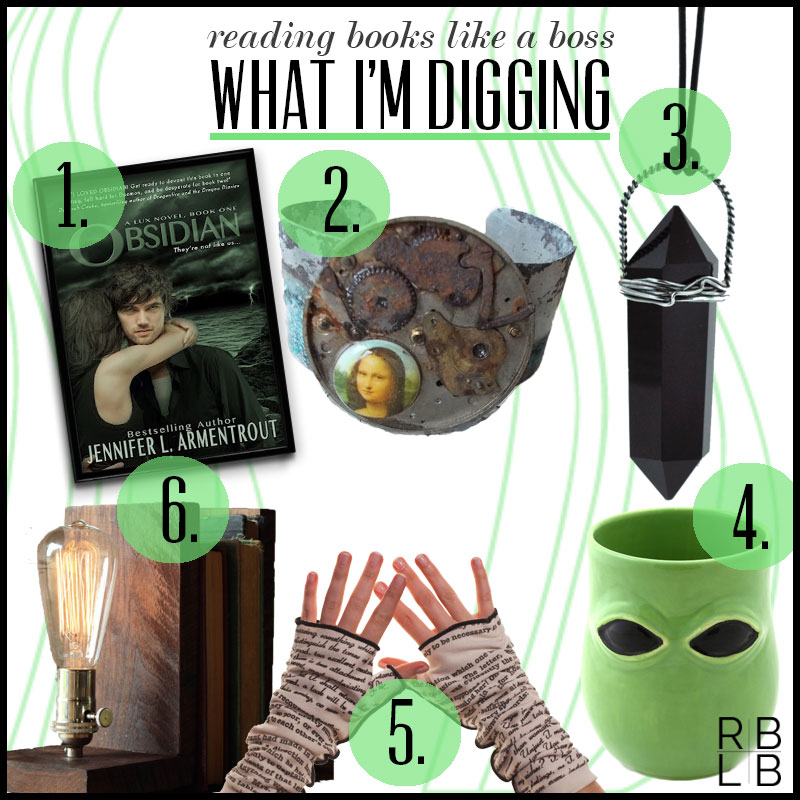 1.) Obsidian by Jennifer L. Armentrout
Jennifer L. Armentrout's young adult series are my favorite of all of her books.  Obsidian is the first book in the Lux series, a love story about a girl next door and the hot alien across the street.  Don't let the alien thing scare you off. Daemon is one of the hottest, jerkiest, and swooniest heroes! This series is so addictive! I love it. Opposition, the fifth and final book in the Lux series releases on August 5th!
Add on Goodreads
$2.99, Amazon
2.) Post-Apocalyptic Steampunk Cuff 
I listened to Angelfall by Susan Ee over the weekend (and LOVED it) so I thought itwas  appropriate to put something post-apocalyptic on here. 🙂
$72.00, Etsy (Seller: MadArtjewelry)
3.) A Legit Obsidian Necklace!!
Do you want the same necklace as Kat?  Check this out!  "Curious, I pulled on the little string and carefully emptied the pouch into my palm. I glanced up, and when he smiled, I felt my heart turn over."
$35.00, Hebel Design
4.) An Alien Mug!
Because Daemon.  That's why.
$14.00, (Seller: LennyMud)
5.) Persuasion Writing Gloves
These are PERFET read (and write) in the winter.  You can turn the pages (or tap your Kindle) and keep your fingers warm! From the seller: "Can't take your hands off of your favorite book? Now you'll never have to! Let everyone know about your great taste in books by adorning your wrists in the words of Persuasion. These gloves will keep you looking & feeling both warm & intelligent."
$26.00, Etsy (Seller:  storiarts)
6.)  Walnut- Modern Bookends with Edison Lamp
I am in LOVE with these bookends! The light is so pretty! Each end measures 5-6″"W and 9-9.5″H
$119.00, (Seller: WorleysLighting)
Which of my picks this week would you choose?  Have you found any fun book-related goodies lately?