"Waiting On" Wednesday is a weekly event, hosted by Breaking the Spine.
ROOMS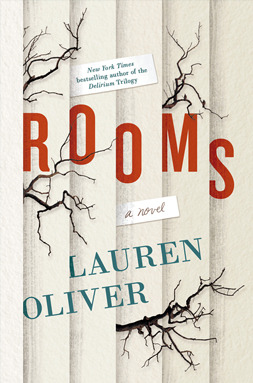 Rooms
by
Lauren Oliver
Publication date:
September 23, 2014
320 pages
Wealthy Richard Walker has just died, leaving behind his country house full of rooms packed with the detritus of a lifetime. His estranged family—bitter ex-wife Caroline, troubled teenage son Trenton, and unforgiving daughter Minna—have arrived for their inheritance.

But the Walkers are not alone. Prim Alice and the cynical Sandra, long dead former residents bound to the house, linger within its claustrophobic walls. Jostling for space, memory, and supremacy, they observe the family, trading barbs and reminiscences about their past lives. Though their voices cannot be heard, Alice and Sandra speak through the house itself—in the hiss of the radiator, a creak in the stairs, the dimming of a light bulb.

The living and dead are each haunted by painful truths that will soon surface with explosive force. When a new ghost appears, and Trenton begins to communicate with her, the spirit and human worlds collide—with cataclysmic results.

Elegantly constructed and brilliantly paced, Rooms is an enticing and imaginative ghost story and a searing family drama that is as haunting as it is resonant.
Affiliate Disclosure: This post contains affiliate links. In plain English, this means that I may receive a small commission (at no cost to you) if you purchase something through the links provided. This small income goes back into my blog, so I can continue to create fun content for you. I appreciate my readers and make it my goal to be upfront and honest. Thank you for supporting my blog!
Expected Release Date: September 23, 2014
PRE-ORDER
Why I'm waiting:  Lauren Oliver's Delirium solidified me as a lifelong fan.  Her elegant writing style is captivating, picking at my emotions like the the most experienced violinist plucking on strings.  Her addictive storytelling style makes me feel like I'm drifting on a cloud one moment, weightless and without a care, and then suddenly I'm plummeting towards the ground without a parachute.
 I cannot wait for this book because of the promised family drama amidst the backdrop of death and loss. It sounds like the perfect mix of depression and drama.
QUESTION:
What books are you waiting for this week?