"This and That" is a feature meant to showcase books that I think sound similar or have similar themes and would recommend to someone who is a fan of the "this book."  I may not have read the "that" book, but I think fans of the "this" book might like it.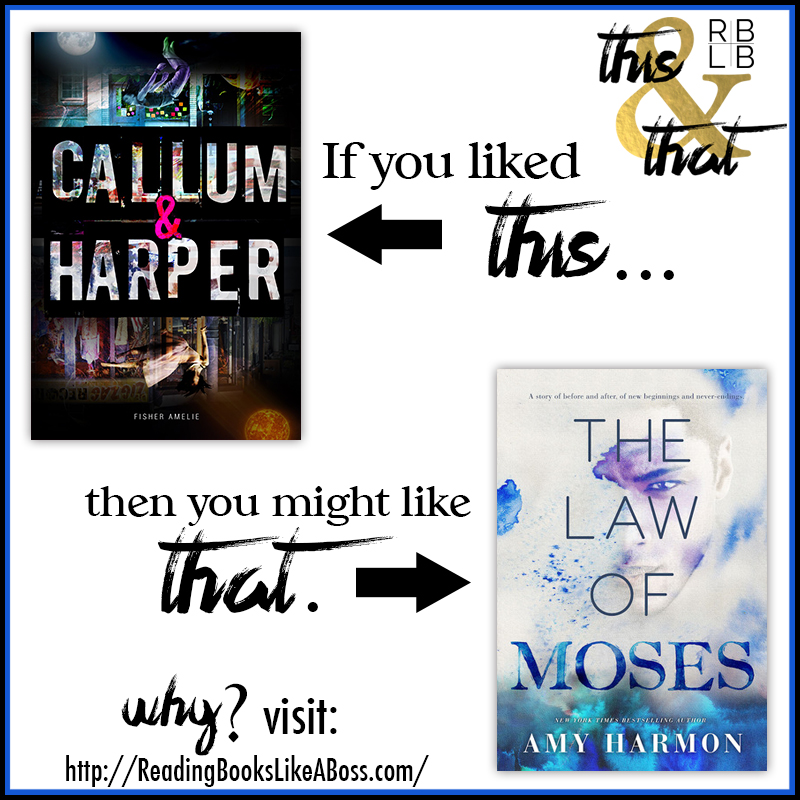 About the Books: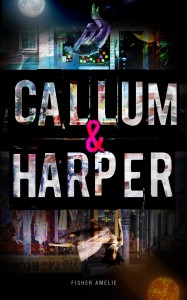 Callum and Harper by Fisher Amelie
Life sucks for orphans Callum Tate and Harper Bailey.
Kicked out of their foster homes because they suffer the 'eighteen disease' with nothing but a hundred dollar check from the government and a pat on the back, they're forced to rely on a system that failed them miserably.
So they sit. They sit inside Social Services, waiting for their social workers to call their names and offer them the miracle they know will never come but they sit anyway because they have nowhere else to go, no other options on their very literal and figurative empty plates.
But as they sit, they notice the other. Although captivated, they each come to the conclusion that life is complicated enough without throwing in a boiling tension that can't ever be acted upon because they're both too busy thinking about where their next meal will come from but when their names are called and both are placed on a year long waiting list for permanent housing, suddenly relying on each other seems like a very viable plan B.
And, oh, how lovely Plan B's can be.
Well, except for the psycho from Harper's past that haunts her and, oh, yeah, there's the little issue that neither of them knows they're in love with the other.
Needless to say, Callum & Harper's life just got a bit more complicated.
"One day, you and I are gonna' wake up and be alright. Maybe not today, maybe not tomorrow but one day. One day. I promise you." – Callum Tate
___________________________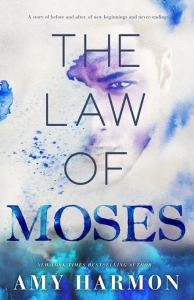 The Law of Moses by Amy Harmon
If I tell you right up front, right in the beginning that I lost him, it will be easier for you to bear. You will know it's coming, and it will hurt. But you'll be able to prepare.
Someone found him in a laundry basket at the Quick Wash, wrapped in a towel, a few hours old and close to death. They called him Baby Moses when they shared his story on the ten o'clock news – the little baby left in a basket at a dingy Laundromat, born to a crack addict and expected to have all sorts of problems. I imagined the crack baby, Moses, having a giant crack that ran down his body, like he'd been broken at birth. I knew that wasn't what the term meant, but the image stuck in my mind. Maybe the fact that he was broken drew me to him from the start.
It all happened before I was born, and by the time I met Moses and my mom told me all about him, the story was old news and nobody wanted anything to do with him. People love babies, even sick babies. Even crack babies. But babies grow up to be kids, and kids grow up to be teenagers. Nobody wants a messed up teenager.
And Moses was messed up. Moses was a law unto himself. But he was also strange and exotic and beautiful. To be with him would change my life in ways I could never have imagined. Maybe I should have stayed away. Maybe I should have listened. My mother warned me. Even Moses warned me. But I didn't stay away.
And so begins a story of pain and promise, of heartache and healing, of life and death. A story of before and after, of new beginnings and never-endings. But most of all…a love story.
THE LAW OF MOSES
Release date Nov. 27th
Goodreads
The Why:
Callum and Harper had a theme of surviving adversity and a beautiful love story. The two main characters aged out of the foster care system and had nowhere to go. They had no one except each other.
I haven't read The Law of Moses yet (because it doesn't come out until November 27th), but it seems like it might have a similar theme. Moses has all the cards stacked against him. Everyone things he's broken and poison.  And then one person gives him a chance.  I'm excited to get my hands on The Law of Moses.  A pre-order for the book will be available on November 14th!
What are your #5Greats?  Tell me in the comments?
✥ ✥ ✥ ✥
Do you have any This & That pairings that you'd like to share?