"This and That" is a feature started by Reading Books Like a Boss meant to showcase books that you think sound similar and would recommend to someone who is a fan of the "this book."  I may not have read the "that" book, but I think fans of the "this" book might like it.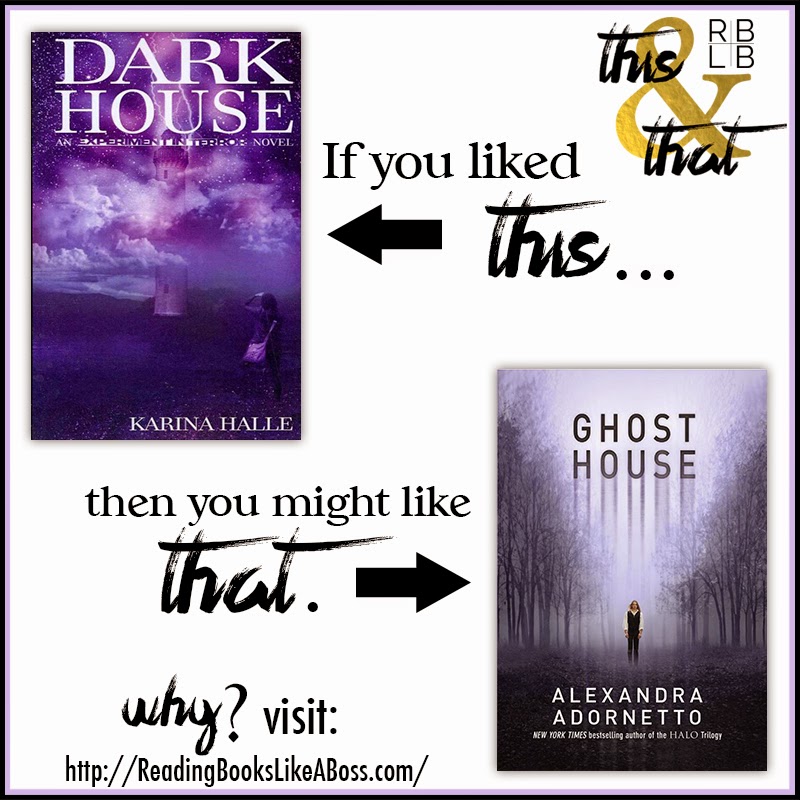 The Why:
Darkhouse by Karina Halle is the first book in the Experiment in Terror series, one of my favorite paranormal series. It follows Dex and Perry, the hosts of a television web show called Experiment in Terror, as they travel the country investigating the paranormal activity in some pretty scary places.  Their working relationship transforms into this amazing relationship of trust and love.  It's one of the best slow burning romances!  Perry Palomino is the heroine in the series and she sees things that other people don't.  Are they ghosts? Hallucinations?  If you haven't read it, you should check it out!
Alexandra Adornetto's Ghost House looks like it promises the same chilling thrills that Halle's Experiment in Terror does. The heroine, Chloe, begins to see the same ghosts she saw as a child following the death of  her mother.  One in particular is named Alexander and the two become close. Their close relationship awakens Alexander's past love, a menacing spirit named Isobel.
Ghost House releases on August 26th!
Goodreads | Amazon 
If you like unconventional horror type romances, you should give these two books a try.  Note that Darkhouse is more of an adult novel and Ghost House is young adult.
YOU MAY ALSO LIKE THESE POSTS: