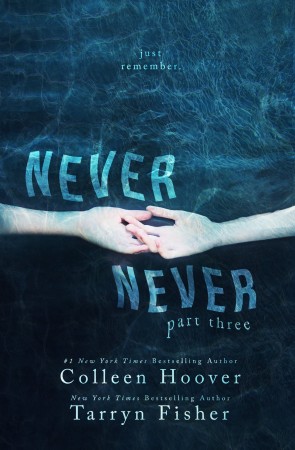 Never Never Part Three
Series:
Never Never #3
Publication date:
January 19, 2016
92 pages
Together, Silas Nash and Charlize Wynwood must look deeper into the past to find out who they were and who they want to be. With time ticking down, the couple are in a race to find the answers they need before they lose everything. Can they regain what they once had? And will it restore who they once were?
Affiliate Disclosure: This post contains affiliate links. In plain English, this means that I may receive a small commission (at no cost to you) if you purchase something through the links provided. This small income goes back into my blog, so I can continue to create fun content for you. I appreciate my readers and make it my goal to be upfront and honest. Thank you for supporting my blog!
Book Review:
I have enjoyed novels written by both Colleen Hoover and Tarryn Fisher, but the Never Never series was a stinker.  This series didn't leave me clamoring for more like I was hoping for after these authors announced they were collaborating. Even though I didn't love the previous books in the series, I was motivated to pick up the final book due to its short length—I wouldn't be investing much time in it—and my annoying curiosity to see how they were going to end it.
For the first two novellas/serials the authors were attempting to pack in the mystery, leading readers down all sorts of avenues as Charlie and Silas try to find out why they keep losing their memories. In this installment, the authors completely abandon every single one of those plot points. The magical setting of New Orleans, the family feud, the classmate and her mom—none of those plot points were relevant at all to authors' explanation for the memory loss.  The explanation for what happened came out of left field—and not in a good "OMG I didn't see that coming" way. Honestly, it made reading the first two serials completely pointless.
None of the books in this serial-type series felt like it had a soul or heartbeat. I didn't get the impression that this series was born out of sheer inspiration and excitement to share these characters' story with the audience. Everything—the writing, the characters, the plot—felt like it was just phoned home. Both of these authors can writer better, plot better, and develop characters better than what readers were given here, especially in this final book. Now that I've read this book, I can see why many readers were disappointed.
* I borrowed this book from a friend through the Kindle lending library.